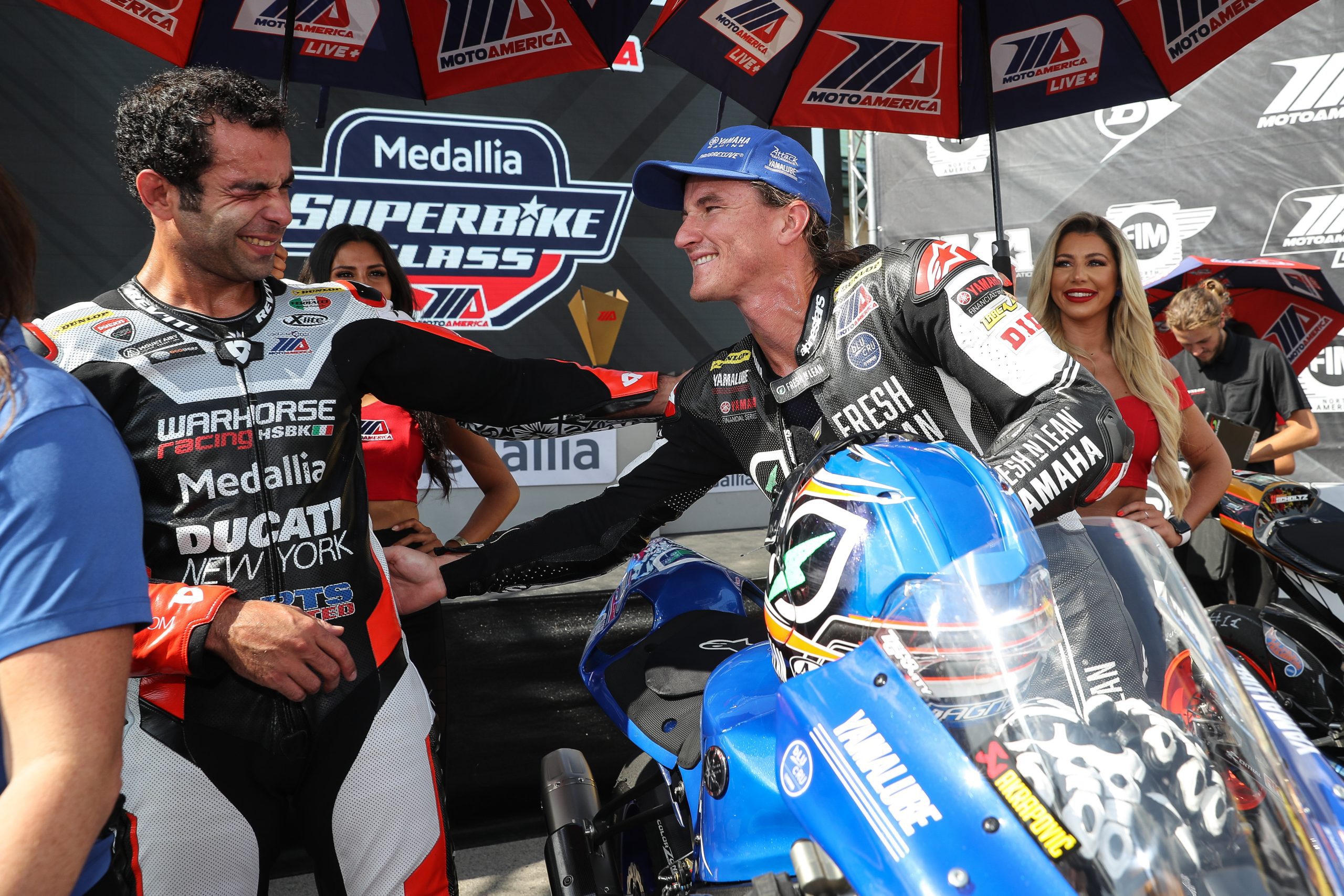 Random notes, comments, statistics, musings, and bits of trivia from the MotoAmerica Superbikes at Pittsburgh event at Pitt Race:
Perfection To A Point
How about the weekend that Jake Gagne had? The Fresh N Lean Progressive Yamaha Racing rider broke the outright track record, qualified on pole, won both Medallia Superbike races, and took over the championship lead by one point.
The Handyman Is Danny Dependable
How about the season that Danilo Petrucci is having? The Warhorse HSBK Racing Ducati NYC rider has finished on the podium in 14 of the 16 races thus far. That's consistency. That's how you challenge for the championship.
PJ Is PDQ
Tytlers Cycle Racing BMW's PJ Jacobsen had the highest trap speed of the weekend. On lap two of Medallia Superbike race two, Jacobsen went 173.3 miles per hour.
As Falls Beaver Falls, So Falls Beaver Falls Track Records
In REV'IT! Twins Cup final qualifying, N2 Racing/BobbleHeadMoto Yamaha's Blake Davis did a 1:47.114 to set a new record for the two-banger class and BARTCON Racing Yamaha's Dominic Doyle set a new race lap record of 1:47.193 on lap two of race two. Davis and Doyle both eclipsed the class and race record lap time of 1:48.401 lap time that Anthony Mazziotto set during last year's Twins Cup race.
Tytlers Cycle/RideHVMC Racing BMW's Corey Alexander set a new class record in Yuasa Stock 1000 final qualifying with a fastest lap of 1:41.947, while Disrupt Racing Suzuki's Hayden Gillim set a new race lap record of 1:42.661 in race one. The previous class record and race lap record of 1:42.911 was set by Alexander during last year's Stock 1000 race two.
And finally, as mentioned above, Gagne set a new outright lap record of 1:39.344 during final qualifying in Medallia Superbike, which eclipsed Cameron Beaubier's 1:39.472 lap record that he set back in 2019.
Playing Chicken With The Chicane
For safety reasons, MotoAmerica has incorporated a chicane in the road course at Pitt Race from the beginning of the Series racing at the facility. It's always been a necessary, but admittedly tricky, aspect of the race course. But, this year especially, it proved to be very difficult to negotiate for riders in pretty much every class. We witnessed SportbikeTrackGear.com Junior Cup Bauce Racing/JL62's Joe LiMandri Jr., REV'IT! Twins Cup rider Davis, and even Medallia Superbike rider Petrucci run over the temporary curbing in the chicane, which got their bikes frighteningly out of shape. Also, other riders like Tytlers Cycle Racing BMW's Hector Barbera blew the chicane completely. It's interesting to note that N2 Racing/WERA did not use the chicane during their endurance event on the weekend prior to the MotoAmerica round, and LiMandri Jr., Davis, and Petrucci all participated in that event. They did a lot of laps without the curbing, and then, they had to adjust to MotoAmerica's chicane, so that may have been a contributing factor. Regardless, the safety of the riders is paramount to MotoAmerica, so you can bet that the chicane is a topic of discussion among MotoAmerica officials and will be addressed prior to us racing there in 2023.
Commander Cody
SportbikeTrackGear.com Junior Cup rider Cody Wyman was in command at Pitt Race, and he also got even with the MotoAmerica track that's located closest to his hometown of Macedon, New York. He had an absolutely perfect weekend aboard his Alpha Omega Kawasaki Ninja 400. Wyman led every practice session (including the damp Sunday morning warmup), both qualifying sessions, earned the pole position, and notched both race wins. What a way for him to avenge the season-ending injury he suffered at Pitt Race last August.
Twins By A Third
A fair number of Twins cup teams, riders, and even fans are wondering why the weekend-concluding, twice-red-flagged REV'IT! Twins Cup race two was not re-started after the second red flag. Well, the answer is clearly stated in Article 1.28.5 of the 2022 MotoAmerica Regulations:
1.28.5 Should a re-started race be interrupted, and Race Direction deems it possible to re-start, then the conditions for a further re-start will follow Art. 1.28.4, with the race distance and results defined as follows:
a. If the re-started race is interrupted when one third (1/3) race distance or more has been completed, the race will be deemed to have been completed and full Championship points awarded.
So, there it is in black and white, "when one third (1/3) race distance or more has been completed, the race will be deemed to have been completed and full Championship points awarded."
Done and done.
For the full 2022 MotoAmerica schedule and to purchase tickets for MotoAmerica events, click HERE
For information on how to watch the MotoAmerica series, click HERE