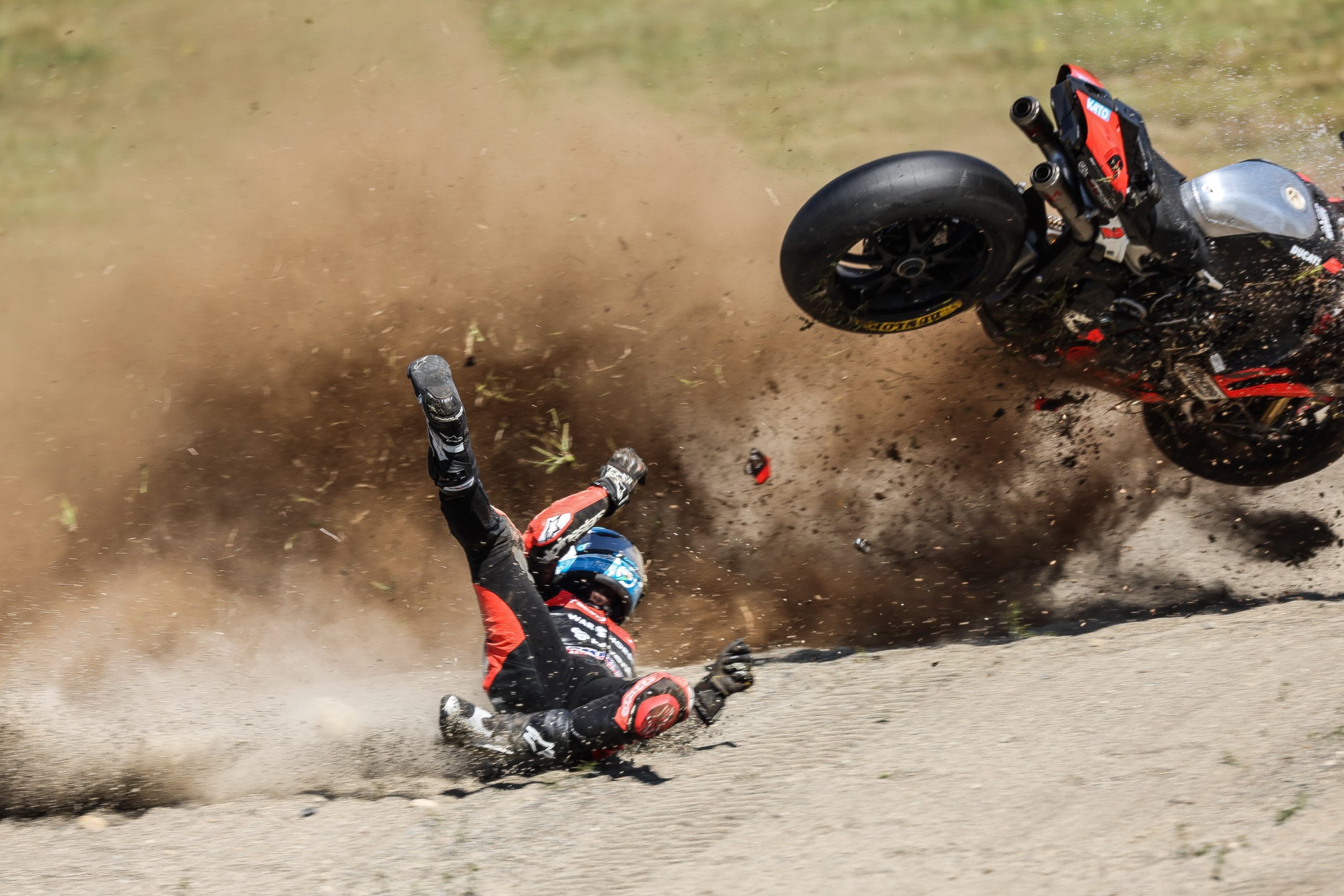 Random notes, comments, statistics, musings, and bits of trivia from the MotoAmerica Superbikes at Ridge Motorsports Park event:
Not So Fast, My Friend
News that Ridge Motorsports Park had repaved some sections of the track was met with anticipation that several lap records would be broken. But, as it turned out, the new surface in turns 11 and 12, and 13 and 14, had the opposite effect. A few riders noted that there were new bumps created by the fresh asphalt. Some other riders commented that the new pavement patches were slightly slippery compared with the old pavement, which made the race course unpredictable. Still other riders said it took a little bit longer to learn the track because the visual difference between the new pavement patches and the old pavement was distracting.
Lap It Up, Fuzzball
Despite the challenges presented by the new pavement patches, a few riders did manage to set new race lap records over the weekend. In REV'IT! Twins Cup race one, Robem Engineering Aprilia rider Rocco Landers did a lap of 1:46.212, which was a new race lap record in the two-banger class at Ridge, faster that than the previous fastest race lap of 1.46.487 set by Kaleb De Keyrel in Twins Cup race two last year. Warhorse HSBK Racing Ducati's Xavi Forés did a lap of 1:43.596 in Supersport race two, eclipsing the race lap record of 1:43.809 that Richie Escalante set at Ridge in 2021. In Medallia Superbike race two on Sunday, Tytlers Cycle Racing BMW rider Cameron Beaubier did a 1:39.633, which broke Jake Gagne's race lap record of 1.39.865 set in Superbike race two last year at Ridge.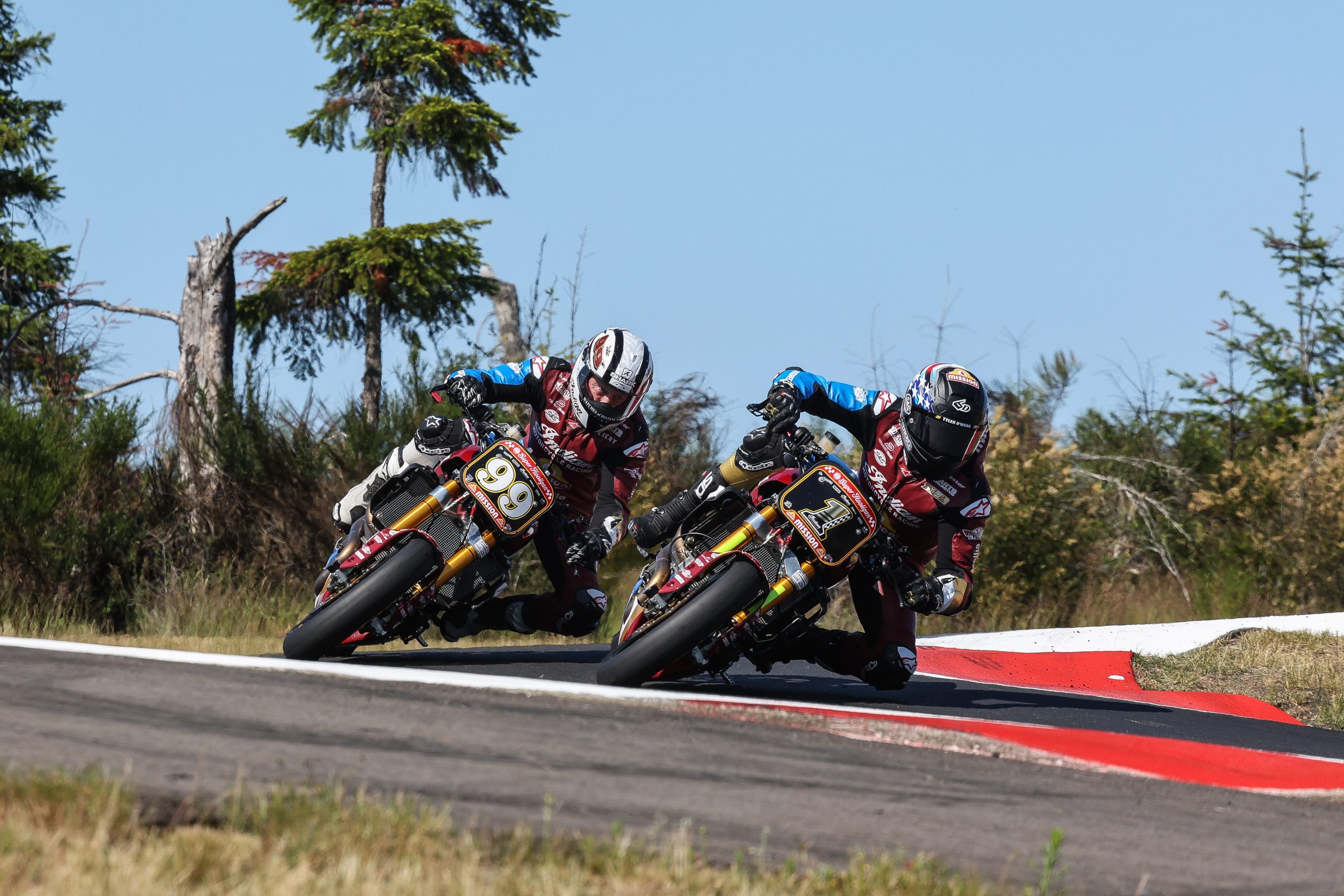 Banging Bars
One of the biggest stories to come out of the Ridge Motorsports Park round was that the Indian FTR1200 motorcycles raced by Indian Motorcycle/Progressive/Mission Foods teammates Jeremy McWilliams and Tyler O'Hara in Sunday's Mission Super Hooligan National Championship (MSHNC) race were protested by Team Saddlemen Harley-Davidson at the suggestion of their rider Cory West.
At issue were the handlebars on McWilliams's and O'Hara's bikes. According to the Super Hooligan Technical Regulations, Section 2.7.10.8.b. clearly says "No clip-ons that have been converted to top-mounted handlebars permitted. The end of the handlebar must sit above the top plane of the upper triple clamp." After close inspection of the two bikes, the protest was upheld. The Progressive Insurance/Mission Foods Indian team then made a formal appeal to the AMA/FIM Appeals Panel, but that appeal was denied.
McWilliams and O'Hara were subsequently disqualified from MSHNC race two, and DiBrino Racing KTM rider Andy DiBrino was declared the winner of race two. Interestingly, Team Saddlemen Harley-Davidson's Cory West, who suggested that his team file the protest, was moved up to second place. It's also interesting that Roland Sands Design/Indian Motorcycle rider Bobby Fong, who notably races an Indian FTR1200 that is not equipped with the same handlebar setup as McWilliams's and O'Hara's bikes, was not included in the protest, so he was credited with third place as a result.
On Monday morning, while shuffling through the long Disney World-like queue for the security checkpoint at Sea-Tac airport, I stood opposite McWilliams, who was quite a ways ahead of me. McWilliams was on his way back to Belfast, Northern Ireland. I asked him if he was upset about the protest. Knowing how hard he fought to win that race and beat his teammate O'Hara, who is the defending MSHNC champion, I expected some colorful Gaelic curse words to shatter the din inside the airport. Instead, he just smiled wryly at me and said, "We've got our lawyers on it." One thing about McWill: he doesn't say much, but what he does say speaks volumes.
Ironically, a little later while still in line and slowly advancing towards the security checkpoint, I also stood opposite Ken Saillant, who was further behind in the queue. Ken is AMA Track Racing Manager and a member of the AMA/FIM Appeals Panel. I exchanged pleasantries with Ken and mentioned that I had been talking to McWilliams earlier, but he was probably already through the checkpoint by then. Ken expressed his relief and said, "I would imagine Jeremy doesn't want to see me this morning."
One more note on this: a rule is a rule, and the handlebar explanation is spelled out in the Technical Regulations. One side might think it's picayune to protest such a minor violation that probably did nothing to help McWill win or Tyler to finish second. But, on the other side, kudos to Cory West for two things: (1) having the technical understanding and the correct assumption that the Indian Motorcycle/Progressive/Mission Foods team was violating a rule and (2) convincing Team Saddlemen Harley-Davidson to pursue it.
All's fair in love and racing, and as we've said before, this Indian Motorcycle versus Harley-Davidson rivalry is as real as it gets.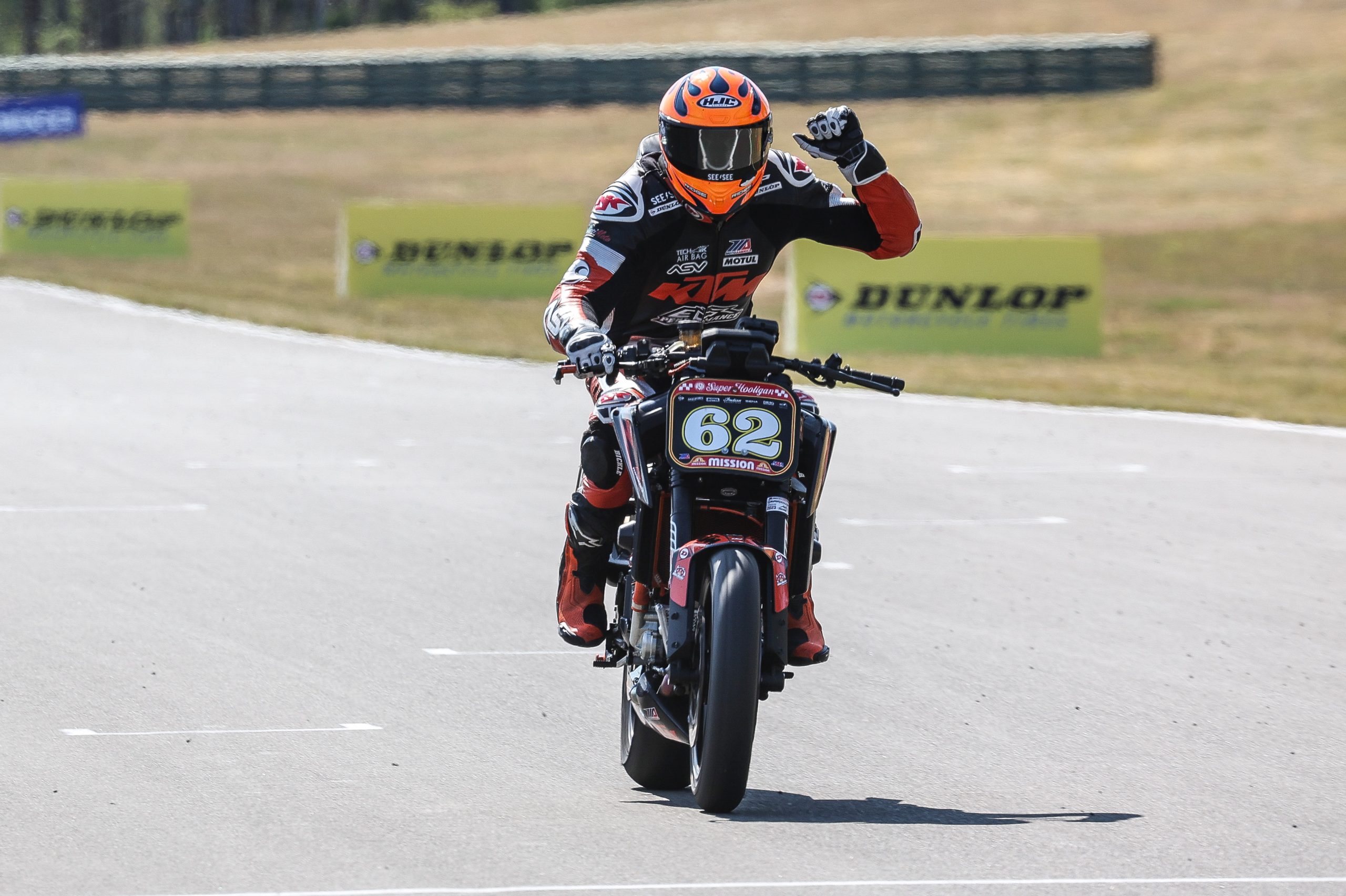 WFO In The Pacific Northwest
The maximum trap speeds recorded at Ridge Motorsports Park were obviously not as high as they were at Road America, but our MotoAmerica riders were still hauling the mail in the Pacific Northwest. In Royal Enfield Build. Train. Race., Sonya Lloyd got her Continental GT 650 up to a class-leading trap speed of 108.0 miles per hour. There was a tie between two riders in the REV'IT! Twins Cup Championship. Team Iso Yamaha rider Dominic Doyle went 136.8 miles per hour in Saturday's race one, and The WagBar MP13 Racing Team's Kayla Yaakov matched Doyle's race one trap speed by going 136.8 miles per hour aboard her Yamaha in Sunday's race two. In Mission Super Hooligan National Championship final qualifying on Saturday, DiBrino Racing KTM's Andy DiBrino achieved a highest trap speed of 140.6 miles per hour. Tyler Scott spurred his Vision Wheel M4 ECSTAR Suzuki to a maximum trap speed of 146.9 miles per hour in Supersport provisional qualifying. And, the maximum of all maximum trap speeds at Ridge Motorsports Park was achieved by Cameron Beaubier aboard his Tytlers Cycle Racing BMW when he went 166.1 miles per hour in Friday morning's first practice session of the weekend for MotoAmerica's Medallia Superbike riders.
Ruffles At Ridge
There were a number of MotoAmerica riders who suffered tipovers, crashes, and high-speed getoffs at Ridge Motorsports Park, and among those were Tytlers Cycle Racing Supersport rider Stefano Mesa, who took a huge tumble in race one and was beaten and bruised but not seriously hurt despite his Kawasaki ZX-6R literally breaking in half. The frame fractured up by the headstock on one side and down by the swingarm pivot on the other side. Josh Herrin also had a massive crash just after earning the pole position in Medallia Superbike aboard his Warhorse HSBK Racing Ducati. Herrin shook off the stiffness, soreness, and a possible fractured right foot, and podiumed with a hero's effort in both races. On Monday, Herrin got an X-ray, and it was determined that he does, in fact, have a fracture in his right foot. REV'IT! Twins Cup rider Brenden Ketelsen crashed his Wrench Motorcycles Yamaha in final qualifying and injured his hand. Despite that, Ketelsen still managed to compete in Sunday's race two where he finished a solid 12th. Former REV'IT! Twins Cup Champion Chris Parrish had a tough weekend racing his Ghetto Customs Yamaha. He got cleaned out in two separate incidents by the same rider. Once, when the rider's bike sprung an oil leak, and a second time when the same rider tried to come up the inside of Parrish where there was no room to pass. Thankfully, neither the tough-as-nails Tennessean nor his motorcycle were seriously injured in either incident.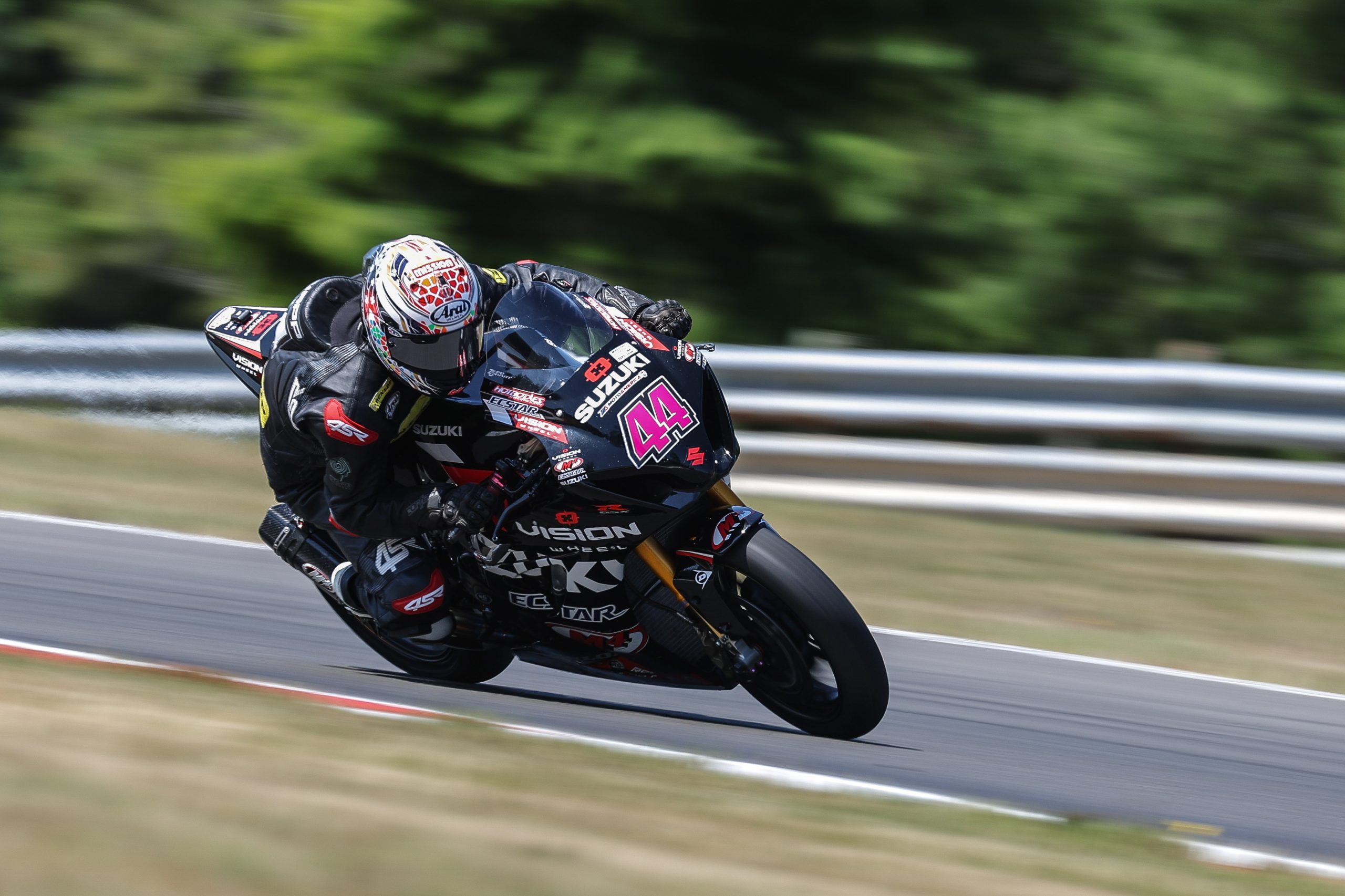 The most-frequent crasher on the weekend was Taylor Knapp, who was a fill-in rider for the Vision Wheel M4 ECSTAR Suzuki team. He suffered three tipovers, but thankfully, the Michigan-born rider, whose regular job is as a test rider for Dunlop, was not seriously injured in any of the incidents.
The worst injury of the weekend happened to Ruthless Racing Yamaha rider Darren James, who crashed in REV'IT! Twins Cup final qualifying and fractured his femur.
Our thoughts and wishes for a speedy recovery go out to James and all the other MotoAmerica riders who were injured at Ridge, including those we didn't mention.
For the full 2023 MotoAmerica schedule and to purchase tickets for MotoAmerica events, click HERE
For information on how to watch the MotoAmerica series, click HERE