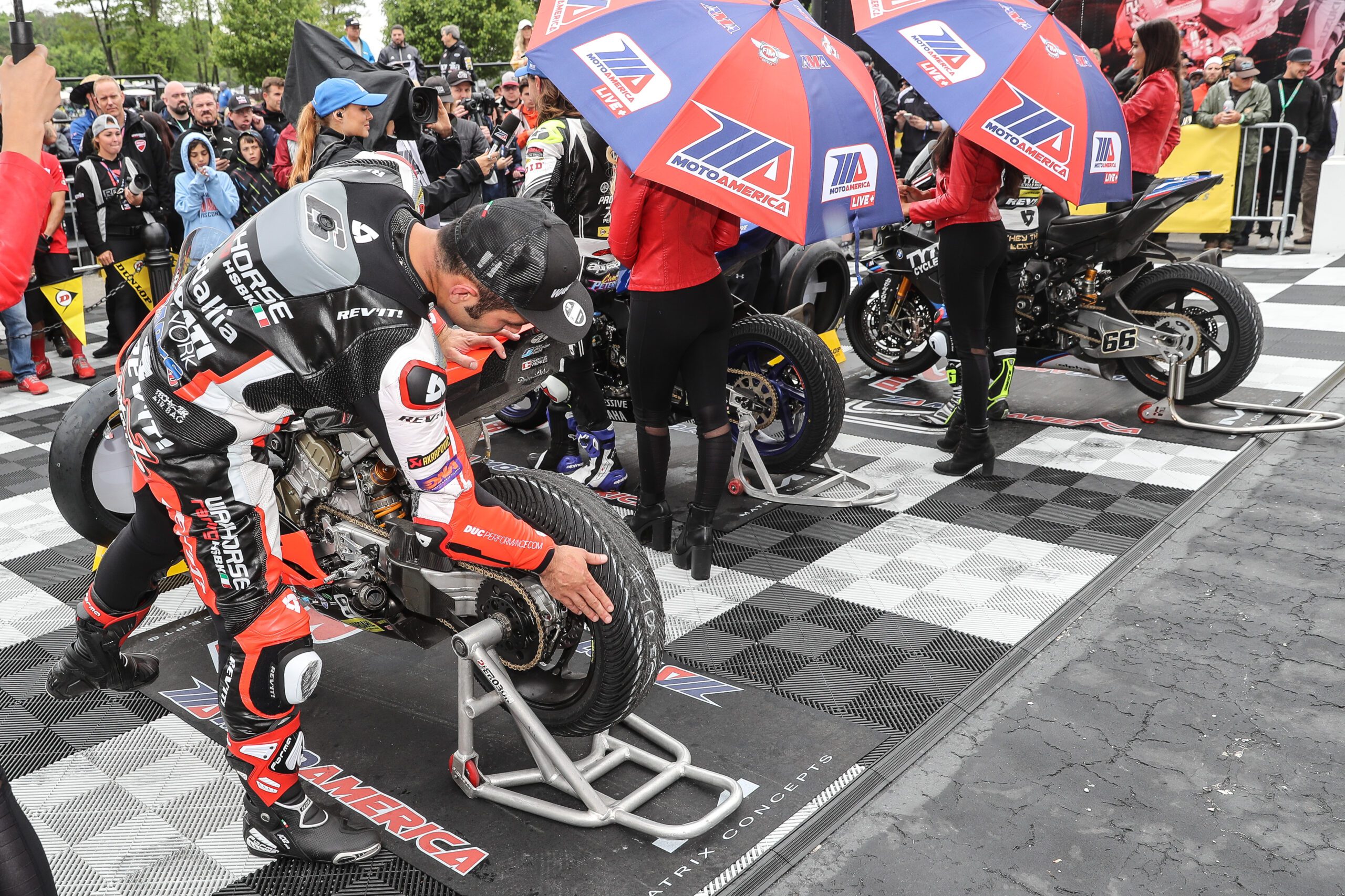 Random notes, comments, statistics, musings, and bits of trivia from the MotoAmerica Superbikes at Road America event:
Giddy-Up, Warhorse
Who had the fastest top speed among all the MotoAmerica riders at Road America? It was Warhorse HSBK Racing Ducati NYC rider Danilo Petrucci, who got his #9 Ducati Panigale V4 R up to a top speed of 177.9 miles per hour in Medallia Superbike race two on Sunday. And Petrucci not only achieved that highest speed on the eighth and final lap of the race–in fact, it was his final lap of the entire weekend–but he also did it on well-worn Dunlop rain tires.
The Older They Get, The Faster They Are
At VIR, we saw four-time AMA Superbike Champion Josh Hayes win the 84th race of his storied career. Well, put two more in the category of "age is just a number" because 46-year-old Farrell Performance rider and Road America specialist Jason Farrell (from Oshkosh, Wisconsin) won Sunday's Supersport race two aboard his Kawasaki Ninja ZX-6R. Farrell absolutely capitalized on his "moment" because, in the post-race press conference, he gave the longest speech ever delivered by a rider in MotoAmerica, if not AMA, history. By the time he was finished, we're pretty sure Farrell had turned 47. Not to be outdone, Tytlers Cycle Racing BMW rider Larry Pegram, who is 48 years young, finished an incredible fifth in Sunday's Medallia Superbike race two. This after finishing ninth in race one the day before. Is there a Fountain of Youth somewhere on the premises at "America's National Park of Speed"?
The Record-Breaking Trio
Three riders set new track records in their respective classes at Road America, and one of them eclipsed his own record from 2021. Corey Alexander went 2:13.704 in Stock 1000 Final Qualifying to establish a new lowest literbike time. Dominic Doyle set a new Twins Cup record with his 2:26.682 fastest lap in Final Qualifying. And Kyle Wyman broke his own Mission King Of The Baggers lap record with a new fastest lap of 2:22.947, which he set on the final go-around in the two-lap Challenge race. Incidentally, Wyman's new lap record is more than five seconds faster than the record lap time of 2:27.999 that he set last year.
We May Never Pass This Way Again
It was announced over the weekend that Road America's 4.048-mile natural road course will undergo a complete repaving after the track's race season concludes in October. While several sections of the track have been repaved over the years, a complete start-to-finish repaving has not been undertaken since the mid-1990s. This news was enough for Danilo Petrucci to declare that he was looking forward to coming back to the track in 2023 to race on the fresh asphalt.
Only A Rainmeister, No More
Winning any AMA/MotoAmerica Superbike race is obviously a major accomplishment, so forgive Westby Racing's Mathew Scholtz for lamenting that all four of his Superbike race wins have been in the wet. Obviously, he covets those wins. But, The Scholtz Kid was happy to get that sopping-wet monkey off his back after winning Medallia Superbike race one on Saturday at Road America. That's five victories for the fan-favorite South African, and he leap-frogged Garrett Gerloff for fifth on Yamaha's all-time Superbike wins list. He is now just one win behind Josh Herrin in fourth, who has notched six Superbike victories aboard Yamaha motorcycles to date.
Walk It Off
When Kayla Yaakov got into a nasty tank-slapper at VIR, knocking the brake pads back in her Altus Motorsports Kawasaki, she lost her brakes and crashed at high speed. She continued to compete for the remainder of that race weekend, and she was also present and accounted for at Road America, notching two podium results. We saw that she was walking with a very noticeable limp and asked her about it. "I tore both both my ACL and MCL in that crash at VIR," she said. And what about surgery to repair those ligaments? "That'll have to wait till the off-season," she said. Currently fifth in the SportbikeTrackGear.com Junior Cup point standings, 14-year-old Yaakov is focused on the championship and is not going to let a bum knee, um, stand in the way of that.
For the full 2022 MotoAmerica schedule and to purchase tickets for MotoAmerica events, click HERE
For information on how to watch the MotoAmerica series, click HERE