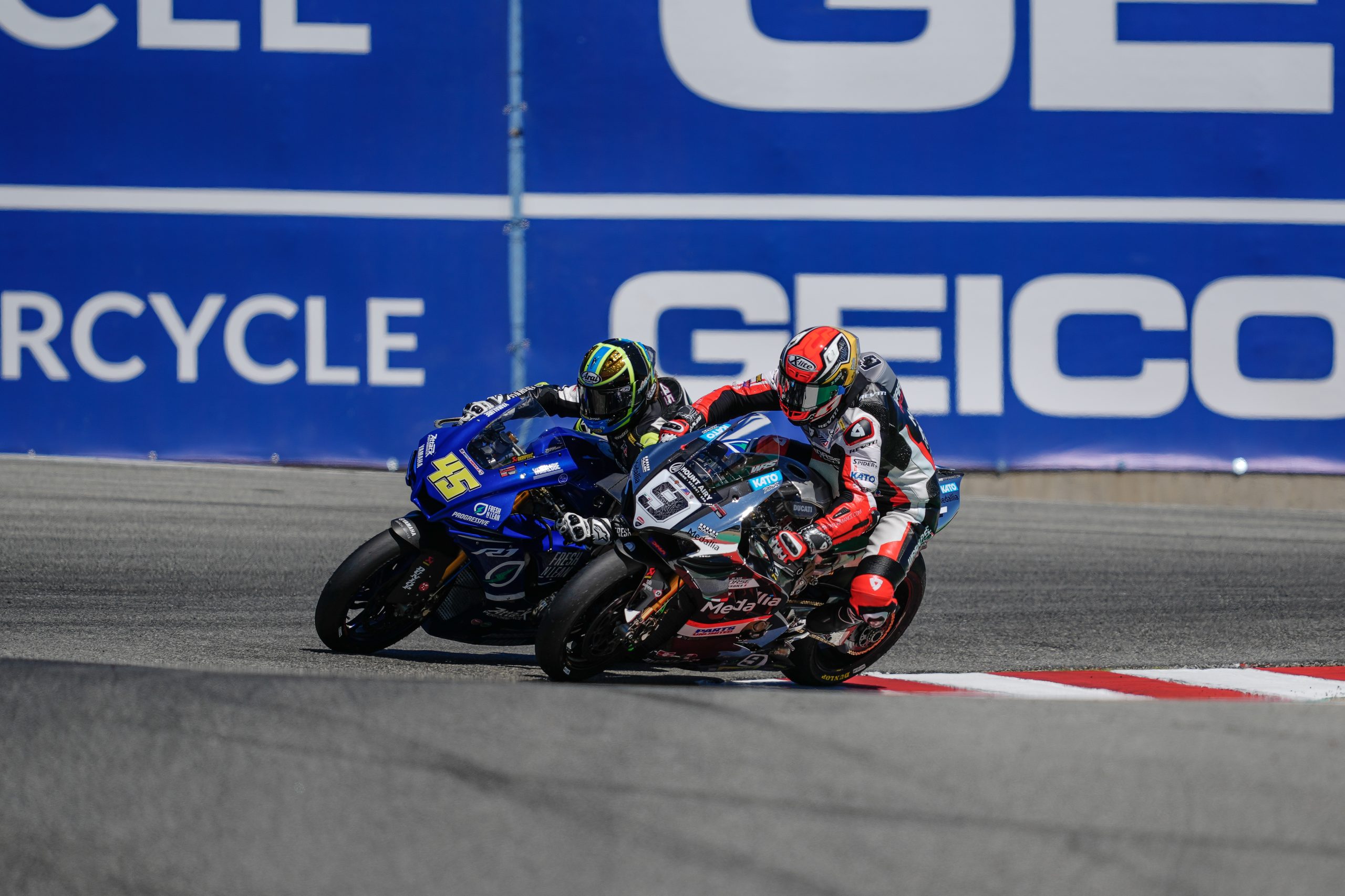 Random notes, comments, statistics, musings, and bits of trivia from the GEICO Motorcycle MotoAmerica Superbike Speedfest at Monterey:
At the conclusion of Medallia Superbike race one at WeatherTech Raceway, second-place finisher Cam Petersen rode past his teammate Jake Gagne, who had just won the race. Gagne looked over and expected to exchange high-fives with his Fresh N Lean Progressive Yamaha Racing stablemate. Instead, Petersen had his head down and wasn't looking at Gagne. Uh-oh.
Petersen had just survived a last-lap skirmish with Warhorse HSBK Racing Ducati NYC rider Danilo Petrucci where contact was made several times in the Corkscrew. And, just as I quietly lamented that Petrucci and Petersen were angry with each other for what transpired, Petrucci rolled up alongside Petersen, and both riders started high-fiving and praising one another with "you the man" and "no, YOU the man" gestures. What a relief. We got to see hard racing followed by genuine joy instead of anger in the aftermath. Shap shap, Cam. Ottimo lavoro, Danilo.
Right Down Panigale Alley
WeatherTech Raceway Laguna Seca is a twisty, technical track that produces a lot of great racing, but with nary a straightaway, the 11-turn, 2.238-mile road course is not known for producing jaw-dropping top speeds. Regardless, Warhorse HSBK Racing Ducati NYC rider Danilo Petrucci did manage to go 159.3 miles an hour on the penultimate lap of Medallia Superbike race one on Saturday.
Think about that for a moment. On the lap just prior to THE LAP, the one where Petrucci and Petersen elbowed and slam-banged their way through Corkscrew, Petrucci went 159.3 mph, the highest top speed that anyone had gone or would go over the entire weekend at Laguna Seca.
Laguna Seca-onds
There were no new class records or race lap records set in Medallia Superbike, Supersport, SportbikeTrackGear.com Junior Cup, nor Yuasa Stock 1000 at WeatherTech Raceway Laguna Seca, but the other three of the seven race classes that competed last weekend at WRLS did set some new, all-time low lap times. Mission King Of The Baggers was especially notable because the class lap record was broken every time the bikes were on the track. First, it was H-D Screamin' Eagle's Travis Wyman, who broke the record in practice 1, provisional qualifying, and final qualifying. Then, teammate and brother Kyle Wyman broke Travis's new track record in the three-lap Challenge, and Kyle finally broke his own record during Sunday's Mission King Of The Baggers race with a 1:29.486, which is the new track record, as well as the race lap record, for Baggers at Laguna.
In REV'IT! Twins Cup final qualifying, defending class champion and Veloce Racing Aprilia rider Kaleb De Keyrel broke Rocco Landers' two-year old class track record with a fastest lap of 1:30.142. Also, Roland Sands Indian rider Tyler O'Hara set a new class record and race lap record of 1:29.966 during Sunday's Roland Sands Design's Super Hooligan National Championship title-clinching race.
Paving The Way
Speaking of fast lap times, it seems that MotoAmerica is going so fast that it's ripping the surface right off the tracks where we race. That's, of course, an exaggeration, but as was duly noted after our round at Road America, that track is repaving their entire road course for the first time since the 1990s. And WeatherTech Raceway Laguna Seca will also repave their entire road course as the 2022 racing season concludes. That means two of the most iconic tracks on the MotoAmerica schedule each year will have brand-new race surfaces for 2023. So, look for the lap times to drop even more at Road America and Laguna Seca next year.
What's Past Was Passed
In my Carousel of Progress story about this year's Roland Sands Design's Super Hooligan National Championship race at WeatherTech Laguna Seca, I had reported that the past, present, and future would be on track, with a 1982 Yamaha XV920R competing against present-day Indian FTR1200s, KTM Dukes, Ducati Hypermotards, a BMW R nine T, and a bunch of Harleys, as well as two e-bikes from the future, an Energica Eva Ribelle RS and a Zero Motorcycles SR/F.
Unfortunately, the past was passed way too quickly. Jesse Davis crashed his classic XV920R in Super Hooligan practice 1. He described the incident, saying "Some idiot went to exit the track into the pits with no signal or warning whatsoever. I was passing him around the outside after turn 10, and he just turned left right into me. Knocked me out." Davis's hand got caught between his bike's left handlebar and the track, and he lost half of his left-hand ring finger. He also suffered a broken scapula and two broken ribs and spent the remainder of the weekend in a hospital bed in Salinas. All of us at MotoAmerica wish Jesse Davis, along with the other riders who were injured in crashes during the weekend, a speedy recovery.
Are 6's Not Enough?
Landers Racing Yamaha YZF-R6 rider Rocco Landers earned his first Supersport pole position at Ridge Motorsports Park and also finished as runner-up in Saturday's race one at Ridge. And then, at WeatherTech Raceway Laguna Seca, Landers finished third in each of the two Supersport races. Pretty decent results for the 17-year-old prodigy, but Landers is not a happy camper.
The only 599cc motorcycles still competing in the MotoAmerica Supersport Championship are Yamaha YZF-R6s. The rest of the motorcycles at Laguna Seca were either 636cc Kawasaki ZX-6Rs, 749cc Suzuki GSX-R750s, or Josh Herrin's 955cc Ducati Panigale V2. "Supersport Next Generation" is in full effect, and at least a couple of Yamaha teams and riders think it's time to either give the R6s more power, limit the SNG bikes some more, or a combination of both.
"I just want us to follow the World Supersport rules," Landers said in Saturday's post-race press conference, implying that even though MotoAmerica is following the FIM's guidelines for Supersport Next Generation, the R6s in World Supersport are faster motorcycles than the R6s in MotoAmerica Supersport.
The MotoAmerica R6 teams are pushing their bikes to the limit, and the excessive heat generated by the highly stressed engines has forced some of the teams to add supplementary lower radiators to help mitigate the heat. Not only do those radiators cost money, but they add weight to the machines, making it difficult for the teams to get the bikes down to the minimum allowable weight. And extra weight robs horsepower and speed, which is, of course, something the R6 teams can ill-afford to sacrifice.
More later on this developing story.
Thundering Bulls Over Literbikes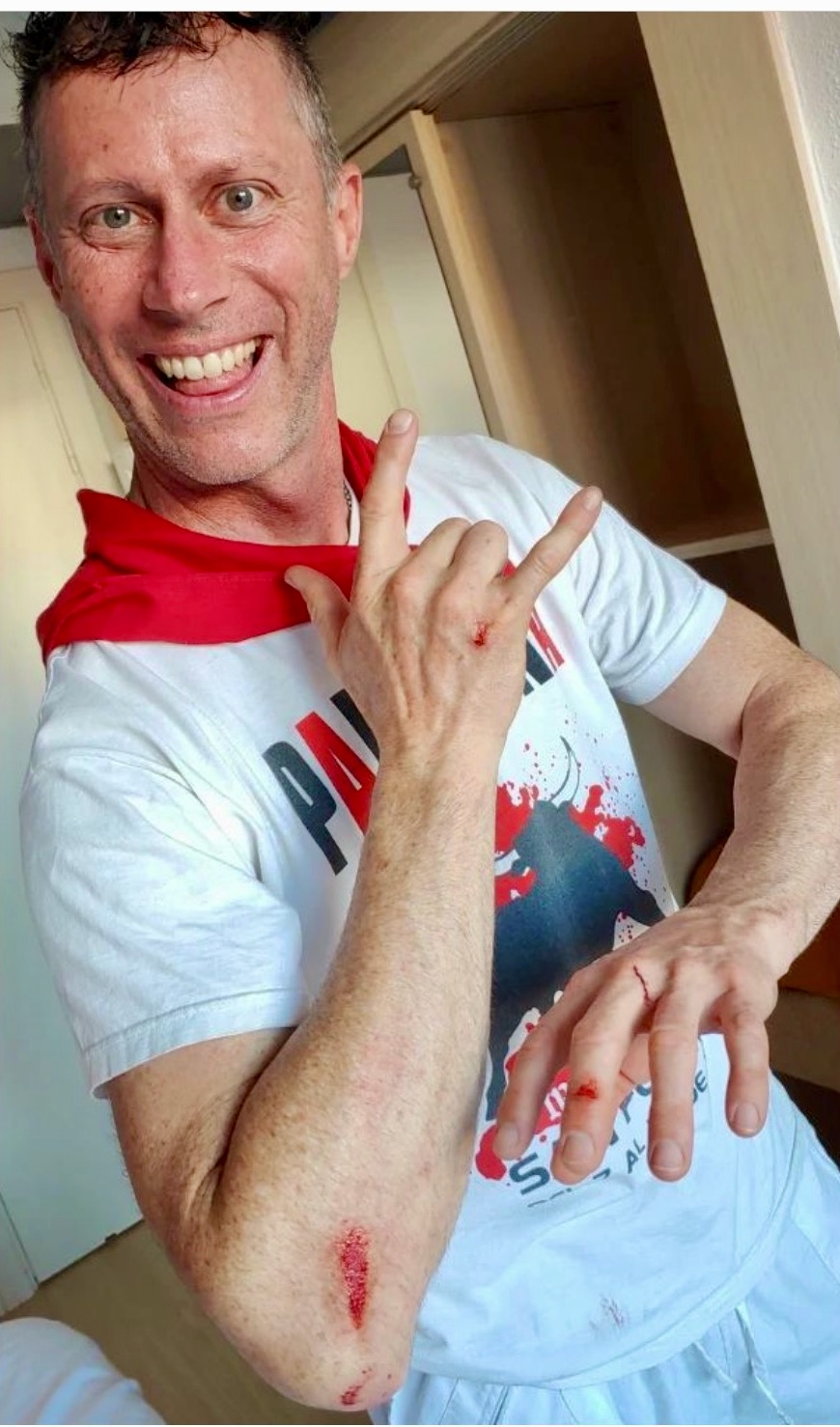 It would take a lot for Californian Jeremy Simmons, who is a regular in the Yuasa Stock 1000 Championship, to miss competing at the only MotoAmerica round in his home state. But miss it, he did. Rather than do battle against the other literbike pilots aboard his Impact Racing Yamaha YZF-R1, Simmons chose a different kind of impact. He traveled to Spain and participated in the 2022 Running of the Bulls in Pamplona, Spain.
Simmons posted a photo on his Instagram page, and while it doesn't appear that he ended up gored like a skewered olive on the end of a cocktail toothpick, it does look like he may have lowsided among the thundering herd of marauding bovine. Also, he wasn't wearing his race leathers. The bulls, however, were. ¡Olé!
For the full 2022 MotoAmerica schedule and to purchase tickets for MotoAmerica events, click HERE
For information on how to watch the MotoAmerica series, click HERE