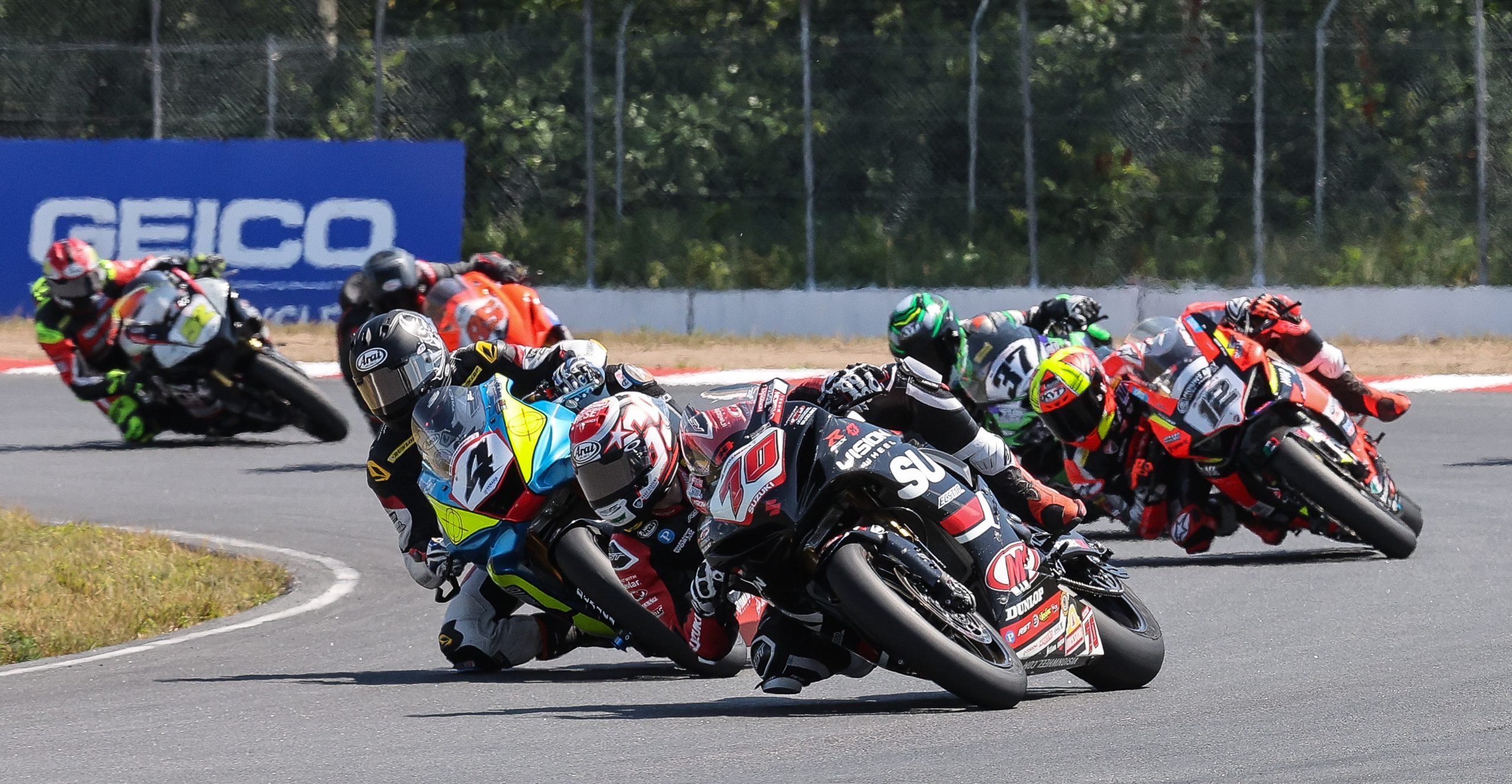 Although Warhorse HSBK Racing Ducati NYC's Xavi Forés had his first non-perfect weekend of the season at Brainerd International Raceway a few weeks ago, it likely did very little to make him lose sleep over his MotoAmerica Supersport Championship points lead heading into this weekend's seventh round at Pittsburgh International Race Complex, August 19-21.
With 150 points up for grabs in the final three rounds (six races), the Spanish veteran rider has an 84-point lead – despite an off-weekend in Minnesota where Forés was seventh and fourth in the two races after struggling to find a setup he was comfortable with at BIR.
Squid Hunter Racing's Josh Hayes was the man who made the most hay while the sun shined at Brainerd with the four-time AMA Superbike Champion finishing first and second in the two races for a points haul of 45 out of a possible 50 points. He also came out of the weekend as the all-time wins leader in AMA road racing with his 87th victory coming in race one and he was happy to put that (and all the talk that went with it) behind him.
Hayes heads to Pittsburgh just three points ahead of Vision Wheel M4 ECSTAR Suzuki's Tyler Scott with the youngster also having a good weekend with a third in race one and his second career Supersport victory in race two.
Tytlers Cycle Racing's Stefano Mesa slipped from second to fourth in the championship chase at Brainerd with two fifth-place finishes. Mesa is 13 points behind Scott and 54 points ahead of Scott's teammate Teagg Hobbs.
Pitt Race will feature the largest number of Supersport entries thus far in 2023 with 41 racers entered on five different brands of motorcycles.
REV'IT Twins Cup – Long Time No See
The 2023 MotoAmerica REV'IT! Twins Cup series picks up again after not taking part in the Brainerd round of the MotoAmerica Championship with early-season points leader Gus Rodio and his Rodio Racing – Powered by Robem Engineering Aprilia RS 660 back at the top of the point standings.
Rodio is coming off a solid weekend at WeatherTech Raceway Laguna Seca where he scored 45 points via his second- and first-place finishes in the two races and he has a points lead, albeit slender, of three points over defending class champion Blake Davis and his N2 Racing/BobbleHeadMoto Yamaha YZF-R7.
The man the majority of the class fears the most is Rodio's teammate Rocco Landers, the winner of five REV'IT! Twins Cup races thus far in 2023. Landers, however, didn't do his championship any favors when he crashed out of the lead in race two at Laguna Seca. He trails Rodio by 18 points and Davis by 15 points.
Trackday Winner/Blackmon Racing's Jackson Blackmon is fourth in the title chase and only four points clear of Cycle Tech's Hayden Schultz and six ahead of Team Iso's Dominic Doyle.
Five different riders have won REV'IT! Twins Cup races thus far in 2023: Landers (5), Rodio (2), Davis (1), Doyle (1) and Stefano Mesa (1).
Junior Cup – Dreher Leads, Moor On The Move
Early in the year, Bad Boys Racing's Avery Dreher looked like he was on an unstoppable run toward the 2023 MotoAmerica Junior Cup Championship as he won four of the first five races. But things have changed a bit as Dreher doesn't have a win in the past three races while Fairium NGRT- Gray Area Racing's Rossi Moor and his KTM have started to heat up with two wins and two runner-up finishes in the past four races.
However, Dreher still holds down a 26-point lead over SportbikeTrackGear.com's Max Van with Bicknese Racing's Hayden Bicknese, Moor and Badie Racing's Levi Badie in a group of racers giving chase in the championship.
Van leads Bicknese by five points with Moor another three behind and Badie four more behind as just 12 points separate second from fifth in the title chase. Bicknese and Van are the only two in the top five still chasing their first 2023 class victory.
Royal Enfield Build. Train. Race. – All Over But The Party
Basically, if Mikayla Moore shows up at Pittsburgh International Race Complex and throws her leg over her Royal Enfield Continental GT 650, she will be crowned champion of the class.
With just two races and 50 points up for grabs, Moore leads the title chase by 47 points, 125-78, over Sonya Lloyd. For someone who has won each of the five previous races for a perfect season thus far, scoring three points probably won't be a problem.
While the battle for the championship is basically non-existent, there is a fight for second with Crystal Martinez only 11 points behind Lloyd and Kayleigh Buyck, last year's champion, just another seven behind Martinez and only three ahead of Ashley Truxal and five ahead of Aubrey Credaroli.
Mission Mini Cup By Motul – Gouker, Davis On Top
With the scheduled round at New Jersey Motorsports Park getting washed out back in July, Pitt Race will mark the fourth round of the championship and the names at the top of the point standings are familiar.
Nathan Gouker has a 17-point lead over Reese Frankenfield in the Mission Mini Cup By Motul Ohvale 160 class, and Ryder Davis has a whopping 45-point lead over Mahdi Salem in the Ohvale 190 class.
The same two riders, Gouker and Davis, also lead the way in the 160 and 190 classes in the FIM Mini Cup Ohvale Championships with 16- and 35-point leads, respectively.
In the Stock classes, Weston Fager leads Cruise Texter by 18 points in the Stock 50 class, Ryan Clark has a 44-point lead over Joel Laub in Stock 110 and Nathan Bettencourt is comfortably ahead in the Stock 125 class championship.
Pre-Pitt Race Support Class Notes
Rocco Landers and Josh Herrin split Supersport class wins at Pitt Race last year with Landers beating Herrin and Tyler Scott in race one and Herrin besting Landers and Scott in race two.
Blake Davis and Cory Ventura won the pair of REV'IT! Twins Cup races a year ago in Wampum. Davis won race one ahead of Kaleb De Keyrel and Hayden Schultz with Ventura taking race two over Davis and Dominic Doyle.
Eventual Junior Cup Champion Cody Wyman took a big step towards that title last year with a sweep of the two races at Pitt Race. Wyman beat Gus Rodio in both races with Max Van and Kayla Yaakov filling the podium on Saturday and Sunday, respectively. Kayleigh Buyck, who would go on to capture the 2022 Royal Enfield Build. Train. Race. Championship won the lone race at Pittsburgh International Race Complex over Crystal Martinez and Chloe Petersen.