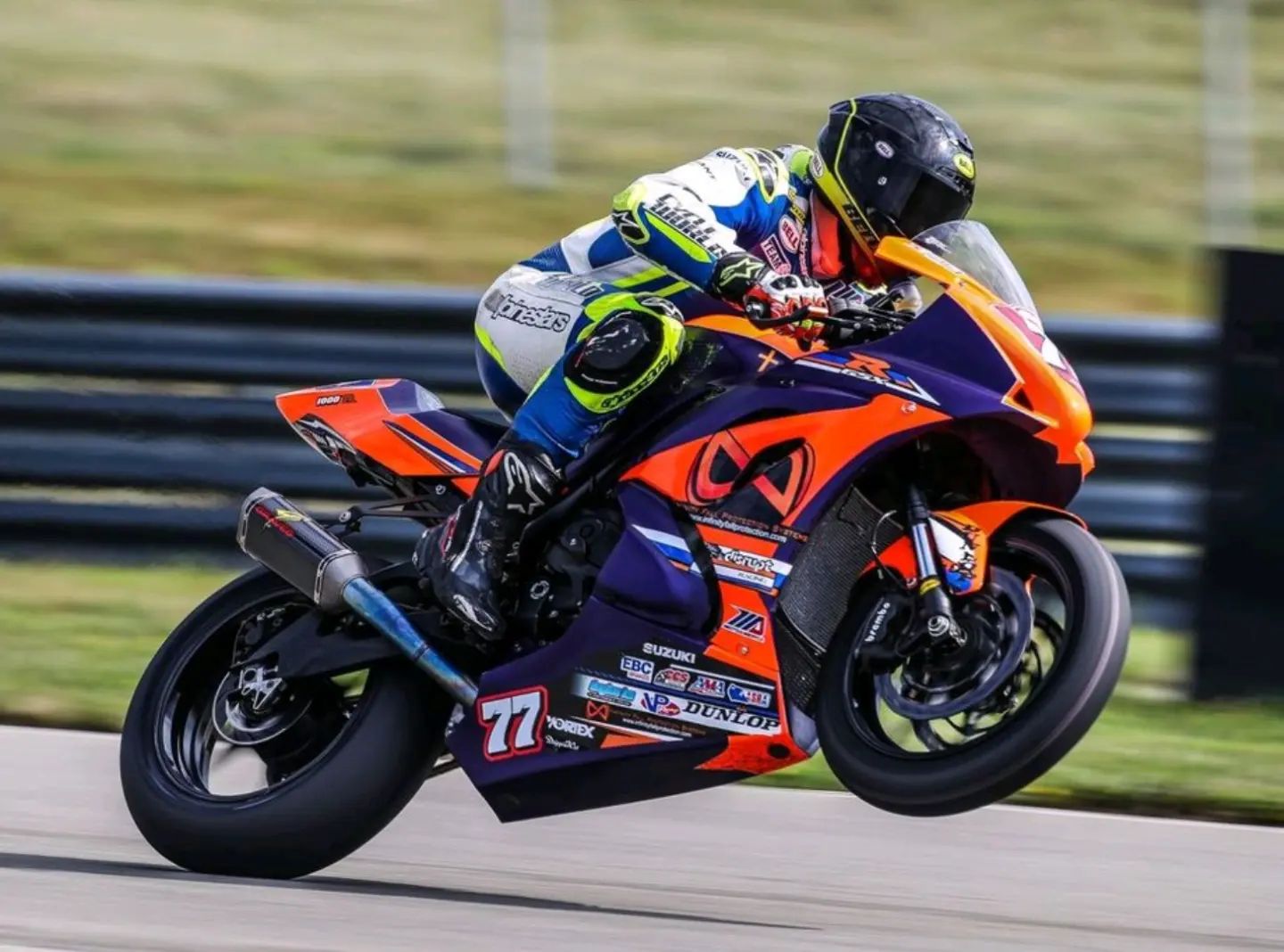 Wisconsin-based team Disrupt Racing announced yesterday on their Facebook page that Hayden Gillim has joined the team for the full 2022 MotoAmerica season.
Gillim will race a Suzuki GSX-R1000 in both Stock 1000 and also as a premier rider in the Medallia Superbike Championship. In addition, with support for Disrupt Racing from co-sponsor Infinity Fall Protection Systems, Gillim will race in this year's Daytona 200 aboard a www.infinityfallprotection.com/Disrupt Racing Suzuki GSX-R Supersport-spec machine.
"I'm really looking forward to this season with the Disrupt Racing squad," Gillim said. "It's been a couple years since I raced a full season, and I'm looking forward to the challenge. I'm back to training like I did in the past and hopefully I can make an impact in the series. The Stock 1000 class is full of talent and has a big grid, so I'm excited about running with them. I know we are still working on the Superbike program, and this will be my first time racing a Superbike. It won't be that much of a difference from the Stock 1000 bike, but the different suspension and other components that you can run in Superbike will be really fun to try.
"As far as the Daytona 200 goes, it's been eight years since I raced at Daytona, and I've never raced in the 200. I am busting my butt to get as light and fit as I can before the race comes because it is a horsepower track, and I'm not helping the bike much right now!
"I'm just really excited about getting back to traveling to the racetracks and seeing everyone I've grown up around. It'll take me a minute to get back into the swing of things, but having my wife Summer and our newborn son Stone with me will make things even more fun!"
In 2021, Gillim competed in the Stock 1000 race at Pittsburgh International Race Complex aboard a Disrupt Racing Suzuki, and in that one race, he finished on the podium in third place. In addition, Gillim raced a Vance & Hines Harley-Davidson in all three rounds of the Mission King Of The Baggers Championship. He reached the podium in third at Road America and finished the season ranked third in the Championship point standings.
For the full 2022 MotoAmerica schedule and to purchase tickets for MotoAmerica events, click HERE
For information on how to watch the MotoAmerica series, click HERE