Notice
: Function wpdb::prepare was called
incorrectly
. Unsupported value type (object). Please see
Debugging in WordPress
for more information. (This message was added in version 4.8.2.) in
/opt/bitnami/wordpress/wp-includes/functions.php
on line
5865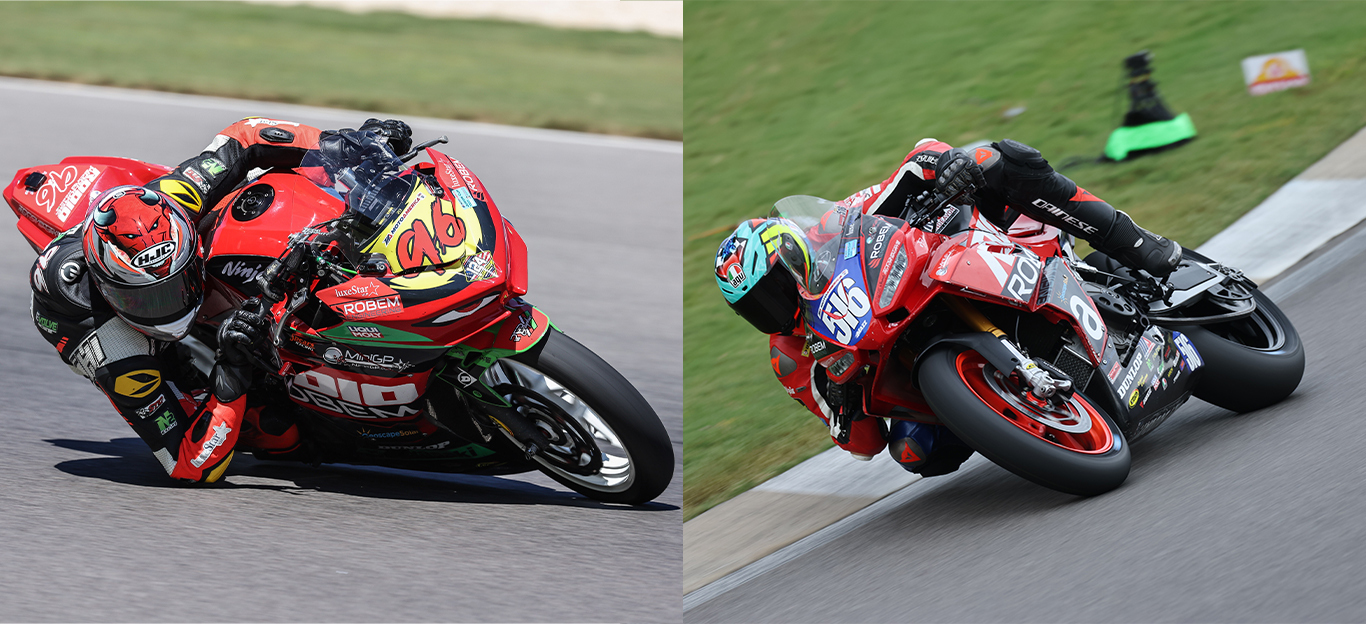 The 2022 MotoAmerica Championship may have ended at Barber Motorsports Park on September 25, but the road racing will continue for New Jersey-based riders Anthony Mazziotto and Gus Rodio. The Rodio Racing teammates will be wild-card entries for the final round of the British Superbike Championship (BSB) at Brands Hatch next weekend, October 14-16.
In a departure from his normal racing duties in the Twins Cup class, Mazziotto will be aboard an Affinity Sports Academy Kawasaki ZX-6R in the Pirelli Junior Superstock class, while Rodio will find familiar ground racing a Kawasaki Ninja 400 in the HEL British Junior Supersport class with SymCirrus Motorsport.
Joining the Rodio Racing teammates at Brands Hatch will be fellow New Jersey-based rider and MotoAmerica competitor Brandon Paasch, who will mentor Mazziotto and Rodio using his experience from racing in BSB and winning the 2019 HEL Performance British Motostar Moto3 championship.  
"I haven't been overseas since 2015/2016, when Brandon and I kicked some butt at Assen and Silverstone in the KTM 390 series," Mazziotto commented. "I'm really looking forward to the full BSB experience, having a bit more power with the Kawasaki, and going head-to-head with some new competitors. I'm excited to be racing with Affinity and Leon Haslam and thankful for the opportunity."   
Rodio said, "This is going to be a great experience. I'm really excited to get my first chance to race overseas with British Superbikes. Having Brandon come out with us is pretty cool because he knows the track, and his insight will be valuable. There's going to be a lot to take in – a new track, new paddock, and even though it's the same bike, the Pirelli rubber will be different, too. I've only been able to watch videos of the track so far, but I'm ready, and racing is racing, so I'll give the SymCirrus team everything I've got."
The team is working with current Rodio Racing partner luxeStar VIP on this wild-card opportunity. Company owner Scott Rehl has worked with racers both in MotoAmerica and British Superbike, most notably with Brandon Paasch during his championship-winning season in BSB. 
"I'm excited to once again bring U.S. racers overseas and see how we stack up against the competition," said Rehl. "Ever since I helped Brandon race in BSB, it's been my goal to get more U.S. racers into international series to compete against the best racers beyond MotoAmerica. After Anthony's and Gus's excellent results in Twins Cup and Junior Cup, respectively, I am confident that both riders will do well at Brands Hatch."
Also helping pave the way for the Rodio Racing teammates is long-time friend and sponsor Lee Watson, who is the owner of Geoscape Solar.
"It is very cool," said Watson, who was born in England and is a former racer. "Motorcycle racing has always been my passion since I was a kid, and I wanted to give back to the next generation. We are a local company, and Mazziotto and Rodio are local guys, so this is a great way to help out the young talent in New Jersey." 
Fans and supporters can follow Mazziotto and Rodio through updates and live commentary on BritishSuperbike.com, and they can watch the races live on Motorsport.tv
Be sure to like and follow Rodio Racing, Anthony Mazziotto, and Gus Rodio on social media for more updates.
– Facebook: @rodioracing / @gus.rodio / @anthony.mazziotto
– Instagram: @rodioracing / @gus.rodio / @Anthony_mazziotto
– Hashtags: #JerseyInvadesUK