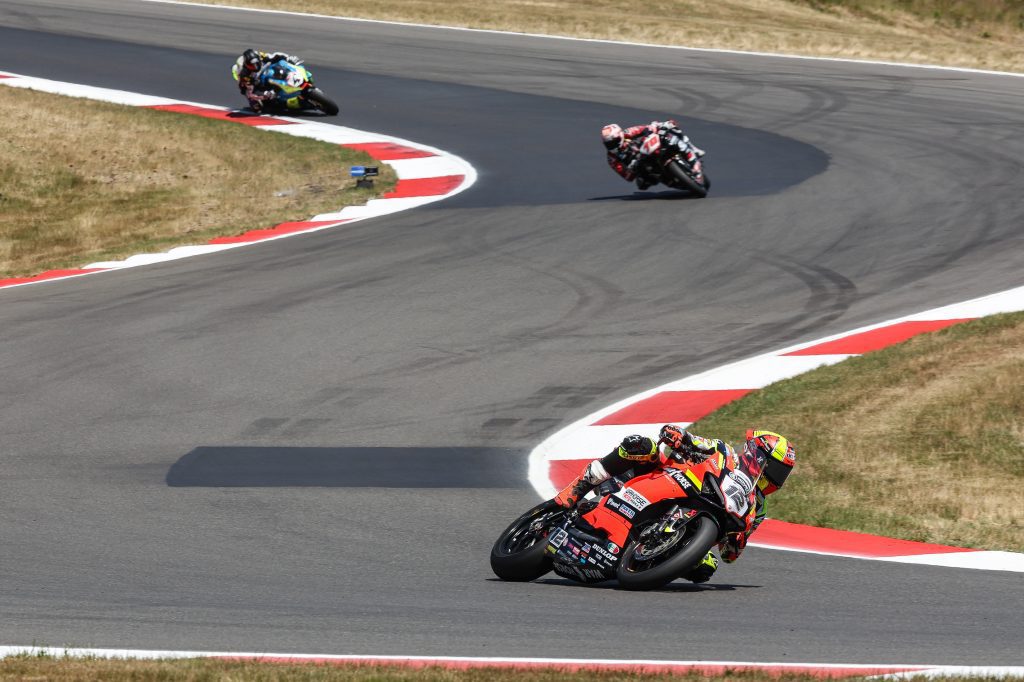 On Saturday, Rocco Landers won the REV'IT! Twins Cup race at Ridge Motorsports Park but was docked two places for passing under a waving yellow flag. Nothing could stop Landers on Sunday, however, as the Robem Engineering-backed 18-year-old dominated race two with an 11-second win – his fourth victory of the season.
In other support class action from Ridge Motorsports Park, Warhorse HSBK Racing Ducati's Xavi Forés kept his undefeated season alive. Ditto for Mikayla Moore in the Royal Enfield Build. Train. Race where she took her fourth consecutive victory.
REV'IT! Twins Cup – The Revenge Of Landers
Robem Engineering's Rocco Landers was still fuming about his penalty from Saturday when Sunday's REV'IT! Twins Cup left the start line for its 12-lap race two and he promptly took out his aggression on the rest of the field.
Landers led from the start on his Aprilia RS 660 and was never headed in topping defending class champion Blake Davis and his N2 Racing/BobbleHeadMoto-backed Yamaha YZF-R7 by a tick over 11 seconds. Davis, in turn, had his hands full with Rodio Racing – Powered By Robem Engineering's Gus Rodio leading the Virginian on the final lap only to have the 16-year-old pass him on the final lap.
Rodio held onto third, ending a three-race podium drought after finishing fourth on Saturday. Sunday's result was his fifth podium of the season.
Davis still leads the title chase though Landers has closed to within 11 points, 127-116. Rodio is still very much in the mix and just two points behind Landers.
"The bike was working amazing," Landers said. "Robem Engineering/Rodio Racing worked really hard to make the thing work as good as possible. I don't even think we made a change since qualifying one. The thing has just been on rails all weekend. I felt good. The thing felt like it was just doing whatever I wanted. The wind was a bit gnarly. Felt like it was kind of screwing with the front end, especially long corners. But on the track, we've been undefeated this season on paper though some would say different. But I see no reason why we can't continue this momentum into Laguna."
Supersport – Xavi Times Seven
Seven MotoAmerica Supersport races have been held thus far in 2023 and Warhorse HSBK Racing Ducati's Xavi Forés has won all of them. That's seven for seven. That's a perfect 200 points. Spanish for perfect is perfecto. An easy one to remember. And about as easy as Forés had it on Sunday at Ridge Motorsports Park.
Although changes to the fork of his Ducati Panigale V2 didn't pan out the way he wanted them to, it didn't do much to hamper his performance as he sped away to a five-second victory over Vision Wheel M4 ECSTAR Suzuki's Tyler Scott, who in turn was some three seconds ahead of his teammate Teagg Hobbs.
With seven races in the books, Forés's 200 points puts him 76 points clear of Tytlers Cycle Racing's Stefano Mesa with the Floridian finishing fifth on Sunday in Washington. Scott is third in the standings – 12 points behind Mesa and nine clear of Squid Hunter Racing's Josh Hayes, who crashed out of today's race.
"I felt worse the front (fork) today," Forés said. "I felt a little bit already this morning on the warmup, but I thought it was the track temperature. We keep the bike with stiffer springs on the front, but definitely was worse. I had a couple of moments on the front, especially in turn 13. I lost the front a couple of times. I wanted to try to stay all the race in 43s, but it was impossible to have the same feeling on the front, so I had to roll off a little bit and stay in the 44 mid, 44 low. I was expecting Tyler (Scott) coming strong today, because already this morning on the warmup I felt good. I saw good lines from him when he was in front of me. I was trying to put the gap as yesterday and I felt worse, so I couldn't stay quite focused. I did a lot of mistakes on the laps, the speed, the pace. But anyway, another victory is good for me and good for the team and also for the championship points. We move now to Laguna. The track I know from the past. A track that I love. I always did good on the World Championship, so I hope to keep this momentum."
Royal Enfield Build. Train. Race. – Even More Of Moore
Race two of the Royal Enfield Build. Train. Race program kicked off the final day of MotoAmerica Superbikes at Ridge Motorsports Park, and it's quite obvious that we're starting to see a pattern here. Among the 12 ladies selected to compete in the spec series, Mikayla Moore has firmly established herself as the alpha-rider. She was recommended to the program by last year's champion Kayleigh Buyck because Buyck felt Moore would be great competition for her. Is she ever. In Saturday's race one, Moore beat Buyck by more than 16 seconds, and then, on Sunday, Moore won by more than 18 seconds over Buyck. That's four consecutive wins for Moore, and she already seems unbeatable even though we're only at the halfway point of the season.
The Sunday race-two podium was a carbon copy of Saturday's race-one podium with Moore first, Buyck second, and Sonya Lloyd rounding out the podium.
"When I'm out there, I have a lap timer on my bike so it's really easy for me to keep myself going," Moore said. "As long as I hit my marks, and I always try to find time wherever I can. Every lap, I was finding time and finding better pace. In yesterday's race, I caught a false neutral, so I wasn't trying to have that happen again today. I just made sure I was really smooth with the bike and wasn't aggressive at all with it."
Mission Super Hooligan National Championship – All Change
Following Sunday's race two of the Mission Super Hooligan National Championship, the Indian FTR1200 motorcycles ridden by race winner Jeremy McWilliams and second-place finisher Tyler O'Hara were protested by another team. Upon inspection, the ends of the handlebars were found to be below the top plane of the triple clamp, which is a violation of the class's technical rules. As a result, McWilliams and O'Hara were disqualified, and third-place finisher Andy DiBrino, who was aboard a DiBrino Racing KTM, was declared the race winner. Second place went to Team Saddlemen Harley-Davidson rider Cory West, and Roland Sands Design/Indian Motorcycle's Bobby Fong completed the revised podium.