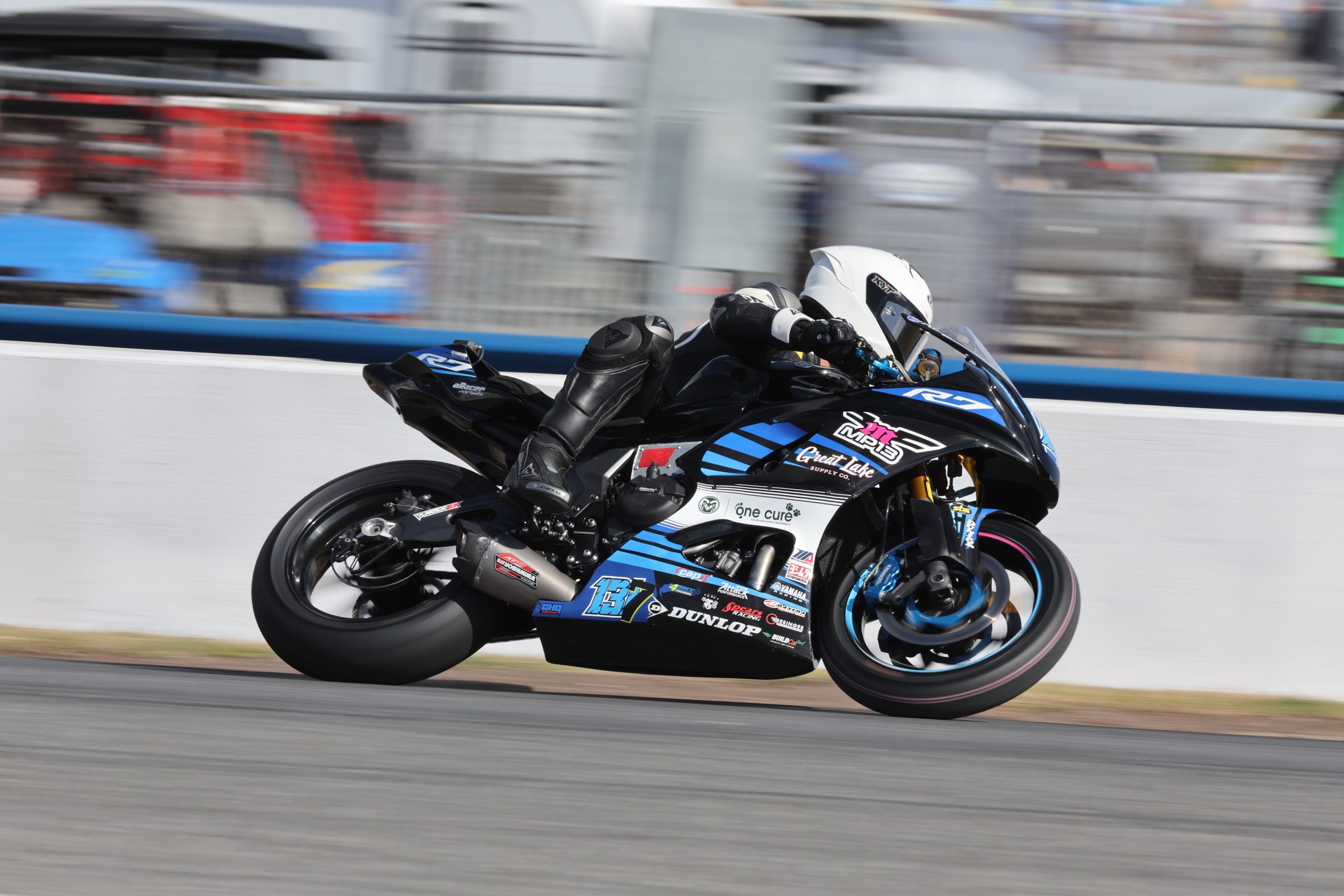 The following is from MP13 Racing…
As a result of a right-leg injury suffered by MP13 Racing's Kayla Yaakov earlier this week during a team test at Roebling Road Raceway in Bloomington, Georgia, the 15-year-old rider has been ruled out of racing in round one of the 2023 REV'IT! Twins Cup Championship, which is taking place today through Saturday at Daytona International Speedway. The announcement was made by Melissa Paris, team owner of MP13 Racing.
Journeyman rider Stefano Mesa is substituting for Yaakov on the MP13 Racing Yamaha YZF-R7, and his competition number for the REV'IT! Twins Class is 137, which was changed from Yaakov's number 131.
"Obviously, it's very disappointing to be in this situation because I've seen the work that Kayla has put in, and that my team has put in, during the offseason," Paris said. "We came to Daytona ready to fight at the front of the race, so it's definitely a letdown. But, at the end of the day, she's 15 years old. She has a long career ahead of her, and it's a long season ahead of us. So, I have to think about the long term, and I just want her to know that we all have her back, and we're anxious for her to get back on the bike in Road Atlanta."
Yaakov commented, "I'm sad to have gotten injured just a couple of days before my debut with MP13 Racing and in Twins Cup. But we've got some time before round two at Road Atlanta, so I will be working on rehabbing with the plan to get back on the bike as soon as possible and make the grid in Atlanta."
Mesa rode the MP13 Racing Yamaha R7 in Thursday morning REV'IT! Twins Cup Practice 1 and the afternoon's provisional qualifying session at Daytona, and despite no laps on the bike prior to today, he provisionally qualified on the front row and in the second grid position.
"Last night, Melissa and Josh came over and asked me if there was a possibility that I could ride their Twins Cup bike because, unfortunately, Kayla had an accident while testing," Mesa said. "So, I definitely said, 'Yeah, I would. Just keep me posted.' This morning, they came looking for me, and here I am riding the bike."
Mesa is doing double duty at Daytona since he is already riding the Energica Eva Ribelle RS electric bike for Tytlers Cycle Racing in the Mission Super Hooligan National Championship. Final qualifying for REV'IT! Twins Cup will take place Friday morning at 9 a.m. ET, and race one will go green at 2:30 p.m. ET. Race two is on Saturday at 11 a.m. ET. Both races can be seen live on MotoAmerica's YouTube channel.