We've said it before, but the MotoAmerica paddock is a tightly knit community with neighbors helping neighbors, and most times, within each of the race classes, the riders and teams treat other riders and teams like family. Fans often become part of the family, too.
Towards the end of Stock 1000 qualifying practice one last weekend at Brainerd International Raceway, Andrew Lee, who had turned the fastest lap time in Friday morning's first practice session, had a big crash in turn three that looked for all the world like one of those excuse-me-while-I-kiss-the-sky, which-way-is-down, this-is-going-to-hurt get-offs that used to happen all-too-often during the 500cc two-stroke era of the Grand Prix World Championship.
Lee's Kawasaki ZX-10RR lost the rear, then threw him over the high side. It was a crash that the Californian luckily walked away from with only a few bumps and bruises. At first, it looked like his bike had also gotten through the incident in halfway decent shape, too.
I walked over to Franklin Armory/Andrew Lee Racing's pit area on Friday night, and as expected, the bike was up on the stand. Lee's father Eddie greeted me with a forlorn look, and even before I was able to utter the words "the bike doesn't look too bad," Eddie lamented that Andrew was done for the weekend. In the after-crash inspection, the team discovered that the violent crash cracked the frame in the area around the steering headtube, transforming the expensive, beautifully formed, cast, and welded rolling piece of technology and metallurgical artistry into a big lump of recyclable scrap aluminum. To be truthful, aluminum motorcycle frames can be repaired, but they are not legal for MotoAmerica because the repair is considered a frame modification.
While Eddie and I talked, I noticed that Andrew was standing off in the corner and talking on the phone. The expression on his face was not one of disappointment and discouragement. On the contrary, he looked hopeful and even slightly optimistic.
On Saturday morning, Lee did not participate in the weekend's Stock 1000 qualifying session, so it seemed that Eddie was right about Andrew being done for the weekend. That expression on Andrew's face must have been because he is inherently optimistic and was not his reaction to good news being delivered to him via cellphone.
But, when the grid sheet came out for the weekend's Stock 1000 race, Andrew was listed in seventh position based on his fourth-fastest lap time in QP1. But how was he going to race?
"It's complicated," Eddie said.
Flash back to Friday night while Andrew was on the phone. The reason for the happy and optimistic demeanor on his face was because he was calling in a favor from some very good friends.
Andrew met Eric Zurn at a Panda Express in Wisconsin about five years ago. Since that first meeting, Andrew has become close friends with Zurn, as well as with his sister Heidi Larson, her husband Scott, and Heidi's other brother Bobby. Andrew often stays with the Larsons when he races at Road America, and Heidi, Scott, and Heidi's brothers help Andrew out in all kinds of ways at the track and beyond.
The friendship compelled the Larsons to purchase a brand-new ZX-10RR for Andrew from PCP Motorsports in Sacramento, California a couple of weeks ago. Heidi even flew out to California to sign the paperwork and complete the purchase. The bike is still at the dealership because Andrew and the team have not yet had a chance to build it into a racebike, and they didn't even transport it to Minnesota.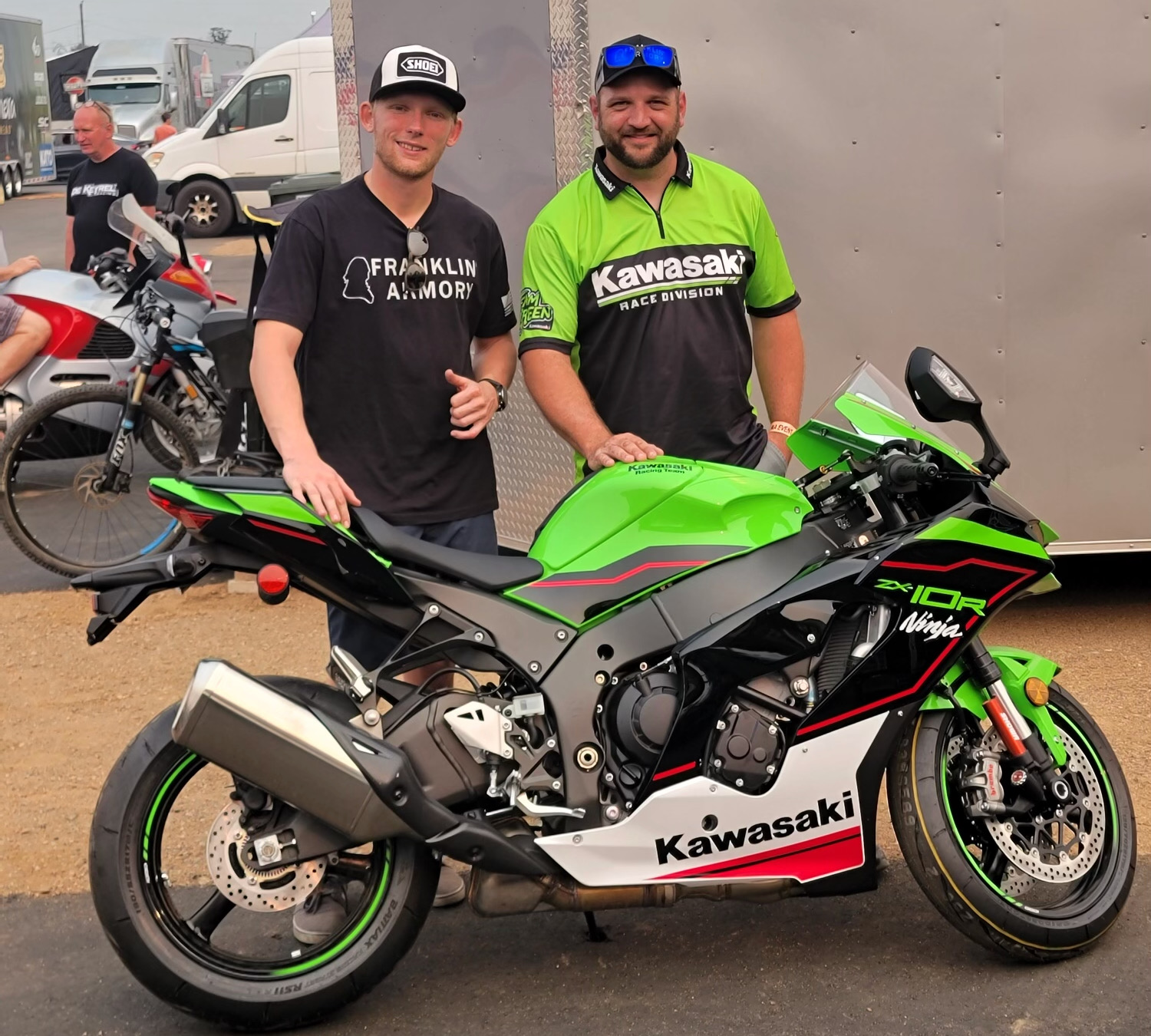 On Friday night, while Andrew was on the phone, a brand-new ZX-10R was located at Heinen Motorsports in Osseo, Minnesota, which is about two hours south of Brainerd. It was almost closing time at the dealership, but the owner Paul Heinen said he'd stay open for Andrew and the team. For this bike, Bobby, along with Heidi's other brother Nick wanted to be the ones to step up and help Andrew. So, later that night, Bobby, Scott, and Andrew's crew member Chris Chandler drove to Heinen Motorsports where Bobby (along with additional funds from Nick, as well as Joe Brown, president of Cool Breeze Refrigeration, one of the team's sponsors) purchased the brand-new Kawasaki, and the group brought it back up to Brainerd. By then, it was past midnight.
Michael Gilbert is a fellow Stock 1000 competitor and a good friend of Andrew's, and he had a partially assembled Kawasaki ZX-10R that he used for spare parts, but it wasn't a ZX-10RR like the bike that Lee destroyed on Friday. However, the frames on the RR and the R are exactly the same. So, while the other Kawasaki was being purchased and brought up to Brainerd, Gilbert offered his backup bike to Andrew and his team, which enabled them to get a head start on building a new racebike.
The team took the surviving components off Andrew's crashed ZX-10RR and put them on Gilbert's ZX-10R frame along with several other parts from Gilbert's bike. And, when the new bike arrived a little later, the team also took some parts off that bike, too. Then, they gave the scavenged new bike to Gilbert, along with the leftover parts from the bike that Gilbert donated.
As Saturday morning dawned, Andrew Lee had a complete ZX-10RR. All the overnight acquiring, swapping, cajoling, building, blood, sweat, and tears resulted in a bike that was ready for Stock 1000 final qualifying on Saturday morning. Well, it was almost ready, but it wouldn't start.
Andrew missed final qualifying because of the electrical problem, but his fourth-fastest lap time in Friday's qualifying practice one was fast enough to put him in seventh on the Stock 1000 grid for that afternoon's race.
Andrew and his team continued to work on the bike, and they got it running and ready to race at 1:10 p.m. Central Time. Andrew made it to the grid, raced the full 13 laps, and finished sixth at the checkered flag.
Andrew also made it to the grid for the HONOS Superbike race at 3:10 p.m. Central Time, started on the fifth row in 15th place, and finished eighth overall in the race and second in Superbike Cup behind only Jake Lewis.
On Sunday, Andrew was ninth-fastest overall in HONOS Superbike morning warmup, and he was hoping for another strong result in the afternoon's Superbike race two. Unfortunately, the electrical gremlins they had on Saturday morning cropped up again on the warmup lap for Sunday's Superbike race, and Lee was unable to start.
On Sunday night, the Franklin Armory/Andrew Lee Racing team left Brainerd International Raceway tired but beyond satisfied and exceedingly proud of what they had accomplished with special thanks to Scott and Heidi Larson, Bobby and Nick Zurn, Joe Brown, and Andrew's entire crew.
"Scott and I met when we were 15 years old," Heidi said. "We married young, and he went to college while I was expecting our first child. I worked full-time to help put him through school, and we also had a benefactor who helped Scott with college expenses, too. We obviously wanted to repay him, but he said, 'I expect that someday when you are able, you can support someone like I did with you.'
"Also, Scott had a mentor who was a surgeon, and he cared a lot about us. The mentor took Scott on a mission trip to Africa for two weeks, and it was a very expensive trip. Scott told his mentor, 'I'll never be able to repay you for this amazing experience.' His mentor said, 'Take someone else under your wing, and that's all the repayment I need.'
"When you bless someone, you in turn are blessed. That's how we feel about our relationship with Andrew, his family, and his team."
Paying it forward helped Andrew Lee keep his racing program moving forward, and he and the team will be ready to go next weekend at Pittsburgh International Race Complex. Heidi and her brother Bobby will be at Pitt Race, too. Angels on the shoulders of Andrew Lee.