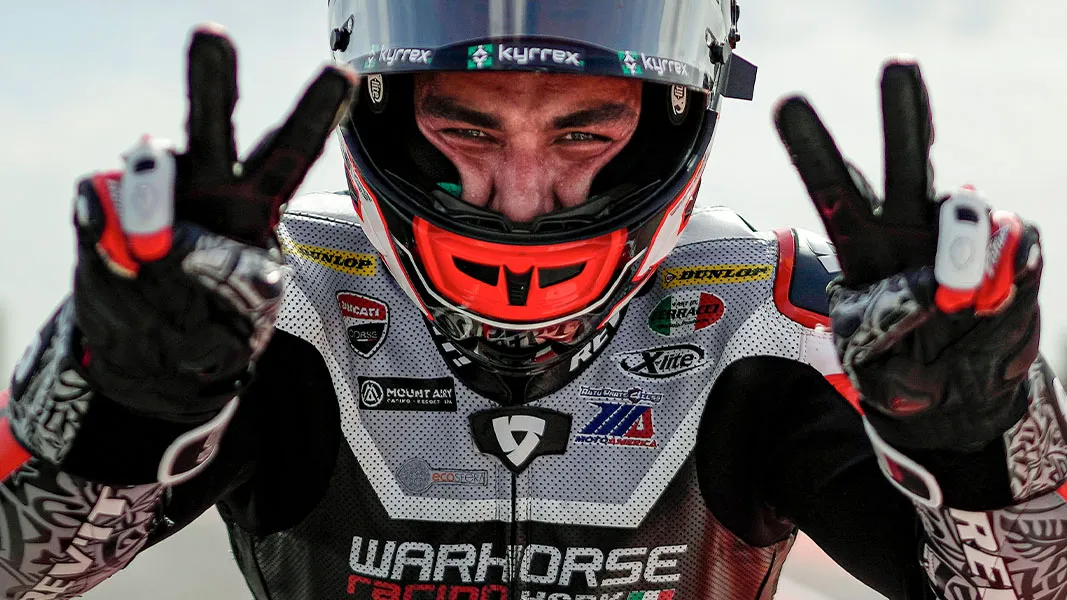 The 2022 Medallia Superbike Championship had just been wrapped up, and the glow of what was MotoAmerica's best season yet was poetically aligned with the glow of the setting sun and the lengthening shadows being cast over the teams and trucks loading out in the paddock. I was on the hunt for newly re-crowned season champ Jake Gagne.
Hearing rumors that he was doing his sit-down interview with the "Pressure To Rise" production crew, I hightailed it to their temporary studio in the main building along Barber Motorsports Park's front straight.
Opening the door, there was Gagne, with an Alpinestars shirt wrapped around his head reminding me of someone Danilo Petrucci might have encountered during his Dakar adventure. And, speaking of Petrucci, he was standing there, too, talking with Gagne and "Corndog," who is Jon Cornwell, Gagne's crew chief.
Corndog had one hand on each of Petrucci's shoulders, and he was staring into The Handyman's soul exactly like Corndog the Zen Master does to Gagne and anyone else who will benefit from his Wisdom. Yes, "Wisdom" with a capital "W".
He was quietly speaking about "Buriram," and Petrucci was listening intently. When Corndog was finished, I put one hand on each of Petrucci's shoulders, stared into his piercing eyes, and said, "You need to rest. Sleep for about three days." He laughed and said, "There will be time."
And then, he said, "I received this call from Suzuki. Everything is tight. I go home Tuesday morning, and Tuesday afternoon, I have to go on the plane to go to Buriram. Sincerely, I'm a little bit scared about my physical condition. For riding Superbike in MotoAmerica, it was good, but riding a MotoGP — and it's one year that I don't ride that bike, so you are a little bit more stiff on the bike — it's something different, especially there. At least I know the tires, I know the track, but new bike, extreme temperatures. So, let's see. But I think will be really, really romantic to have raced in one complete year with KTM MotoGP, KTM rally bike, Ducati Superbike, and Suzuki MotoGP. Sincerely, I would like to go."
Petrucci's Twitter account says simply, "I like wheels." Yes. Yes, he does.
UPDATE: The Team Suzuki MotoGP Press Office confirms that Danilo Petrucci will stand in for a sidelined Joan Mir at the Thai Grand Prix this weekend in Buriram. To read the press release, go HERE