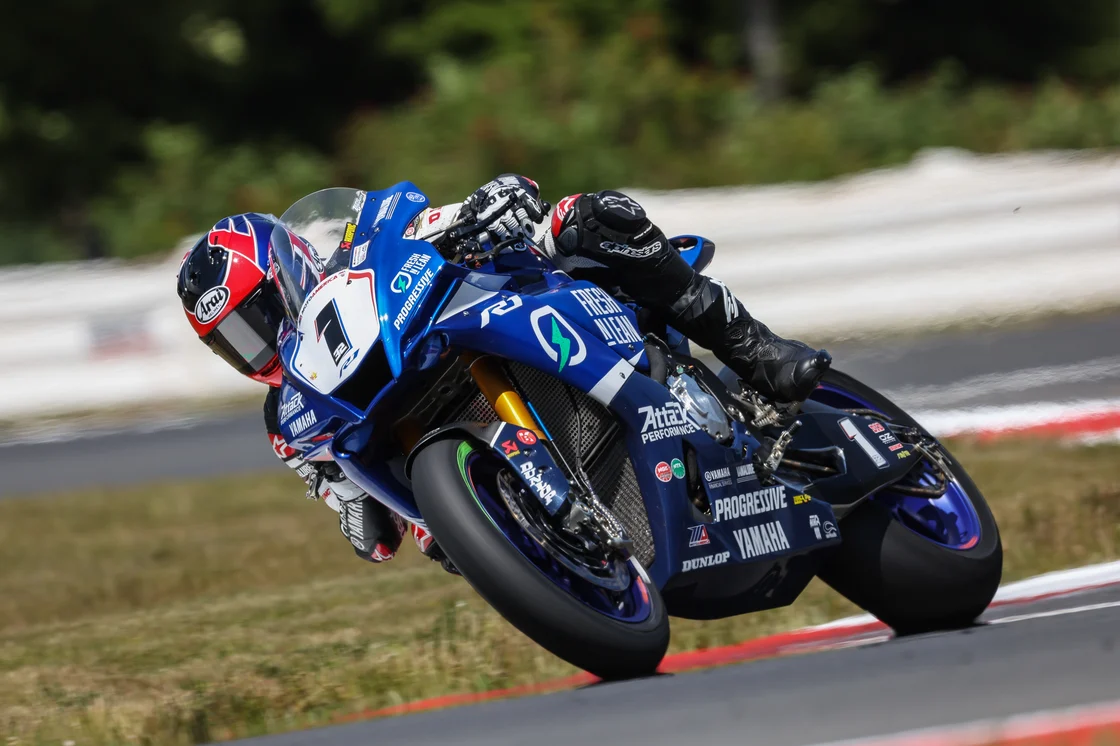 The following is from Yamaha…
Fresh N Lean Progressive Yamaha Racing's Jake Gagne completed a successful weekend at the Ridge Motorsports Park and returned to the podium with a runner-up finish in today's Race 2. The defending MotoAmerica Superbike Champion's 1-2 score at the fourth round of the championship has him leaving Shelton, Washington, with a 23-point lead. His teammate Cameron Petersen overcame adversity to finish sixth.
On the heels of his fifth-consecutive victory at The Ridge, Gagne got another great start to take the lead and threw down some fast times up front. He tried to break away, but his championship rival closed the gap. Gagne kept a strong pace but was passed after the halfway point and rode a smart race to finish second and score some valuable points in the title fight.
After a tough start to the weekend with some food poisoning and a crash in yesterday's race, Petersen looked to rebound. He got a good start from the second row of the grid to battle in the top five and was holding down fourth with the competition on his heels, but ultimately was shuffled to sixth in the final laps.
The Fresh N Lean Progressive Yamaha Racing team heads to Monterey, California, in two weeks for Round 5 of the MotoAmerica Superbike Championship at the iconic WeatherTech Raceway Laguna Seca on July 7-9.

Richard Stanboli – Fresh N Lean Progressive Yamaha Racing Team Manager
"We missed the setup for Race 2, but Jake still managed to finish second and collect some good championship points. Cameron was set back a little from the two crashes earlier this weekend and struggled to maintain the pace at the front. The team will learn from this race and further improve for Laguna Seca. We look forward to seeing our California fans."
Jake Gagne – Fresh N Lean Progressive Yamaha Racing
"I got off to another great start for Race 2 and had some clean opening laps. About halfway, I got passed, and I couldn't hold the pace to make a run for the win and had to bring it home in second. Overall it was a good weekend, and we got some good points. We're looking forward to Laguna."
Cameron Petersen – Fresh N Lean Progressive Yamaha Racing
"It was a tough weekend for me. I felt great on the motorcycle, but unfortunately a few too many mistakes cost me. Having said that, we can take a few positives away from this weekend. My pace was strong, and we can build off of that for Laguna."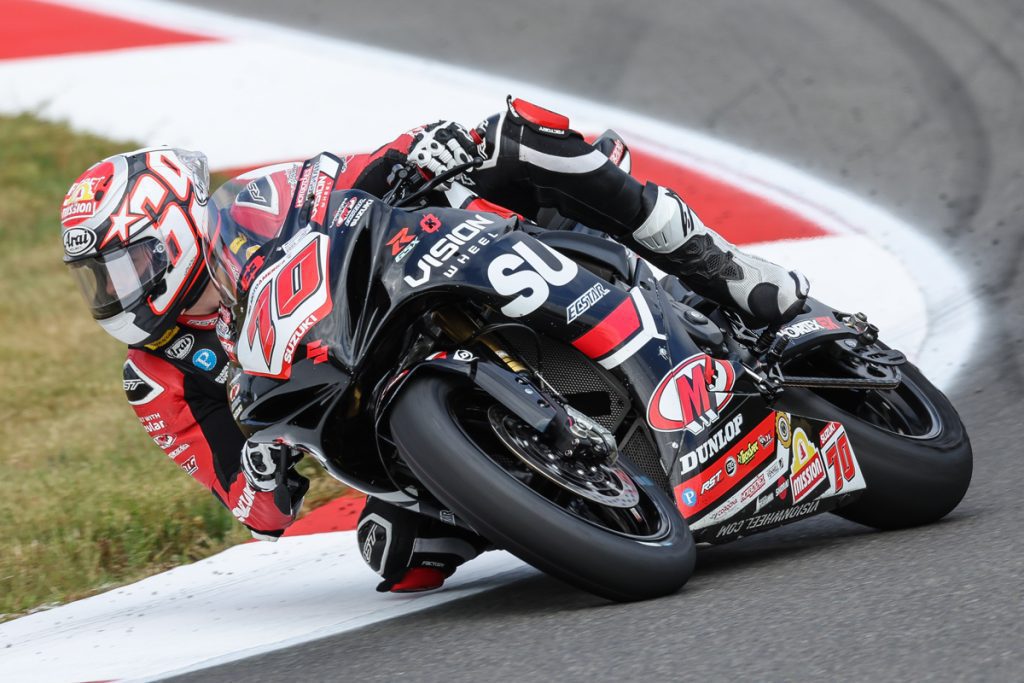 The following is from Suzuki…
Suzuki Motor USA and Team Hammer reeled in a second and third podium result of the weekend to conclude a bountiful MotoAmerica round at Ridge Motorsports Park with Team Hammer's 350th podium.
Vision Wheel M4 ECSTAR Suzuki's Tyler Scott made his intentions known from the start of Sunday's MotoAmerica Supersport rematch. The 17-year-old locked down second position after starting from the center of Row 1 aboard his next-generation Suzuki GSX-R750. Scott then put his head down and stuck closely behind the race's pacesetter long enough to pull free from the pack. Scott definitively put on a strong ride to second place. It was Scott's second runner-up of the season and his third podium finish.

Scott said, "We made some changes overnight for this morning's warm-up. The Vision Wheel M4 ECSTAR Suzuki team did a great job dialing the bike this weekend. Yesterday, we had an issue during the race, which was unfortunate, but today our goal was to get a strong start and manage the gap to first and third. In the end, it was a really great race, and I'm happy with the result."
Teagg Hobbs followed up Saturday's breakthrough performance to a first-career MotoAmerica Supersport podium by adding a second one on Sunday. While Scott shook free early, Hobbs found himself mired in a multi-rider battle for third. Hobbs eventually broke his competition and earned some breathing space en route to another third-place podium aboard his Vision Wheel M4 ECSTAR Suzuki GSX-R750. Suzuki GSX-R750s once again achieved more top-ten class positions than any other manufacturer on the grid.

"It was a battle right from the start," Hobbs said. "I had a decent start and tried to be as aggressive as possible. Tyler got away from me. I finished ahead of him on Saturday, so I knew he was going to be on it today. I've got to give it up for the whole Vision Wheel M4 ECSTAR Suzuki team. I've got an amazing motorcycle underneath me, and I'm as happy as can be just to be here racing this bike."
Richie Escalante enjoyed one of the strongest performances of his Superbike career. Escalante spent the bulk of the contest pressuring the rider in fourth before finally forcing him into a small mistake. He then took control of the position himself. Escalante pushed to the maximum aboard his Vision Wheel M4 ECSTAR Suzuki GSX-R1000R with a maiden podium ride in his sights. While he came up just short, Escalante ultimately earned his third fourth-place result in his last five outings, finishing less than five seconds back of the win. The race is the closest Escalante has been to the winner at the checkered flag.

"What an amazing weekend," Escalante said, "We made a change to the geometry of the bike this morning to find a little bit more grip. We got a strong start and had a good rhythm. I saw how close we were to a podium result, so I pushed hard and did my best. I'm super happy and really proud of my Vision Wheel M4 ECSTAR Suzuki crew. We need to keep working, but overall, it was a particularly good weekend."
Unfortunately, Taylor Knapp's one-round ride aboard a Vision Wheel M4 ECSTAR Suzuki GSX-R1000R Superbike ended on a tough note. Knapp crashed while fighting for 12th position, and while he remounted in an attempt to continue racing, he was ultimately forced to retire.
"We improved the lap time and dropped a second and a half, but I had an unfortunate crash in Turn 1. I am bummed about that," said Knapp. "I was hoping to do better for the team and give them a good result. The bike was incredible to ride and the team was great all weekend. Hopefully, the team will benefit from me riding the bike and my feedback. Thanks to Suzuki and Vision Wheel M4 ECSTAR Suzuki for giving me the chance."
Vision Wheel M4 ECSTAR Suzuki will now travel to Laguna Seca in Monterey, California, for the next round of the 2023 MotoAmerica season on July 7-9.
---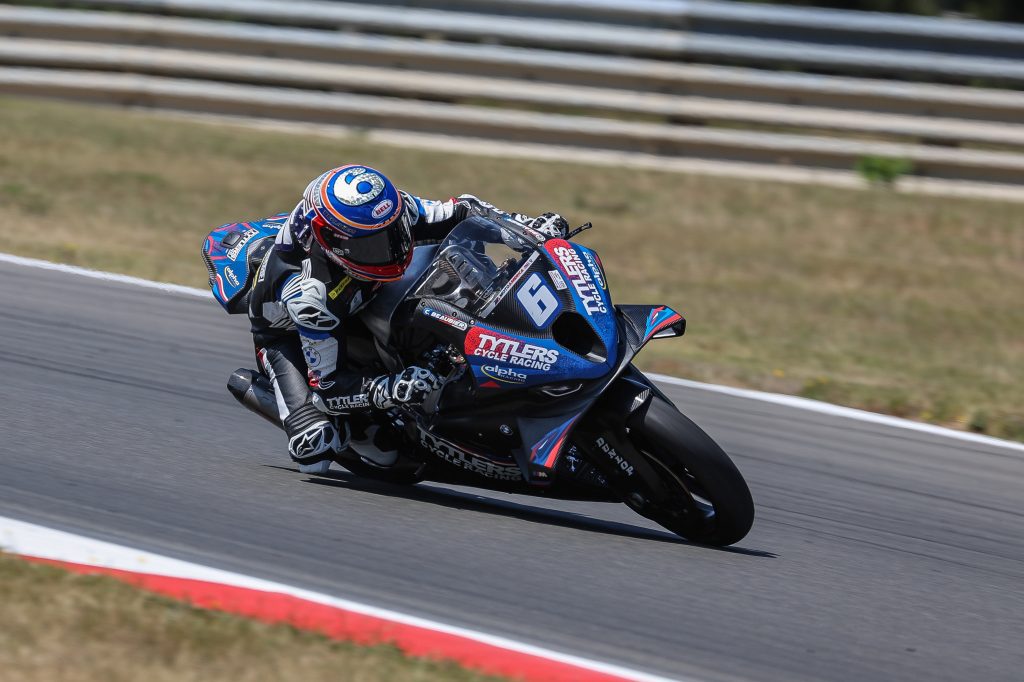 The following is from Tytlers Cycle Racing…
Cameron Beaubier, Corey Alexander, and PJ Jacobsen – Tytlers Cycle Racing's BMW Superbike trio – were back on track in the latest round of the MotoAmerica series at The Ridge Motorsports Park this past weekend with all three once again adding significantly to their overall points tally. Another win for Cameron, a career best fourth for Corey and a top six for PJ just some of the highlights of the round!
MotoAmerica returnee Beaubier was once again at the sharp end throughout the event at the 2.47-mile circuit. Qualifying third, the #6 rider was in contention for the win on Saturday after reducing the deficit to early leader Jake Gagne. Unfortunately, with three laps to go the multiple MotoAmerica champion slid out of contention. Remounting he was classified seventh. Sunday once again saw Beaubier going wheel to wheel with Gagne, his race winning overtake coming just after half race distance. Extending his advantage until the flag, Cameron took his third win of the season by over a second to consolidate second overall in the standings.
Corey Alexander dominated in Stock 1000 at The Ridge twelve months ago and he was in fine form once again this year. Achieving his best qualifying position ever in the Superbike class, fifth, Alexander ran consistently in the leading group in both races, underlining his speed at the Washington stage venue and showing that his adaption to the SBK category continues at an impressive rate. Fourth on Saturday, he finished fifth on Sunday to record the first double top five of his Superbike career.
The team's third rider PJ Jacobsen qualified on row three. He too gained positions despite struggling a little with set up during the weekend. He finished sixth and seventh on Saturday and Sunday respectively.
With all three riders having now shown front running pace this season, Tytlers Cycle Racing heads to California in a fortnight for the first triple head weekend of the season at the iconic Laguna Seca circuit.
Cameron Beaubier: "We had good pace in Race 1 and slowly chipped away the lead to Jake but unfortunately, I lost the front in turn one with three laps to go. It was a bummer, but I was happy with the pace and the progress we are making. Yesterday was a good day. The guys made two changes to the bike, to the front end and with engine brake, that gave me a good feel from warm up on. It felt really good to get a win here on a track I thought we would struggle at coming in. Onto Laguna!"
Corey Alexander: "Since the first session of the weekend I've felt very comfortable on the bike and the times have come a bit easier. Our best qualifying of fifth put us in the mix for the races. I was a little too reserved the first half of the race one but really started to work my way forward and after running sixth lucked a top five with Cam's (Beaubier's) misfortune. I'm very happy with yesterday's result in race two even though the position is one less than what we achieved on Saturday. We finished seven seconds back from Cam which is less than half the gap to the lead from yesterday. I'm excited to keep this momentum going forward to Laguna. Thanks to the team and my guys for giving me a great bike to work with."
PJ Jacobsen: "I was a bit lucky to get away with sixth position on Saturday after a few people crashed, but I felt as the race went on we had a bit better pace and the guys in front were coming back to me. It was annoying that there was a red flag as I really thought we could have made up a few spots but that's racing. We made some changes for Sunday as I haven't had much front end confidence at all since the very first session. I ran off in race two at turn twelve and lost five or six seconds. That really set me back and cost us what could have been at least another top six. I am super disappointed to only get a P6 and P7, it's not where I want to be or where we have shown we can be, but we will go again in two weeks. Laguna is one of my favourite tracks and I am hoping the front-end confidence returns there."
---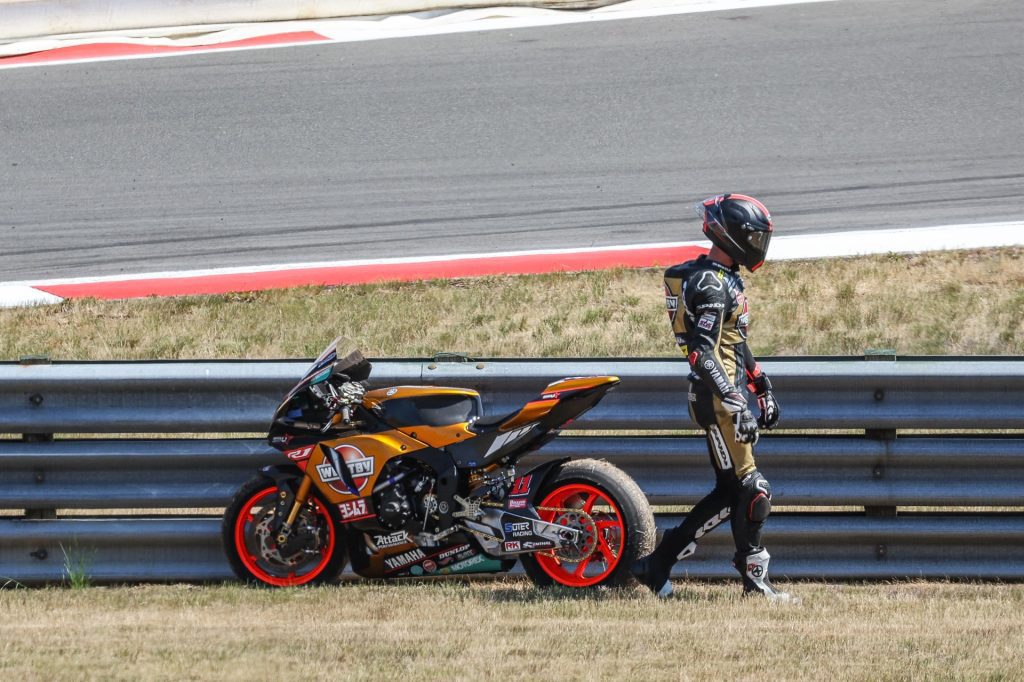 The following is from Westby Racing…
Hopes and expectations were high on Sunday morning for Mathew Scholtz and the Westby Racing team after Mathew finished as runner-up in Saturday's MotoAmerica Superbike race one at Ridge Motorsports Park. Unfortunately, however, Mathew suffered a tipover in Sunday's race two, along with some technical issues with his Yamaha YZF-R1, and he was unable to finish.
"We made another step in the positive direction overnight and the morning warm up was also positive," Mathew said. "We were pretty confident heading into the second race, but unfortunately, I realized early on that we had an electronic issue going into the chicane, and I ran off the track, which moved me further back. I kind of got stuck there further back, and it was difficult to overtake anyone. But, I put my head down and tried to make a charge towards the front. I got a little too eager with the bike, though, and I had a tipover, which bent the right handlebar, so I couldn't continue. It was very disappointing because I thought we deserved to be at the front. It wasn't the Sunday we were looking for, but I'm happy with the steps forward that we made in the setup, and it should help us a lot at (WeatherTech Raceway) Laguna Seca. We showed that, when the bike is right, we have phenomenal pace, and with the way things are now, I'm optimistic about Laguna."
The Westby Racing team will be back in action on July 7 through 9 at WeatherTech Raceway Laguna Seca in Monterey, California, for round five of the 2023 MotoAmerica Superbike Championship.
---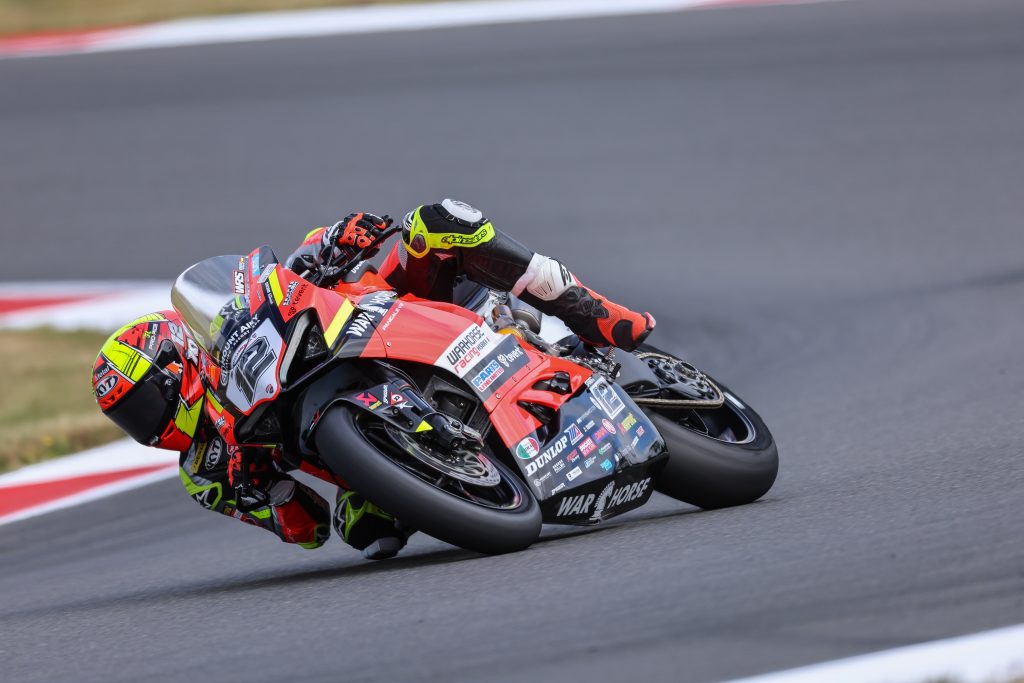 The following is from Ducati…
Round four of the 2023 MotoAmerica Superbike and Supersport Championship saw America's fastest road racers head to the beautiful Ridge venue in Washington state with both Josh Herrin and Xavi Forés scoring some champagne for their efforts.

Herrin's weekend in the premier Superbike division saw him suffer a nasty spill immediately after securing pole position, the Georgian native injuring his ankle and being pretty bashed and bruised all over, but still fit enough to start race one.

Herrin battled on to a pair of third places, gritting his teeth through the pain in a heroic effort given the circumstances. He will visit his doctor tomorrow for further checks ahead of two weeks' rest leading up to Laguna Seca's fifth round of the championship.

The MotoAmerica Supersport Championship is fast becoming the Xavi Forés show as the sensational Spaniard took his seventh race win in a row at The Ridge, making his undefeated as the series nears its halfway point.

Forés was flying in the PNW, his margin of victory of 11.9 seconds in race one and five seconds in race two a sign of his domination.

Forés now leads the Supersport points standings by a massive 76 points, some three race wins clear of second-placed, Stefano Mesa.

Xavi Forés (Warhorse HSBK Racing Ducati NYC – #12)
"It's been an amazing weekend. I did my first pole position of the championship and the bike worked perfectly. I love this track and today in race two it was a little tougher than yesterday's race one. We made some fork changes that didn't really work but it was ok to keep the gap to second place. Seven race wins in a row in so far in front of what I expected at the start of the year so now we move the focus to Laguna Seca to keep the momentum."

Josh Herrin (Warhorse HSBK Racing Ducati NYC – #2)
"For how bad Saturday was with the injures I got, I'm super excited to get two third place finishes," Herrin said. "The V4 R was amazing this weekend. It's the best it has felt all year, I just wasn't able to ride it to its full potential. I'm bummed about that but happy with two podium finishes. Now I'm ready to heal up and come back to Laguna strong."

Round Five of the 2023 MotoAmerica Superbike and Supersport Championship will take place at Laguna Seca on the beautiful Californian coastline over the June 5-7 weekend.
---
The following is from Rodio Racing – Powered By Robem Engineering…
After enduring a trying weekend at the previous MotoAmerica Twins Cup round at Barber Motorsports Park, the Rodio Racing — Powered by Robem Engineering duo of Rocco Landers and Gus Rodio found more success at the June 23-25 Twins Cup round at The Ridge Motorsports Park.

Landers was in dominant form from the start of the round, as he earned pole, a third place and a win. And Rodio was back in frontrunning form as he netted a fourth-place finish on Saturday and a podium finish on Sunday.

Thanks to their positive on-track performances in both Twin Cup races at The Ridge, Landers and Rodio and now just 11 and 13 points out of the championship lead, respectively.

Landers set the pace in Friday morning practice. His best lap time was a 1:48.063, which was more than half a second faster than the next fastest rider. Rodio also had a good start to the weekend, as he finished Friday practice fourth fastest. Landers and Rodio rounded out Friday's on-track activity with more positive results, as Landers claimed provisional pole — while lowering his best lap time by about 1.5 seconds — and Rodio ended that session fifth-fastest.

The second and final qualifying session of the round took place Saturday morning and saw Landers clinch his third pole position of the season. Rodio also had a very good end to qualifying. He improved his best qualifying lap time by about 1.5 seconds and qualified third — which put both of the team's riders on the front row for both Twins Cup races.

Saturday afternoon's Race 1 was the site of another dominating performance by Landers. After a short battle for the lead into Turn 1, Landers paced the field and — in the later laps — began building a several second gap to the battle for second place. Rodio finished Lap 1 running in fourth place and briefly fell to fifth in the running order on Lap 2. After a rider in front of him crashed on Lap 3 — and after nearly crashing himself — Rodio gradually reeled in the two riders battling for second place. Rodio wasn't able to get close enough to the other riders to overtake them and finished the race in fourth place. As Landers began the final lap, he came up to the back of a lapped rider that was experiencing a mechanical problem and going slowly at the start of a yellow flag zone. Landers was unable to slow down enough to avoid overtaking the rider within the yellow flag zone and was assessed a penalty that dropped him from first to third in the race results.

Sunday's Race 2 also started with Landers briefly being challenged for the lead before taking the holeshot. After clearing the first chicane, Landers steadily built a gap to the rest of the field while Rodio slipped to fifth in the running order for the first several laps. As Landers stretched out his advantage over the rest of his competition, Rodio upped his pace and had worked his way up to third place by the end of Lap 4 and second place by the end of Lap 9. Landers ended up taking the win by a margin of more than 11 seconds, while Rodio had to settle for third place after being passed on the last lap by another frontrunning rider.

The Rodio Racing — Powered by Robem Engineering team is back in action in two weeks time when the MotoAmerica Twins Cup takes to the Laguna Seca circuit July 7-9.

Rocco Landers / No. 97
"The end to Race 1 was disappointing, but my Aprilia RS 660 is working amazing. My favorite thing about the bike is how easy it has been to set up. We found a solid base setup at the Road Atlanta round, and we haven't had to make any big changes since then. We actually didn't change anything from Friday's Qualifying 1 to today's Race 2. I don't see why we can't get a couple 1-2 finishes at the next round at Laguna Seca and keep this momentum rolling."

Gus Rodio / No. 96
"It was a good weekend on my Rodio Racing — Powered by Robem Engineering Aprilia RS 660. It was a little bit of a learning curve for me, as I hadn't raced here on a Twins Cup bike before. I think we did a pretty good job at figuring the bike setup out, and I'm happy to leave here with a podium finish after not scoring any points at the last round. I'm looking forward to racing at Laguna Seca and making more improvements there."