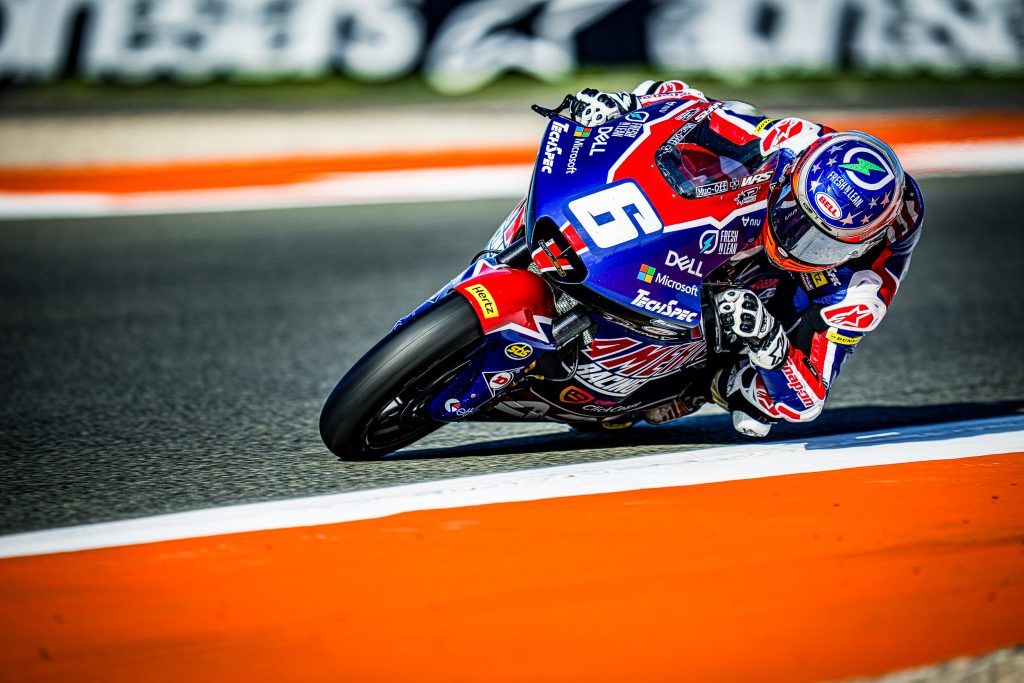 American Racing's Cameron Beaubier crashed out of his final Moto2 Grand Prix on Sunday at the Ricardo Tormo Circuit in Valencia, Spain, but not before leaving his mark on the season finale.
Beaubier, who started the race from 13th on the grid, put on a charge that would see him move through the pack, set the fastest lap of the race on lap three, and pass the rider who would end up winning the Moto2 World Championship with a move into fourth place. It all went wrong a lap later, however, as Beaubier crashed in the final corner on the fifth of 25 laps.
Shortly thereafter, IDEMITSU Honda Team Asia's Ai Ogura crashed out of third place, which handed the World Championship to Red Bull KTM Ajo's Augusto Fernandez.
Italtrans Racing's Joe Roberts ended up finishing 15th in the season finale, despite starting from the second row. Roberts dropped backwards nearly straight away in the GP and ultimately ended up a lonely 15th. Beaubier's teammate Sean Dylan Kelly, meanwhile, put in a strong ride to finish 18th to conclude his rookie season in the Moto2 World Championship.
The race was won by Red Bull KTM Ajo's Pedro Acosta, the 2021 Moto3 World Champion beating his teammate and new World Champion Fernandez to the line by 1.2 seconds. Elf Marc VDS Racing's Tony Arbolino completed the podium.
Fernandez earned the championship with 271.5 points, which put him 29.5 ahead of Ogura. Aron Canet finished third in the title chase.
Roberts ends the 2022 season ninth in the Moto2 World Championship with Beaubier ending up 17th. Kelly completes his rookie season 29th in the final point standings.