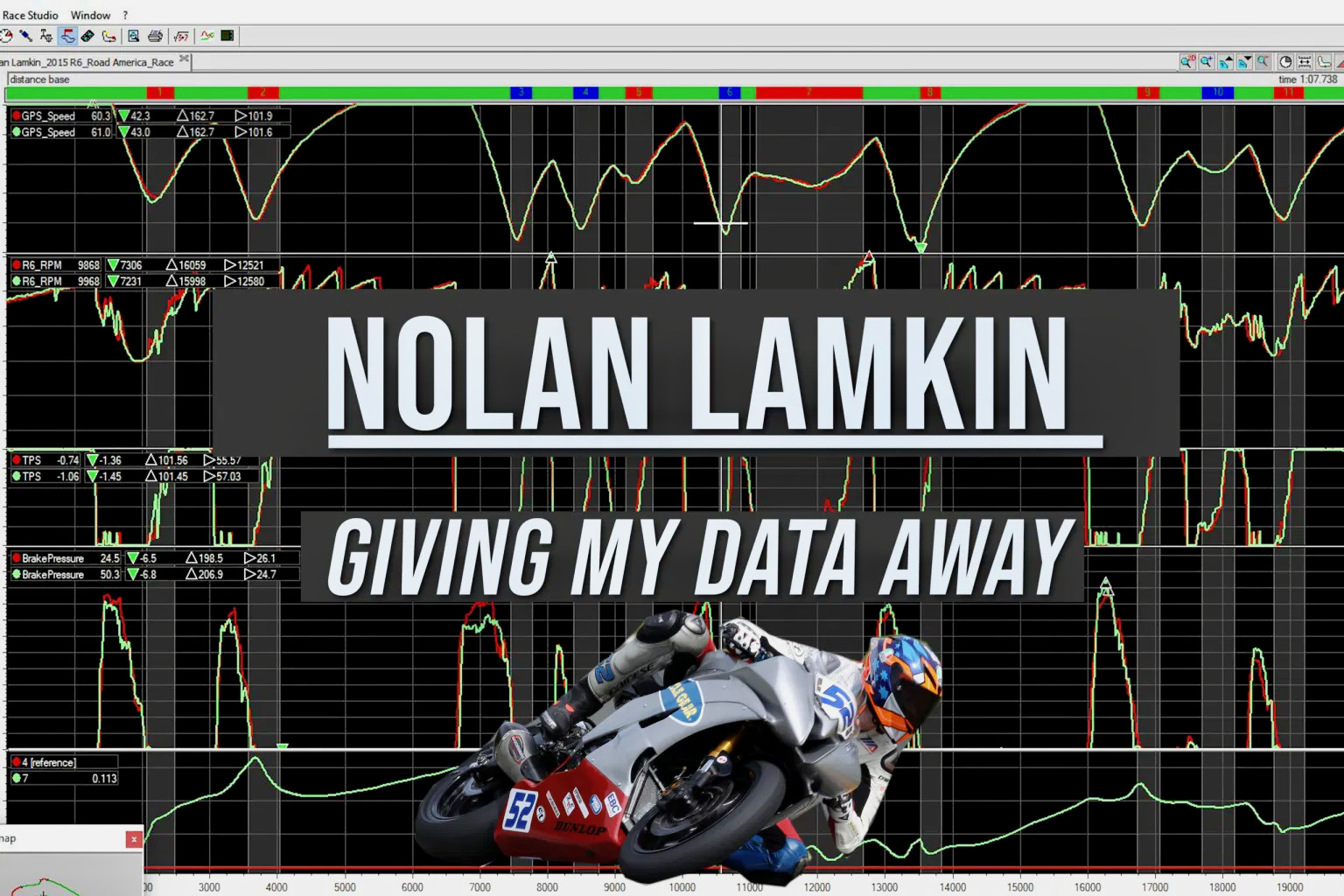 The teams and riders in the MotoAmerica series are a highly competitive lot. They race each other hard on the track. But, in the paddock, there is a lot of benevolence where everything from spare parts to suspension settings is freely shared. The lessons in "sharing" that Supersport rider Nolan Lamkin learned in kindergarten clearly stayed with him because the Indianapolis native is sharing one of the most precious things that any MotoAmerica team or rider has, and that's "data." Herewith are Lamkin's words and data, laid out before you like a wide-open book:
Where do you even begin in the bottomless pit of data analysis? There is so much "information" out there, but how applicable is it to actually road racing a motorcycle?
When I first jumped onto a 600, the power compared to my KTM RC 390 Cup bike was amazing. However, my technique was not where it needed to be. I would exit the corners and whack the throttle open on my 130-horsepower 600 just as I would whack the throttle open on my 42-horsepower KTM. I had three highsides in the first two race weekends. I ended up with a massive scar and could have lost a finger from the mistakes that I was making. Looking back, the first thing I would recommend is getting a datalogger onto your bike. However, if you don't have the correct sensors, or you don't know what you are looking at, then it does no good.
What should proper data look like? What should a brake pressure line look like? What about the throttle trace?
Giving Away My Data
I'm giving my data away to you for free. I have data from each of the tracks that I raced at in 2020 with MotoAmerica and also in 2018 (the first year with data on the bike). You can do with it whatever you want. You can look at it and compare yourself to it, see where you can get on the gas sooner, brake harder, where to brake less, etc. You can send it to someone who you think needs it, or you can look at it and tell me things you think I can improve on. It doesn't matter. You can use my data for whatever you want. I also attached the folder with the math channels I use, if I ever have to look at data myself. Data is supposed to be super secretive, but this is what I'm doing with mine.
Since I am a racer first, this is what I was looking for years ago. There are many people much smarter than me with data analysis and who know what is going on. I am doing this is to help someone else who is looking to find their own foothold as a privateer and wants more information and couldn't find it, exactly as I did. I'm 100% not claiming to be an expert on data analysis itself by any means…ha-ha. I'm still learning, and I'm still growing as a racer. This data may be completely different after next season, but it's what I have now. I still only have one focus when I'm at the track, but if I can help save a young rider from sending themselves to the moon by having something to compare themselves with, and if I can help them avoid the mistakes I've made, then I'm beyond happy. I'm still racing in MotoAmerica next year and a competitor of mine can completely dissect my riding if they want to…ha-ha.
Books I Recommend
Making Sense of Squiggly Lines
Analysis of Race Car Data
Systems I Use
I get my systems from www.SuperbikeUnlimited.com. I don't use dataloggers that are also the dash, because I've smashed half-a-dozen OEM dashes, and I'd much rather obliterate a stock dash than a $2,000 datalogger dash. I keep the AIM system I use in the subframe of the bike and so far it has been well protected.
2018-2020
AIM EVO 4s with GS Dash on my 2015 Yamaha R6
2021
AIM EVO 5 with GS Dash on my 2021 Yamaha R6
Three Tiers Of Sensors
Tier 1 (Bare essentials, and used constantly)
1. Brake Pressure
2. ECU Connector (For TPS and RPM)
3. GPS
Tier 2 (Super important but not absolutely essential)
4. Front Suspension Travel
5. Rear Suspension Travel
Tier 3 (Cool to have, but not used constantly)
6. Lambda (for the air-fuel ratio)
About Math Channels
These are the math channels that I use. I only ever use a couple, while other people have dozens with specific purposes. Being just a racer, I try and keep it simple. I want to use more math channels but I don't know how to make them and there isn't enough common-man access for stuff like this (which is why I am making this…ha-ha). On my 2015 R6, I didn't have a gear position sensor, but I don't use the AIM Gear math channel. In my experience, math channel gear sensors never work accurately. One thing I learned from my friend Oliver Kho, if you use math channels designed for cars, they might not work because cars only move side to side and motorcycles move side to side and roll around their center of gravity.
Math Channels I Use
Lean Angle
Front Weight, Rear Weight, and Total Weight
Let me know what you guys think!
-Nolan
To purchase tickets for all MotoAmerica events, click HERE
For information on how to watch the MotoAmerica Series, click HERE
For the full 2021 MotoAmerica Series schedule, click HERE