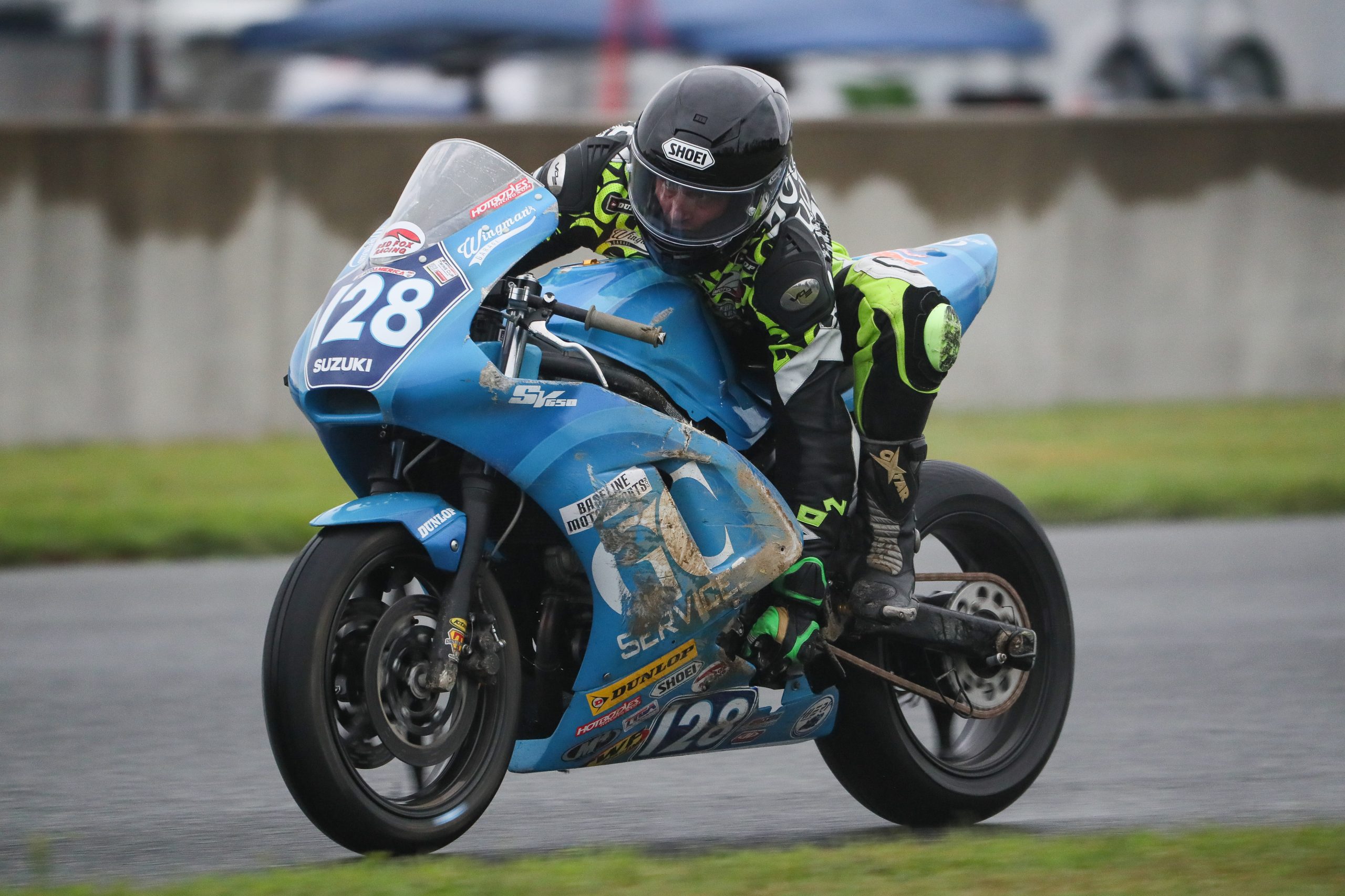 On the occasion of REV'IT! Twins Cup rider Chris Parrish's 46th birthday, we're taking a look back at the O.G. Twins Cup Champion's 2018 season, which was also the inaugural year of MotoAmerica's two-banger class.
Begun almost as a dare among KRAVE Partners Wayne Rainey, Chuck Aksland, Richard Varner, and Terry Karges, Twins Cup was conceived as a way to draw middleweight club racers to MotoAmerica and enable them to shine on a national/international stage. Its rules have also defined Twins Cup as a "tuner class," which has led to the rapid evolution and development of the motorcycles that compete in the class.
Tennessee-based Parrish was a long-time club racer, and he embraced MotoAmerica's brand-new Twins Cup Championship from the very beginning. With his partner Beth Braun alongside him, the pair happily traveled the country and found adventures and built memories on the way to every round. And, they also had adventures in the paddock and on the racetrack.
That first year, Parrish won the very first MotoAmerica Twins Cup race, which was held at Michelin Raceway Road Atlanta, and he started the season with a six-race podium streak that also included a race victory at Utah Motorsports Campus. With just three rounds to go, Parrish had a 27-point lead in the championship. And then, disaster struck.
A red-flag situation at Pittsburgh International Raceway and a misunderstanding regarding fuel caused Parrish to run out of gas and DNF from the race. Then, at New Jersey Motorsports Park in the penultimate race of the season, Parrish crashed on the opening lap and broke the shifter on his Suzuki SV650. Despite the setback, however, he got back in the race and, armed with the experience and perseverance he developed as an endurance racer, he crossed the finish line in seventh-place by hand-shifting the bike up and down through the gears for 10 laps.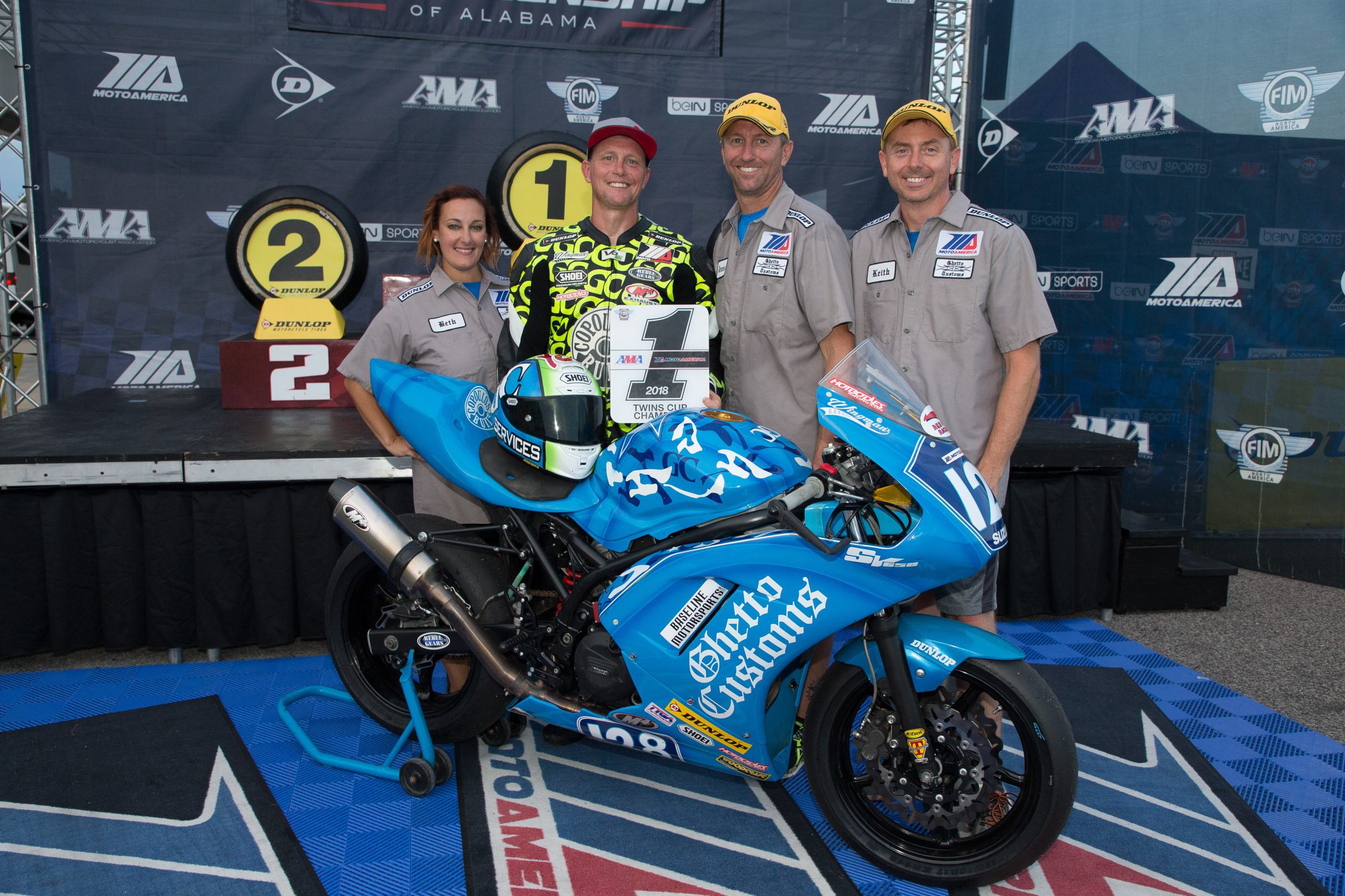 Parrish finished the 2018 season with an eighth-place result at Barber Motorsports Park, and ultimately won MotoAmerica's first Twins Cup title by just three points over Jason Madama.
It was a storybook ending for Parrish, who has continued to race in the REV'IT! Twins Cup Championship every year since that inaugural 2018 season.
And just like the aforementioned persistent endurance racer that he is, the now-46-year-old Chris Parrish is not done yet. We checked in with him this morning on the occasion of his birthday, and he said, "The old man still hasn't heard no bell. We're planning to race a full season again."
So, look for the familiar number 128 on the grid in REV'IT! Twins Cup. He's not done racing yet, so Parrish the thought. Oh, and Happy Birthday, Chris.
For the full 2023 MotoAmerica schedule and to purchase tickets for MotoAmerica events, click HERE
For information on how to watch the MotoAmerica series, click HERE