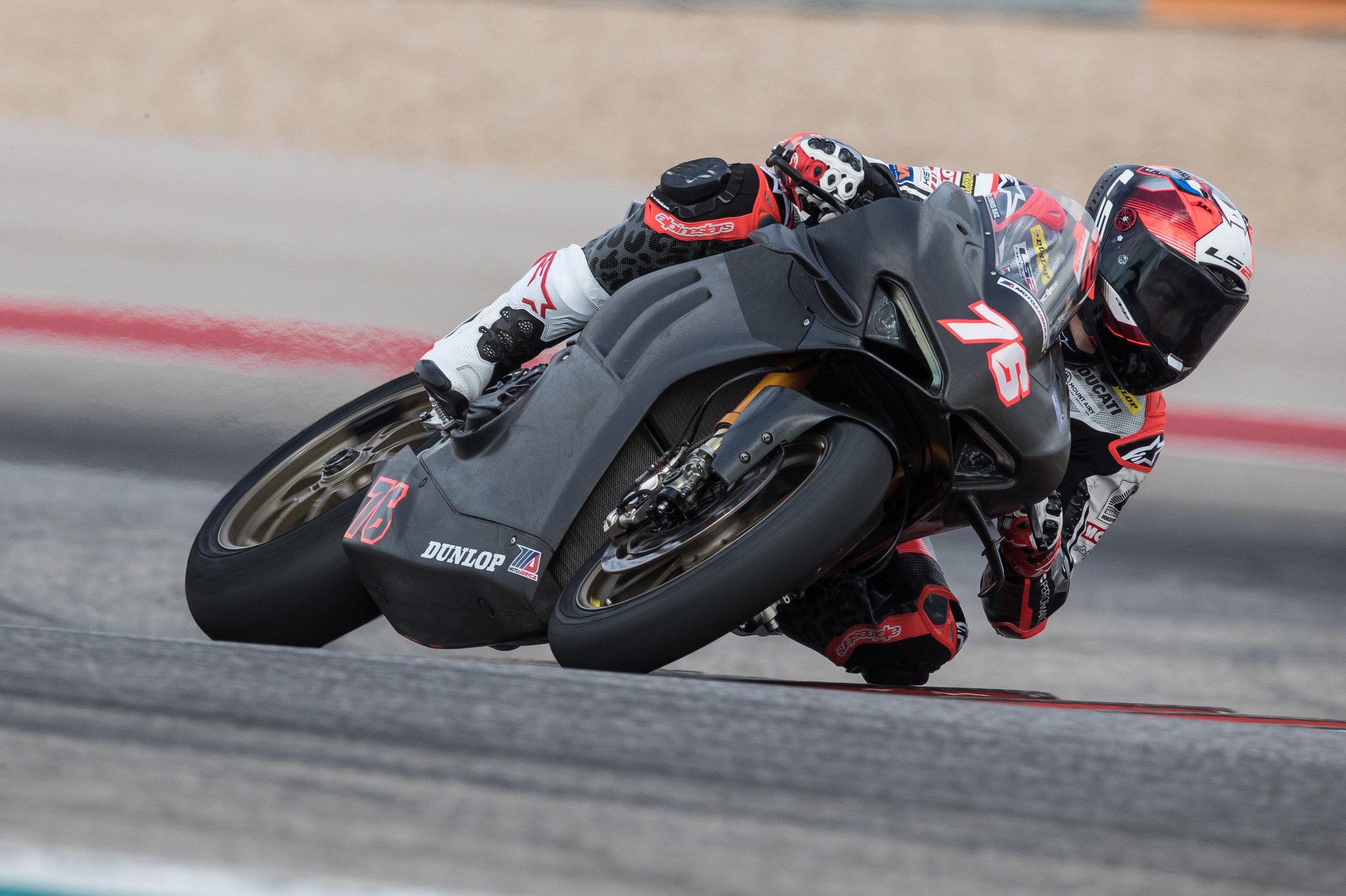 The following is from the Warhorse HSBK Racing Ducati New York Team…
The Warhorse HSBK Racing Ducati New York Team had a two-day shakedown at the Motorsports Ranch (MSR) in Cresson, Texas. The entire team had a chance to meet, and Loris Baz was able to throw a leg over his new Ducati Panigale V4 R motorcycles. The majority of the time was spent getting Baz comfortable and ensuring that all the systems worked correctly on his superbikes.
Following the two days at MSR, the Warhorse Ducati team headed to Austin's Circuit of the Americas for the official MotoAmerica Preseason Dunlop Tire Test.
On day one, the 28-year-old Frenchman piloted his Warhorse HSBK Racing Ducati New York Panigale V4 R to the top timesheet in every session and posted the fastest lap of the day with a time of 2:08.595, breaking the race lap record. Day two was very windy, and the team completed long runs and race simulations to fully understand the characteristics of the USA-made Dunlop tires.
"It was a great test, and we got a lot done," says Team Principal Bobby Shek. "We worked through a lot of stuff, a lot of chassis stuff and electronics. Luckily the weather held out both days. Overall, we're thrilled with the results of the two-day test. We spent day one making various setup changes to the V4 R and had zero issues with the Dunlop tires. The team was happy, and, most importantly, Baz felt comfortable. The second day went as well, and we were able to string together a bunch of consistent laps in race simulation mode. We really learned a lot and will be ready come race one at Atlanta."
"Definitely, the conditions were different than yesterday," says Baz, discussing day two of the COTA test. "It was really windy and the bike is pretty sensitive to the wind with the wings. But it was good to try the bike in completely different conditions than yesterday. I did a lot of long runs, honestly, and the only time I tried a softer tire was at the end, and I didn't use it well. We worked on making long runs on the race tire, like 10-lap runs. We did a good job, and I had a better feeling in the long run than yesterday. The lap times were a bit slower, but we did a good job."
The opening round of 2021 MotoAmerica gets underway on April 30 at Michelin Raceway Road Atlanta.