The following is from Suzuki…
Suzuki and Team Hammer upped the ante following a successful 2021 MotoAmerica AMA/FIM North American Road Racing Championship season opener with an even stronger Round 2, notching up two victories, two pole positions, and four podiums at Virginia International Raceway.
M4 ECSTAR Suzuki's Sean Dylan Kelly continued to lead the charge, scoring the pole in MotoAmerica Supersport for a second consecutive weekend aboard his GSX-R600 and then backing it up with a fifth consecutive race win dating back to the end of the 2020 season.
'SDK' rounded out his weekend with a runner-up result on Sunday to leave VIR with a healthy 17-point championship advantage following four races.
"It was definitely a challenging day and we're not satisfied at all with the P2," a motivated Kelly said. "We've been working hard. We've got three wins so far and we're looking for more. I promise we won't make it as easy for the opposition at the next one. We're going to do our homework and come back stronger at the next one," added SDK.
"Thanks again to M4 ECSTAR Suzuki and all my guys."
Sam Lochoff, Kelly's young M4 ECSTAR Suzuki stablemate, continued to show vast potential early in his MotoAmerica Supersport career. After seeing a potential podium foiled by an off-track excursion that resulted in an eighth on Saturday, the South African rebounded with a fifth-place ride on Sunday to match his career best in the class.

Meanwhile, Altus Motorsports Suzuki's Jake Lewis effectively mirrored Kelly's weekend in Stock 1000 aboard his Team Hammer-built GSX-R1000. The Kentuckian earned the pole on Saturday and then parlayed it into his first race win since claiming the Superstock 1000 victory at Sonoma Raceway aboard an M4 ECSTAR Suzuki back in 2017.
Like Kelly, Lewis rounded out his weekend with a Sunday runner-up in a thriller that came down to the race's final lap. As a result, Lewis now leads the Stock 1000 championship fight by a seven-point margin.
M4 ECSTAR Suzuki's Superbike duo of Bobby Fong and Cam Petersen again demonstrated podium pace and race-winning potential but were unable to fully exploit it.
An electronics issue dropped Fong out of a fight for second on Saturday and down to an eventual 12th-place finish. As a result, he was forced to start Sunday's rematch from the outside of Row 4. Despite the disadvantage, the charging Californian hustled his GSX-R1000 Superbike into another scrap for the podium before taking fifth in the end.
Petersen was shuffled back from third to fifth in the race's decisive laps on Saturday. Looking to make amends, the South African got an excellent start and attempted to storm into second in the race's opening corner, only to be pushed off track and down to last place.
Petersen spent the remainder of the race making up that lost ground, finally clawing his way to seventh at the checkered flag.
M4 ECSTAR Suzuki's Wyatt Ferris improved on his opening round performance in Stock 1000, claiming eighth and 11th-place finishes as he continues to acclimate to the team's GSX-R1000.
Team Hammer and Suzuki will be back in action for Round 3 at high-speed Road America in Elkhart Lake, Wisconsin, on June 11-13.
—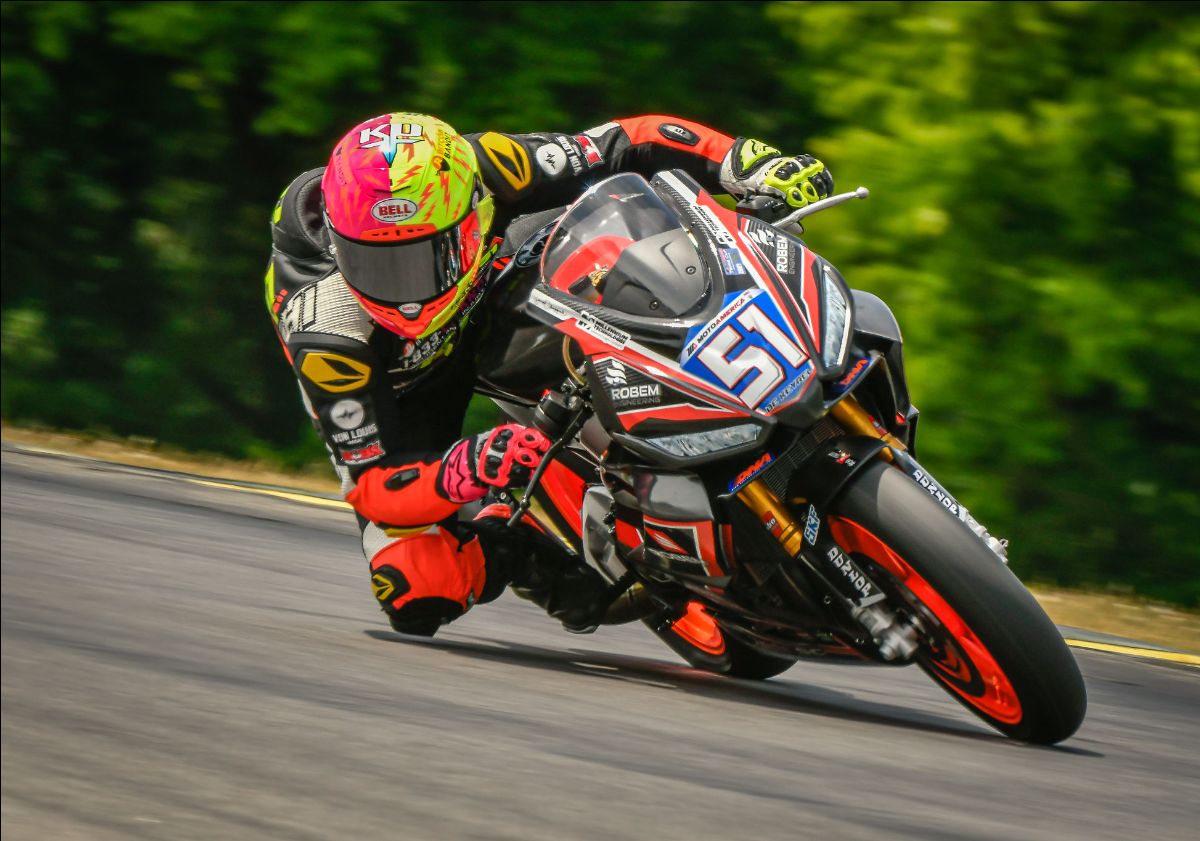 The following is from Robem Engineering…
The Robem Engineering squad faced much uncertainty as it prepared for this weekend's MotoAmerica's Superbikes at Virgina round at VIRginia International Raceway. The team was campaigning a new-for-2021 motorcycle at a track two of its riders had little or no experience on. Despite the odds not being in its favor, the three-rider team scored a podium and two additional top-five finishes in the round's two MotoAmerica Twins Cup races.
The team had only one race weekend under its belt with its Aprilia RS 660 motorcycles prior to the May 21-23 event getting underway. By the end of the weekend, all three of the team's riders – Kaleb De Keyrel, Hayden Schultz and Toby Khamsouk — had maintained or improved their position in the Twins Cup standings. De Keyrel held onto fourth in the championship – just 11 points behind the class leader — Schultz moved up from ninth place to seventh and Khamsouk advanced from 12th place to eighth.
The team got off to a good start when on-track activity commenced Friday morning. Khamsouk was the third-fastest rider in the session, with Schultz finishing practice in fourth and De Keyrel in seventh. When Twins Cup qualifying got underway on Friday afternoon, Khamsouk was again the third-fastest rider in the 28-bike field. De Keyrel finished the session in seventh – posting a lap time about three seconds faster than his best practice time – and Schultz ended up in sixth place. When qualifying wrapped up early Saturday afternoon, De Keyrel had secured second place on the starting grid. Schultz qualified sixth and Khamsouk seventh.
Saturday's race saw Schultz and De Keyrel in the pack of riders in the hunt for the race lead. Schultz was the team's top-finishing rider, bringing his Aprilia home in fourth place and missing out on a podium finish by less than three-tenths of a second. De Keyrel was right behind Schultz, finishing fifth, and Khamsouk crossed the finish line in seventh place.
Sunday's Twins Cup race went better for the team, as De Keyrel claimed the last step on the podium and Schultz and Khamsouk finished sixth and eighth, respectively. De Keyrel got a great start, led the field into Turn 1 and finished about three-tenths of a second behind the second-place rider.
The next round on the 2021 MotoAmerica schedule takes place June 11-13 at the Road America circuit in Elkhart Lake, Wis. The team plans to test on Monday on VIR's South Course, which will provide the team valuable data to help perfect its setup for its Aprilia RS 660s.
Kaleb De Keyrel / No. 51
"It's been a little bit of a struggle this weekend, but we ended it on a pretty positive note. I'm extremely happy with the setup we used for Race 2. We changed our tire choice as the weekend went on, which also worked out for us. Overall, I felt a lot better in Race 2 than Race 1 as far as being comfortable on the bike. On Saturday, I had trouble pushing the bike without it pushing back. The team worked really hard on finding solutions to our setup issues. I'm really looking forward to the next round at Road America. I grew up in Minnesota and will have lots of friends and family coming to see me race there."
Hayden Schultz / No. 49
"The weekend had some positives and some things we can improve on. This was my first time racing at VIR, so I had to learn a new track before we could really get going on figuring out how to make our Aprilia work best here. You can play as many hours on a video game as you want, but it just doesn't replicate reality. Race 1 wasn't so bad, but we missed out on a podium finish. We were only about a second off the win in that race. For Race 2, we didn't have the race we wanted, as I struggled getting by a couple other riders that I maybe had a chance to. The bike was working well, and I know it will get better as the season goes along. I owe a big shout out to the team for giving me a bike that can run up front. Now it's my job to get better and make those better results happen. I expect a lot out of myself as a rider, especially after consistently being on the podium last year. Even though I was a learning a new track, I still expected to be on the podium. We're not far off from getting a win, but it's frustrating to get the results we had this weekend."
Toby Khamsouk / No. 27
"It was an up and down weekend. We learn a lot though, and I really like this track. With having to learn a new bike, it just wasn't the weekend we'd hoped for. We were working to find the right setup for me. Lots of positive vibes from this event though, and I'll be working hard to help my team find a good setup quicker at Road America." Robem Engineering's technical partners for 2021 include The Center for Plastic Surgery, Velocity Calibrations, Bitubo Suspension, Dunlop, Woodcraft Technologies, Dymag, Vesrah, DNA Filters, Magura USA, Sara Chappell Photos, NGK/NTK, Blud Lubricants, Millennium Technologies and SC-Project.
—
The following is from Pure Attitude Racing…
Pure Attitude Racing enjoyed another successful weekend in the latest round of the MotoAmerica championship with all four riders achieving points scoring finishes for the second consecutive event.
Buoyed by their front running pace in the Twins Cup season opener Trevor Standish and Liam MacDonald were once again in the mix, both riders bagging a double top ten finish. Trevor taking a sixth and a fifth to remain second overall in the points classification, while Liam took a tenth and ninth place finish to consolidate ninth overall in his debut season of racing in the US.
In Supersport both riders, Nate Minster and Austin Miller overcome small issues to salvage 12th and 15th respectively at the flag in race one on Saturday, with Austin racing solo on Sunday following an incident that saw Nate Minster take a tumble through no fault of his own. Miller raced to fourteenth and his first double points finish of the year.
Trevor Standish: "I made a good start in Race 1 and was leading but got shuffled back a bit early on. I was holding my own but then ran into some rear grip issues which prevented me from pushing as hard as I knew we could have. It was a solid Saturday and good points for the championship. Race 2 was a nice step forward. I was leading again for a lap and was able to hang with the lead group before arm pump meant I faded a little. Fifth and still second overall in the points is a great result and I am ready to race again at Road America in a couple of weeks."
Liam MacDonald: "Race 1 went really well. I had a much better feeling and was able to settle into my rhythm more quickly than at Road Atlanta. I was able to lap consistently but it was tough with my arm pumping towards the end. VIR is really physical. I am really proud of my race and of the team for giving me such a great bike, and for rebuilding it after I stepped off in Q1. Mentally it was the best I have ever felt, coming back from a crash, and getting a good result and it's all down to the team. I couldn't ask for a better bunch of people to be with. Race 2 went even better. I got a lightning start and was running fifth. I felt really good. I lost the rear and the front on the same lap but saved it and was able to bring it home for my fourth points finish in a row!"
Nate Minster:"Qualifying was ok. We had some pretty big suspension issues, but the team worked well, and we were able to improve although Q2 was still a little rough. I was suffering some arm pump which meant it was hard to hang onto the bike I was determined to give it my all in the races. Race 1 was actually pretty good all things considered. We still don't have the ideal setting, but I was able to lap consistently and got some points. In the Warm-Up we wanted to test some things. We got down to pace right away but then I was taken out by another rider in the last five minutes of the session. I decided not to ride as I wasn't feeling the best. The team fully supported my decision, and we will come back strong at Road America."
Austin Miller: "We finally got the bike straightened out for Q2 and it went really well. It was a hard day of working on things, but we made the race which was the important thing and the target. The focus was to push for points in the race and I was able to achieve that. I needed that after all the problems and missing most of the first day as I was beginning to lose hope. I was able to finish fifteenth after gaining eight places from where I started. I made an ok start and made a few mistakes but was able to bring it home. Race Two went great. I made a good start but around lap eleven my arm started to stiffen, and it was difficult to ride as I wanted. I almost got one more position on the last lap, but I ran out of time. We made a step from Race 1 and it was two races in the points for the first time in my Supersport career so I can move on to Road America happy."
—
The following is from Yamaha…
Fresh N' Lean Attack Performance Yamaha Racing's Jake Gagne completed a perfect weekend at Virginia International Raceway with another dominant MotoAmerica Superbike victory in today's Race Two. His teammate Herrin battled for a podium position but ultimately had to settle for fourth.
It was another hot one in Alton, Virginia, but that didn't stop Gagne's forward charge. The Californian topped morning warm-up to lead every session of the second round of the championship and then got another flying start from pole position to grab the holeshot. He then put in some consistently fast times, including the fastest lap of the race on Lap 2, and checked out to score his third consecutive win in the premier class by nearly 14 seconds. Gagne's masterclass victory closed the gap on the points leader to six points.
With Sunday's race being gridded by yesterday's results, Herrin joined his teammate on the front row in third. Although he didn't get the start he was hoping for, he was able to advance to third amidst the chaos going into the first turn. The 2013 Superbike Champion then drafted past the competition on the front straight to take the runner-up position at the start of Lap 2 but was passed on the following lap. While his teammate continued to stretch his lead, Herrin once again had a fight on his hands. At times, it was a four-rider battle for the podium, but he held onto third for eight laps despite the pressure. After the halfway mark, he found himself in a heated battle with the points leader, Mathew Scholtz. With four laps to go, Herrin went wide into Turn 1 and was passed by his fellow Yamaha rider, ultimately having to settle for fourth. The California rider leaves Virginia sitting third in the championship standings.
Next up for the Fresh N' Lean Attack Performance Yamaha Racing team is Round 3 of the MotoAmerica Superbike Championship on June 11- 13, at Road America in Elkhart Lake, Wisconsin.
Richard Stanboli – Fresh N' Lean Attack Performance Yamaha Racing Team Manager
"As I said after Race One at Road Atlanta, everyone gives up one or two races and that we would make sure that we did not give up anymore. We did just that this weekend. Our R1s once again proved to be the fastest and best-handling bikes on the track. We went away with another track record and Jake is super motivated to continue his momentum. We also made some good headway with Josh. He will for sure be super strong at Road America and we are anxious to race there as our bikes always work well there."
Jake Gagne – Fresh N' Lean Attack Performance Yamaha Racing
"We rolled this R1 off the truck on Friday, and it was working amazing straight away. To get pole and my first double win feels amazing! I'm so stoked for the whole team. These guys have been working so hard, and to have a stellar weekend like this is a huge pay off. We'll try to keep this momentum rolling!"
Josh Herrin – Fresh N' Lean Attack Performance Yamaha Racing
"I'm happy with our results this weekend. We made a lot of headway towards getting me more confident on the motorcycle. Also, we got some solid points and are leaving here healthy. Thank you to the entire team for all of their hard work and congrats to Gagne and his team on two great races."
The following is from Westby Racing…
With two rounds and four races completed in the 2021 MotoAmerica Superbike Championship, Westby Racing's Mathew Scholtz holds a six-point lead in the standings based on the strength of his race finishes thus far. Mathew notched a victory and a second-place finish at Road Atlanta in round one, and then, he added another runner-up finish on Saturday at VIRginia International Raceway. On Sunday, "The Scholtz Kid" added a third-place finish to his four-race podium streak in a hard-fought result where he had to overcome adversity.
On the opening lap of Sunday's final race of the weekend, Mathew got caught up in traffic going into turn one. Thankfully, he didn't suffer a tipover in the incident, but it did shuffle him all the way back to 14th. Undaunted, he went about his business and started clicking off laps as fast as, or faster than, the leaders. On lap 13, he made it all the way back up to third place where he battled with Josh Herrin for a few laps before securing the final spot on the podium on lap 17.
All in all, it was a hero effort from Mathew, who knows that podium finishes all season long are the key to winning his first MotoAmerica Superbike title.
"I just saw one of the M4 Suzuki bikes coming up the inside, so I gave him space," Mathew commented. "I could have followed him, but I don't know what happened from there. I think Cam (Petersen) ran off the track. I'm not sure if he got touched. It's just one of those unfortunate things. I was trying to get aggressive in the first corner, trying to hang onto Jake (Gagne) because I knew if I could slot in behind him, he would pull me, and I kind of had the pace over everyone else after about lap 8 or 10."
Westby Racing's Junior Cup rider Jack Roach's weekend at VIR went from bad on Saturday to worse on Sunday. After not being able to finish race one due to a technical issue, he crashed out of race two on lap 4 while in heavy traffic.
Jack said, "This round was full of ups and downs, and as it turned out, the best part was qualifying P3 and maintaining consistent speed throughout the weekend. I wanted to get two really good race results but, unfortunately, it didn't work out that way. Two DNF's obviously don't show my potential. I can't thank Chuck (Giacchetto) from Westby Racing and Shiloh (Salopek) from N2 Racing enough for all their support. Road America is my favorite track, so I can't wait for the next round to begin."
Next up for Westby Racing is round three of the MotoAmerica Championship, which will take place at Road America in Elkhart Lake, Wisconsin, on June 11 through 13.
—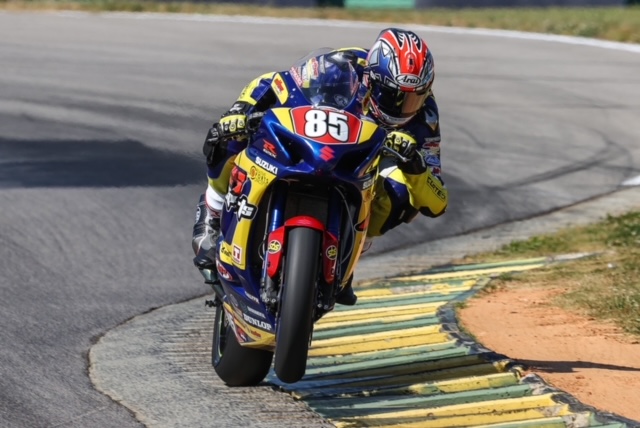 The following is from Altus Motorsports…
Round 2 of the MotoAmerica Season at Virginia International Raceway [VIR], saw solid improvements across the entire team.
Honos Superbike & Stock 1000:
After finishing just off the podium in fourth in both races at Round 1, Jake Lewis came to VIR fired up. He and the team put their heads down and improved every session. The reward for that hard work was Jake putting the Altus Motorsports Suzuki GSX-R 1000 on Pole for both the Stock 1000 races. At the season opener, the Stock 1000 grids were deep and highly competitive. The races at VIR were more of the same. In Race 1 Jake Lewis was in a three bike battle all the way to the finish. Ultimately, he crossed the line as the winner. Race 2 on Sunday continued where Saturday left off. Lewis fell back to third for a few laps and the pair at the front pulled a bit of a gap. As a veteran, Jake was patient. He took a few laps to reel the leaders in and, eventually, claimed the lead. In a hard fought, last lap battle, Jake finished in second just barely off the top step.
"This feels amazing. We had some great battles this weekend. I can't thank Altus Motorsports enough for giving me this opportunity to come back to the paddock and show what I can do. Last year was depressing being away from racing. I have a hell of a lot of motivation to keep winning. I also want to thank my crew chief, Eric Gray, mechanic Shawn, and Victor for their hard work getting the bike dialed in. And also to Team Hammer for their support," said Jake Lewis. "We struggled a bit at Round 1, but we made big progress this weekend and I'm looking forward to Road America and the rest of the season."
In Superbike, Lewis started Race 1 from 10th and finished in 9th as the top Stock 1000 bike. Unfortunately, an issue with the shifter forced a retirement from Race 2 on Sunday.
The team heads to Round 3 at Road America leading in the Stock 1000 Championship.
Supersport 600:
At Round 1, Jaret Nassaney was still recovering from an injury. He was, admittedly, not at full strength. With three weeks of healing between the rounds, Jaret rolled into Virgina feeling good. He started both Supersport 600 races from 14th. In the Saturday race, he fought his way forward to finish 9th. On Sunday he crossed the line in 10th.
"It was a really positive weekend! We went faster than I ever have at VIR and we made good progress with the bike setup. I ended up with a 9th and a 10th which I'm pretty happy with. Two top tens so it was a good weekend," said Jaret Nassaney.
At Round 2, Cooper McDonald once again sat in for the recovering Kevin Olmedo. Coming from racing Twins, he is still adapting to the 600. To complicate things, this was also Cooper's first visit to VIR. After qualifying in 19th, McDonald finished Race 1 in 17th and Race 2 in an impressive 12th.
"I loved this weekend. This track is awesome. It was my first time here so I had to learn the track and get fast on the equipment quickly. The team put me on a great bike. In the first race I ran off the track twice and pulled 17th, but today I pushed hard and finished 12th. Overall I am super happy," said Cooper McDonald.
Kevin Olmedo plans to remount the Altus Motorsports Suzuki GSX-R600 for Round 3 at Road America.
Junior Cup:
VIR is another new track for Hayden Bicknese and, as such, he set out to learn the track as quickly as possible. Every time he took to the track he went faster. He qualified 14th for both Junior Cup races. An unfortunate mechanical issue knocked him out of Race 1 on Saturday. In Race 2, Bicknese got into an epic, race-long, four bike battle for 9th place. Every lap saw multiple passes and position changes. Hayden crossed the line in 9th on the penultimate lap but, in the end, he finished in 12th.
"I'd say this was a fantastic weekend for our entire team. We made huge improvements on the 1000. Jake won the Saturday Stock 100 race and took a second on Sunday. Jaret looked great and went faster than he ever has at this track. Cooper continues to improve and we are thankful he could step in for these first two rounds. Hayden is doing great. He's only been on a road race bike for a couple of years. To step up to the national level and learn completely new tracks and race against the fastest kids in the country is pretty impressive. I can't wait to see what he can do when we get to tracks he knows," said team owner George Nassaney.
—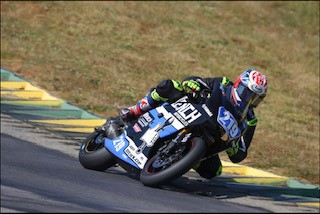 The following is from Ethan Cook Racing…
Ethan Cook secured his first double points finish of the 2021 MotoAmerica Twins Cup season, finishing ninth and tenth in the two races at VIR (Virginia International Raceway).
The weekend started well for Ethan, who despite having never ridden at VIR before, qualified strongly on the third row of the grid, ahead of many more experienced riders. His race results elevated Cook, who is in his debut MotoAmerica season, into P12 in the overall points classification ahead of Round 3 at Road America in a fortnight.
Ethan Cook: "Friday's practice went well; I hadn't ridden at this track before, so it was just about getting to grips with it. The bike felt way off compared to where it was at Atlanta. We made some big adjustments in Q1 which went well. That continued into Q2 where we set the bike up closer to where it was in Atlanta. We qualified on the third row in P9, I put in some good laps and the times were close, especially in the top three. We were working really hard on making the bike right and found a good setting ahead of race 1. The first race went well, I spent the first half in a big group but was in P9 for most of that. The top eight guys were riding at a slightly quicker pace. At half race distance we lost so much grip and had no rear tire at all, I had to conserve it for the rest of the race, so the group ahead managed to pull away from me I pulled a gap on the group behind, so I found myself running a lonely race. I came across the line, securing a good result and putting in some good times as well so I'm happy enough with that. Race 2 was good for us; I came across the line in P10 making that two top ten results throughout the weekend. We made a couple of changes to the bike hoping that they would work in our favour, but they went in the wrong direction and gave me a worse feeling with the rear end of the bike. We've got a bit of work to do for the next round but I'm really happy with the progress we made this weekend. We started and finished both races so I'm happy with that and I'm looking forward to Wisconsin."
—
The following is from Travis Wyman Racing…
It wasn't the weekend Travis Wyman had hoped for at MotoAmerica's Superbikes at Virginia, but the Shair-sponsored BMW rider left VIRginia International Raceway with fifth- and seventh-place finishes in the Stock 1000 Class, a top 10 in Superbike and retained the lead in the Superbike Cup standings.
Though Wyman was fast out of the gate at the May 21 through 23 event, the lack of experience racing the team's 2020 BMW S 1000 RR on VIR's 2.25-mile North Course and mechanical issues curtailed the Las Vegas rider's pace on Saturday and Sunday.
Wyman had a good start to the weekend, topping the time sheets in Friday's Stock 1000 practice session. He ended up second in Friday qualifying and finished qualifying on Saturday morning in fifth place.
In Saturday's Stock 1000 contest, Wyman got a decent start and slotted into fifth place at Turn 1. He finished the race in fifth after battling overheating issues and working his way past a lot of lapped traffic. However, Wyman was unfortunately docked two positions after the race due to a pass he made on a lapped rider under a waving yellow flag. In Saturday's Superbike race, Wyman started 15th on the grid and gradually worked his way up the running order to 10th place, the second-best finish among the Superbike Cup riders.
Wyman got a good start in Sunday's Stock 1000 race. After emerging from Turn 1 in fourth place, Wyman found his bike was down on top-end power and had to settle for a lonely fifth-place finish. Despite the mechanical setback, Wyman finished the weekend third in the Stock 1000 standings, just 10 points adrift of the class leader.
Later Sunday, Wyman got another good start in the final Superbike race of the weekend and was in the hunt for the top finish among the Superbike Cup riders. Wyman maintained a consistent pace throughout the 20-lap race and finished 11th overall, as well as third among the Superbike Cup competitors.
Travis Wyman Racing is back in action June 11-13 for the next round of the 2021 MotoAmerica season, which takes place at the historic Road America circuit in Elkhart Lake, Wis.
Travis Wyman / No. 10
"We came out really strong on Friday, and I was happy being first in Friday practice and second in Friday qualifying. A few other riders caught up to our pace in Saturday qualifying, but that's also when I first noticed our BMW's overheating issues. Then we had another setback when we got docked two positions in Saturday's Stock 1000 race after another rider protested us. The bike felt really good in the Saturday Superbike race, but the horsepower loss came back in a big way in Sunday's races. Overall, it was a good weekend in that we salvaged some points, but we also missed out on a lot of points here. I'm stoked that the team was able to get the word out to MotoAmerica fans about Shair's car-sharing service, and it was great to see the droves of fans who came out for this event. We expect to have our engine issues sorted out for Road America, which is a track I love and have won at before."
—
The following is from Jeremy Cook Racing…
It was a trying weekend of racing for Jeremy Cook at MotoAmerica's Superbikes at Virginia, as the BMW rider persevered through an arm injury to score more championship points in MotoAmerica's Stock 1000 Class.
Cook left the May 21-23 event at VIRginia International Raceway with his second points-paying finish of the 2021 season, a total of four championship points and 16th place in the Stock 1000 standings.
Unlike the first round of the 2021 MotoAmerica season at Road Atlanta, VIR is a track Cook has ample experience racing on. He finished the Stock 1000 Class' first practice session in 17th place and, later on Friday, finished the class' first qualifying session in 18th. Qualifying wrapped up Saturday morning with Cook having secured 19th place on the starting grid.
Saturday's Stock 1000 race was Cook's bright spot of the weekend. He got a good start and gradually worked his way up the running order. Cook finished Lap 4 of the 14-lap race in 13th and had advanced to 12th by the end of Lap 7. Cook maintained 12th place until the last lap of the race, when he was passed by another rider and had to settle for a 13th place finish.
Though it was Cook's best finish of the 2021 season to date, he and his BMW motorcycle experienced setbacks on Friday that hampered the team's efforts to claim its first top-10 of 2021. During Friday practice, oil began misting out of Cook's motorcycle, ruining two rear tires and curtailing the team's effort to find an ideal chassis and suspension setup. Cook's first full on-track session of the weekend was Friday qualifying, during which the hot conditions and the physical nature of the VIR North Course caused an old left forearm injury of Cook's to reemerge.

On Sunday, Cook came down with a dehydration-like symptoms, the effects of which slowed his pace toward the end of day's Stock 1000 race. Cook finished that contest in 25th place.
Next up on Jeremy Cook Racing's schedule is the MotoAmerica Superbikes at Road America round, which takes place June 11-13 at the Road America circuit in Elkhart Lake, Wis.
Jeremy Cook / No. 81
"Race 1 went pretty good. I had a great start, but the heat got to me for sure during the last six laps. The track was really greasy — especially in Turn 2 — and I'm not really a flat tracker. I like to have the bike in line as much as possible. I had a big wreck here in 2009 and have some not-so-fond memories of this track from it. I was feeling under the weather before Sunday's race, but toughed it out and made it to the starting grid. I stayed with a pack of riders around me as long as I could early in the race, but they gradually started to pull away from me. I outbroke myself heading into Turn 7 on one lap, got back on track and tried to make up as many positions as I could. I later had a near front-end tuck in Turn 1 as I was trying to make up track position, and after that I started to tire physically. Our goal this weekend was to be in the top 15 and even crack the top 10. There were just a bunch of mistakes all at once, but we'll take what we learned here to the next round at Road America."