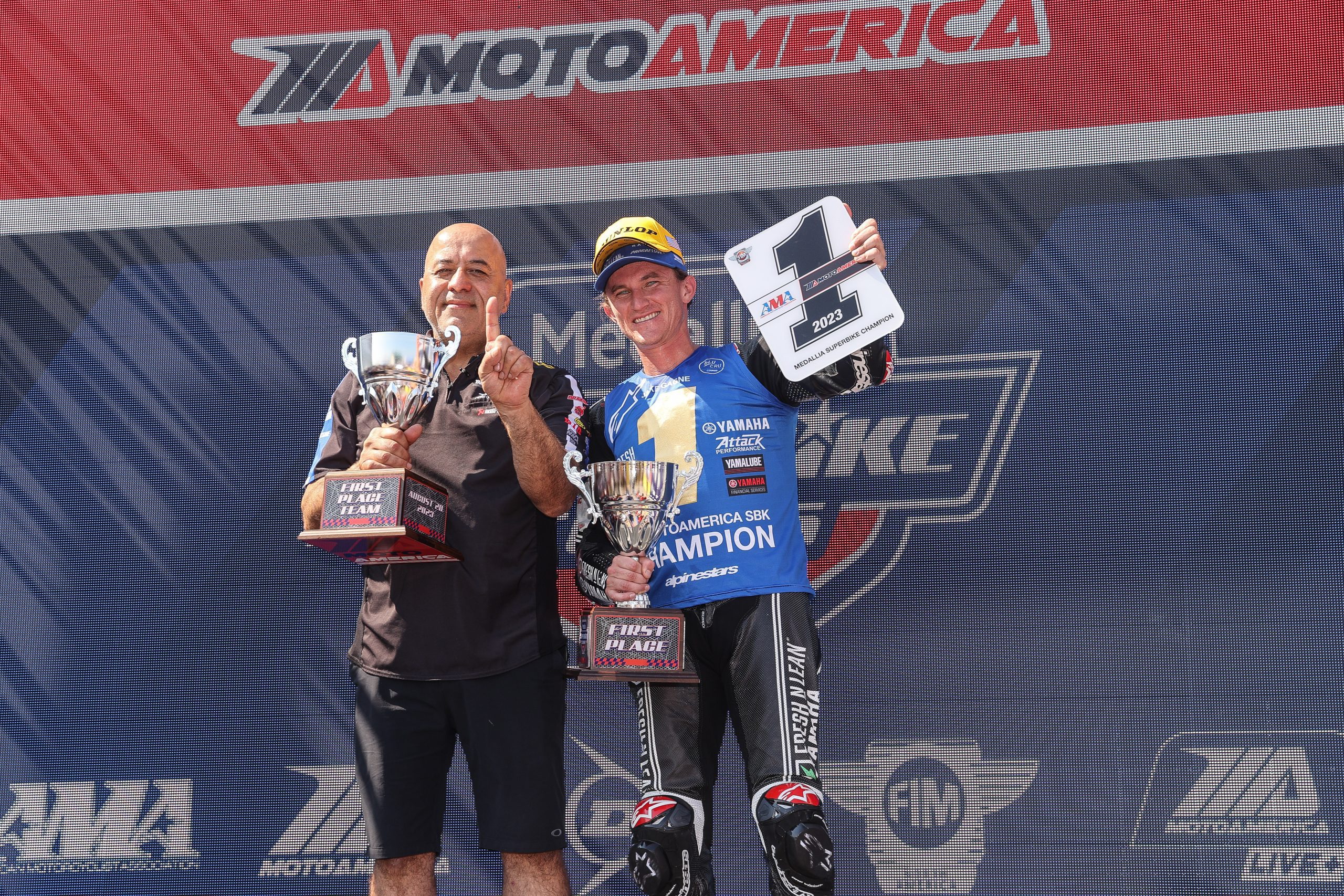 Random notes, comments, statistics, musings, and bits of trivia from the MotoAmerica Superbikes at Pittsburgh event:
Knotted At Fourteen
Prior to 2010, Yamaha had exactly one AMA Superbike Championship on their resumé. Vance & Hines Yamaha's Thomas Stevens stood as the only rider to have notched a season title in the Superbike class for the tuning-forks brand. Nearly ten years into the new millennium, hardly anyone would have ever dreamed that another motorcycle brand would even approach, let alone tie, Suzuki's 14 AMA Superbike Championships. It was solidly the Suzuki era for an entire decade where Yoshimura Suzuki's Mat Mladin reeled off seven titles interspersed with three additional championships by Mladin's teammate Ben Spies.
Then, in 2010, it was all change as Yamaha Factory Racing's Josh Hayes and the YZF-R1 won four Superbike titles, Josh Herrin won one championship in 2013 on the R1, and Cameron Beaubier won five more Superbike Championships aboard the Yamaha R1. In 2020, Beaubier went to the Moto2 World Championship and handed the R1's reins (and the reign) to his then-Yamaha-teammate Jake Gagne, who proceeded to win the next three MotoAmerica Superbike Championships in a row. Boom, 14 titles for Yamaha, and they are now tied with Suzuki for most-ever in AMA Superbike history.
Steel City Speedsters
Here's proof that the Sunday morning warm up sessions are no leisurely cruise through the countryside. Tytlers Cycle Racing BMW teammates PJ Jacobsen and Cameron Beaubier each achieved the same highest trap speed of the weekend at Pittsburgh International Race Complex during the Sunday morning warm up. The Medallia Superbike pair each went 175.2 miles per hour. Jacobsen achieved the highest speed on his 1st of 6 laps during the session, and Beaubier did his fastest circulation on lap 5 of the 6 he did in that session. In Supersport race one, Joseph LiMandri Jr. went 151.8 miles per hour on lap 3 of 5 aboard his Michael Gilbert Racing Suzuki GSX-R750, and then, Vision Wheel M4 ECSTAR Suzuki's Tyler Scott reached that same trap speed in Supersport race two on his 3rd of 16 laps aboard his GSX-R750. In REV'IT! Twins Cup, Jackson Blackmon topped out his Jackson Blackmon Racing YZF-R7 at 138.4 miles per hour on lap 4 of 11 in race one. The Junior Cup rider who achieved the highest trap speed in that class was JTMotosports/MC9 Racing Kawasaki rider Matthew Chapin,who went 115.6 miles per hour on lap 7 of 8 in Sunday's race two. And, in Royal Enfield Build. Train. Race., Sonya Lloyd went 108.7 miles per hour on her Continental GT 650 on lap 2 of the 3 she did during Sunday morning warm up.
World Superbike At Pitt Race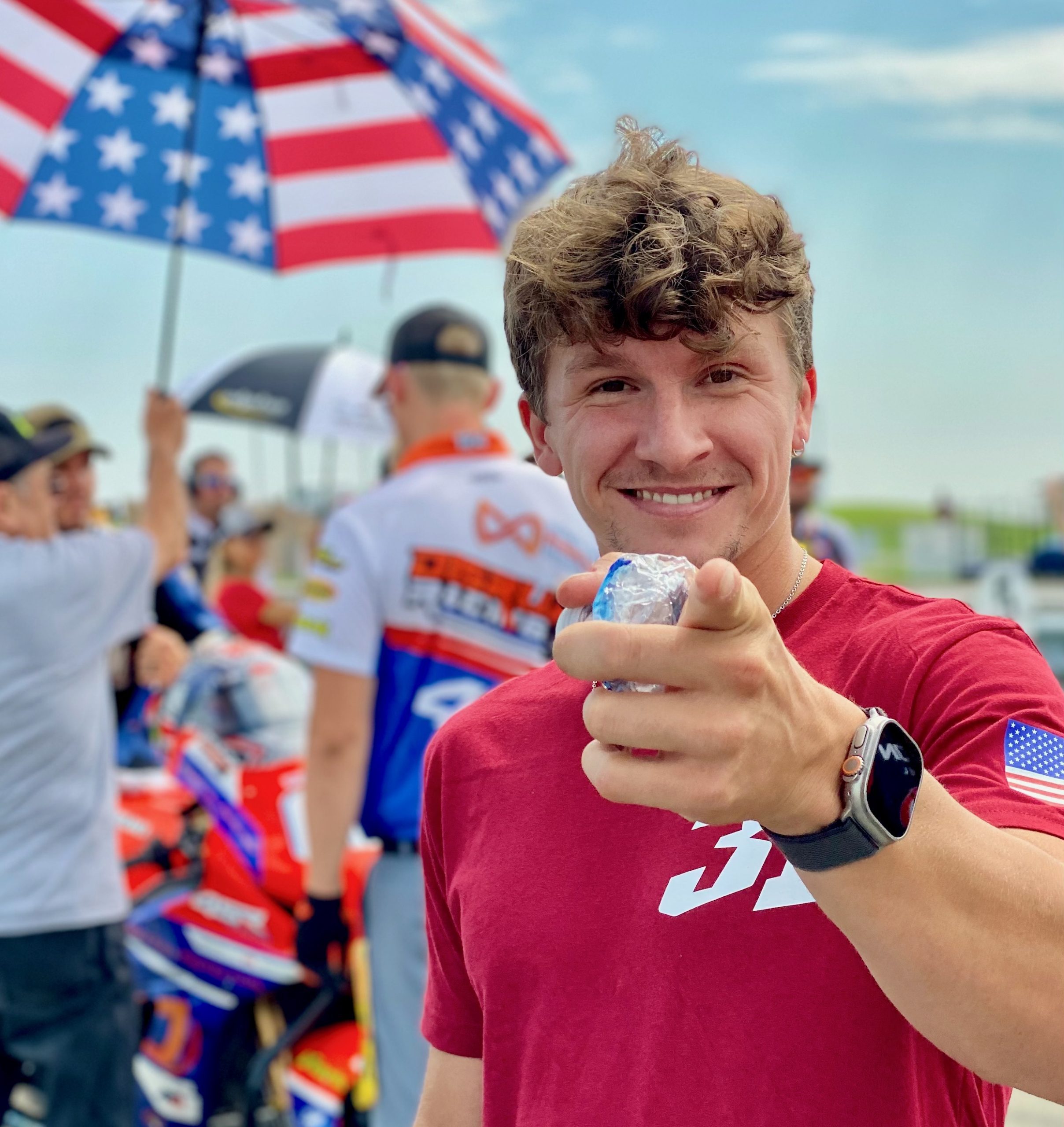 The MotoAmerica Superbikes at Pittsburgh event drew a large crowd, and there were even a couple of spectators from the World Superbike paddock on hand. Former MotoAmerica Supersport Champion and four-time Superbike race winner Garrett Gerloff decided, since there was a break in the 2023 WorldSBK schedule, to fly into Pittsburgh and get together with old friends and teammates. Gerloff couldn't stop smiling the whole time he was at Pitt Race, and he seemed taller than the last time I saw him in person.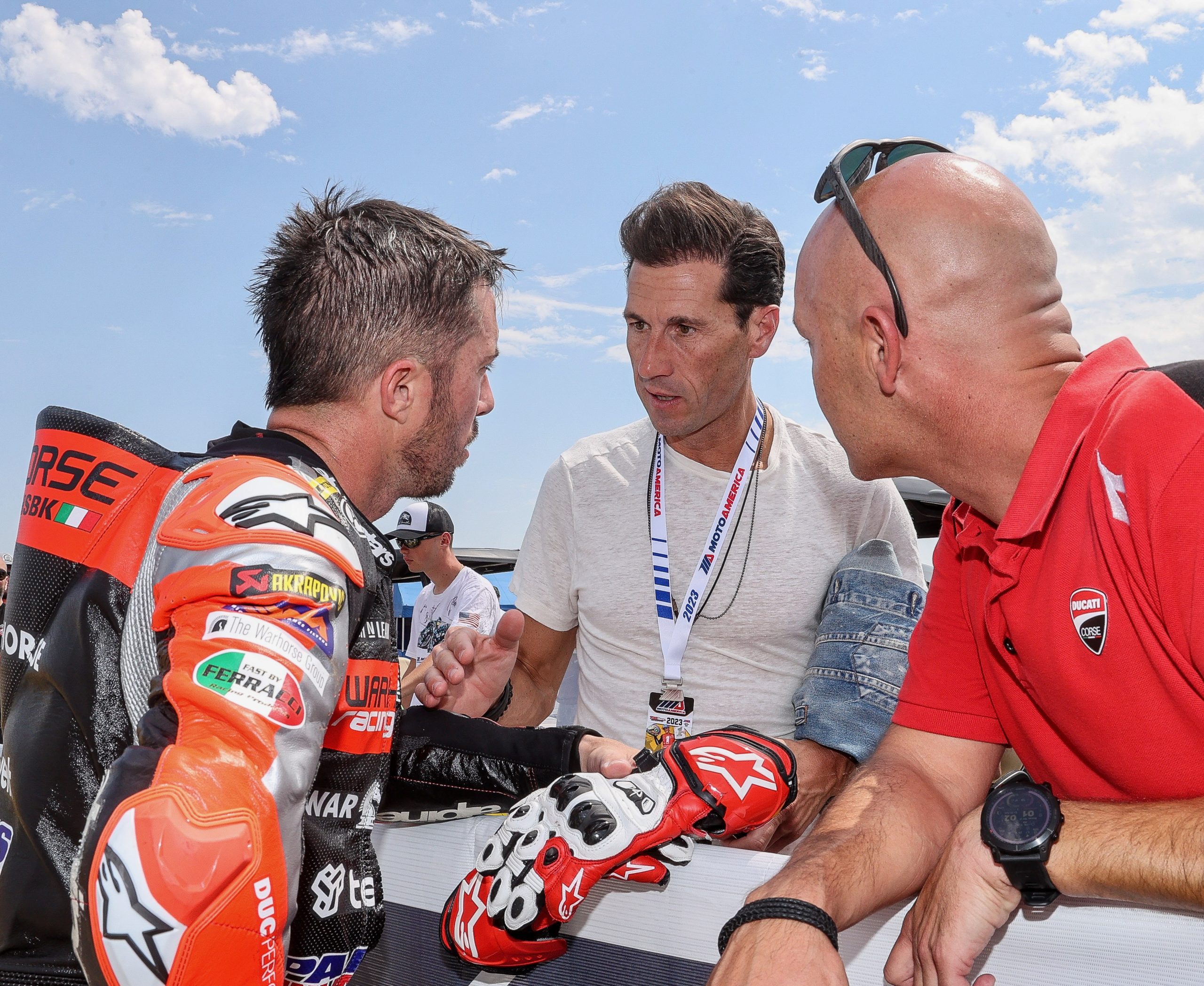 Speaking of riders who seemed taller, also visiting Pitt Race was Rubén Xaus, and now I know why he was nicknamed "Spider-Man." The lanky Spaniard formerly raced for Ducati and BMW in World Superbike, and also Ducati and Yamaha in MotoGP. Looking as fit as ever, 45-year-old Xaus declared that he is interested in competing in MotoAmerica's Mission King Of The Baggers Championship and said, "I am still fit and still fast."
A Panacea For The Panigale
While we're on the subject of Spaniards, current MotoAmerica Supersport points leader and odds-on favorite to win the championship Xavi Forés has now gone two rounds and four races without notching a victory. It's peculiar because, up until Brainerd, Forés had won all eight races on the season to that point. When asked about Brainerd, he said the track is very bumpy and he and his Warhorse HSBK Racing Ducati NYC team just couldn't find a setup that he was comfortable with.
At Pitt Race, the problem for Forés wasn't a bumpy track; it was a slow motorcycle. He expressed his frustration in both post-race Supersport press conferences at Pitt Race, saying that he was doing everything he could to keep up with the other bikes—particularly Stefano Mesa's Tytlers Cycle Racing Kawasaki ZX-6R and Tyler Scott's Vision Wheel M4 ECSTAR Suzuki GSX-R750. While making it clear that he was having fun, he also explained that, in his opinion, his bike's power has been curtailed too much by the Supersport Next Generation balancing rules.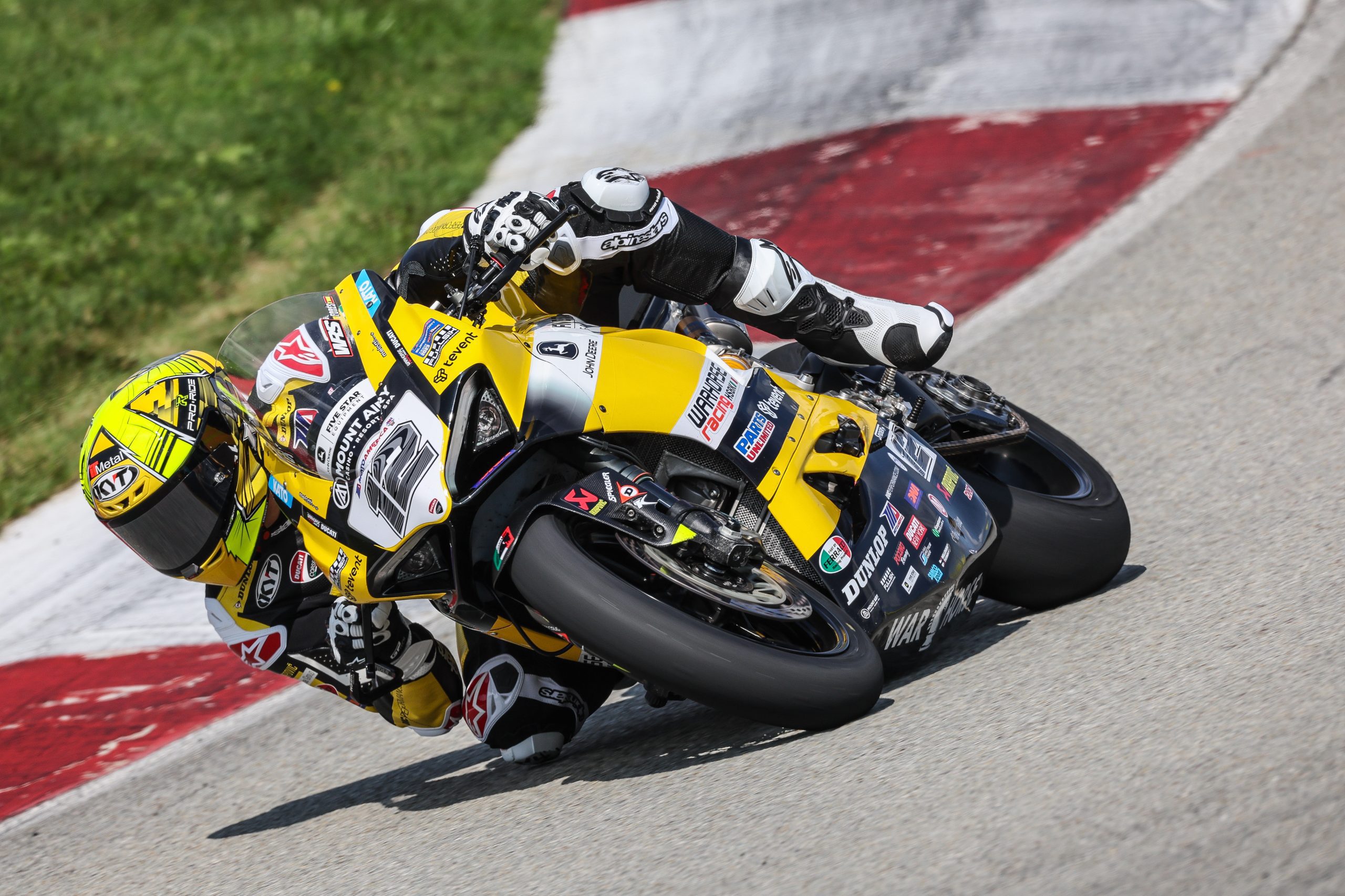 Keep in mind that Forés is the only rider in the Supersport class campaigning a Ducati Panigale V2, a bike with an engine displacement of 955cc, and he is still leading the championship by a whopping 86 points with two rounds and four races left to go. But, if you watch him on track, he is fully leaned over in the corners, completely tucked in on the straightaways, and doing everything he can to maximize the performance of his motorcycle.
It would take a disaster of biblical proportions to thwart his bid for the championship, but still, it's got to be hard to fight for a title with the equivalent of one arm tied behind your back.
Mamá Tried…A Superbike
Xavi Forés loves America. He's made it clear that he wants to stay in the U.S. and is hoping that he can parlay his 2023 MotoAmerica Supersport Championship into a Superbike ride with his Warhorse HSBK Racing Ducati NYC team next season.
At Pitt Race, Forés's wife and baby daughter, as well as his parents, were in attendance. His mom even partook of the Dunlop M4 Suzuki Two-Seat Superbike Experience on Sunday. Wearing her son's leathers, Mamá Forés climbed aboard the pillion-seat-equipped Suzuki GSX-R1000R Superbike, and former Superbike rider Chris Ulrich introduced her to Speed. Made in America. By all accounts, she loved her e-ticket ride.
Mikayla Is Ready For Moore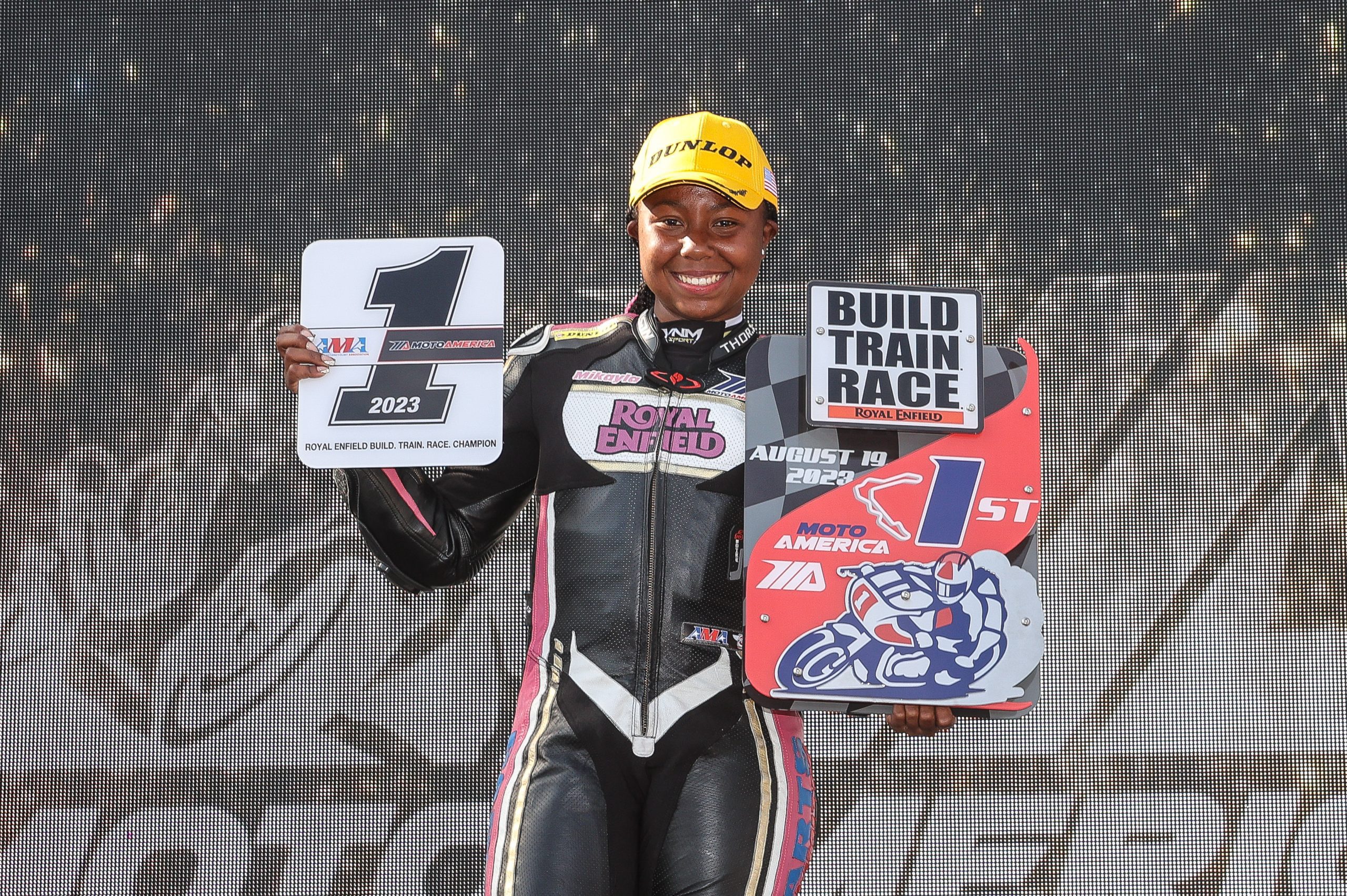 This year's Royal Enfield Build. Train. Race. program was featured at four MotoAmerica rounds, and the 12 women who race-prepped their own Royal Enfield Continental GT 650s and trained aboard them, competed in seven races. Maryland-based rider Mikayla Moore won all seven races and left little doubt that she has the talent to compete in MotoAmerica's other race classes. Look for more from Moore in the future, and hopefully, we will see her in 2024 competing in either the Junior Cup or REV'IT! Twins Cup Championship. She's fast, has loads of racecraft, and understands how to set up a motorcycle. That's a combination of skills that will serve her well as a continuing motorcycle road racer.
Social Engagement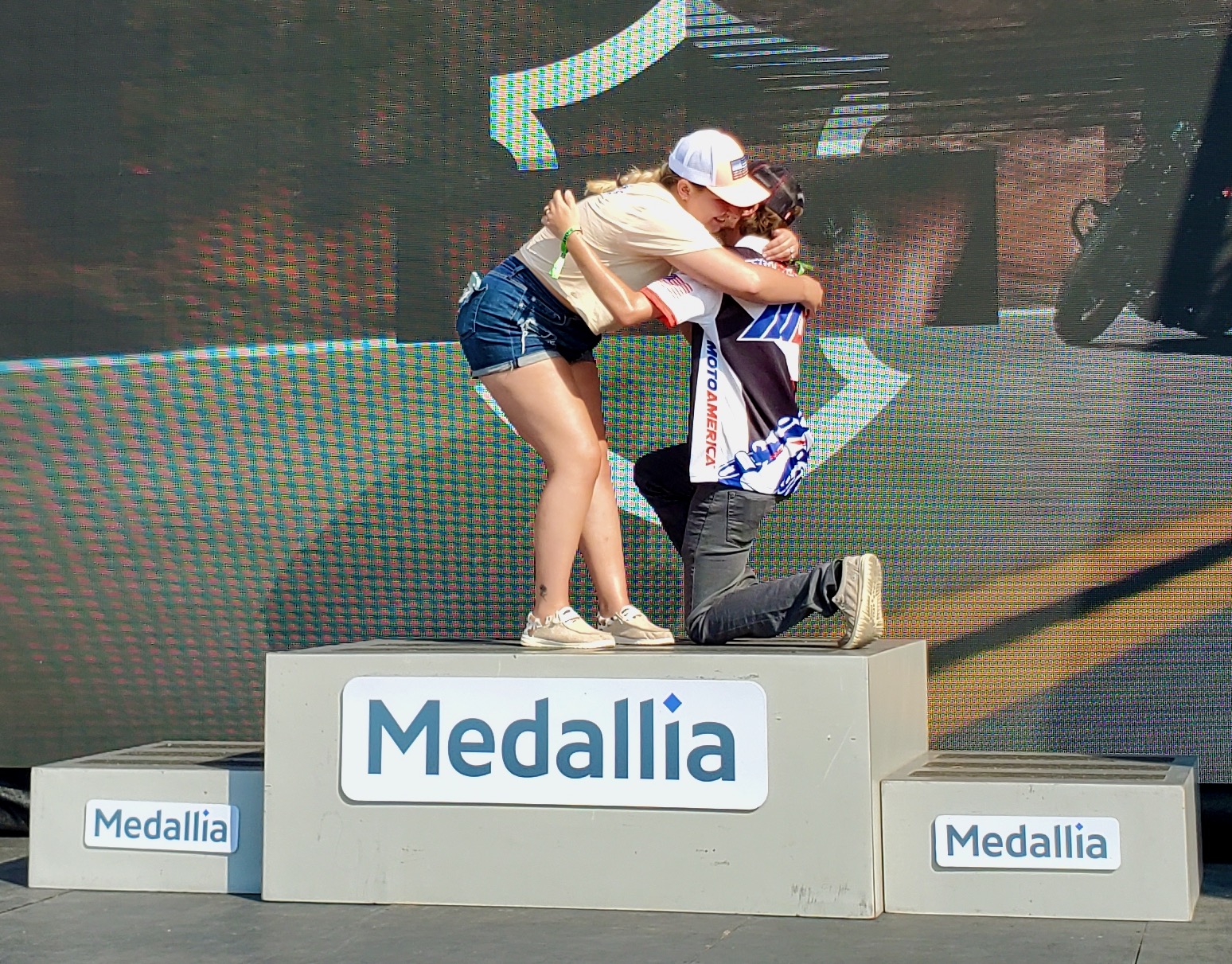 Shout out to all the riders who made it onto the box this past weekend at Pitt Race. Oh, and shout out to Jacob Chapman and Tori Williams, who also got on the box. MotoAmerica tech official Jen Bauer saw to it that MotoAmerica fan Chapman asked for his girlfriend Williams' hand in marriage by getting down on his knee atop the podium where he presented his late mother's ring to Williams. Chapman's father Duane, who is an art professor and boxing instructor at Glenville State University where Jacob and Tori go to college, was there to make sure his son didn't get cold feet. All went according to plan.
Throwing A Wrench In The Works
One of the feel-good stories of the MotoAmerica Superbikes at Pittsburgh event was Bobby Fong earning the pole position for the weekend's three Medallia Superbike races. Wrench Motorcycles rider David Anthony gave up his Superbike ride in order to put Fong back on a Superbike. And, while Anthony concentrates on the Supersport class, riding a Wrench Motorcycles Suzuki GSX-R750, Fong has been getting his Superbike legs back.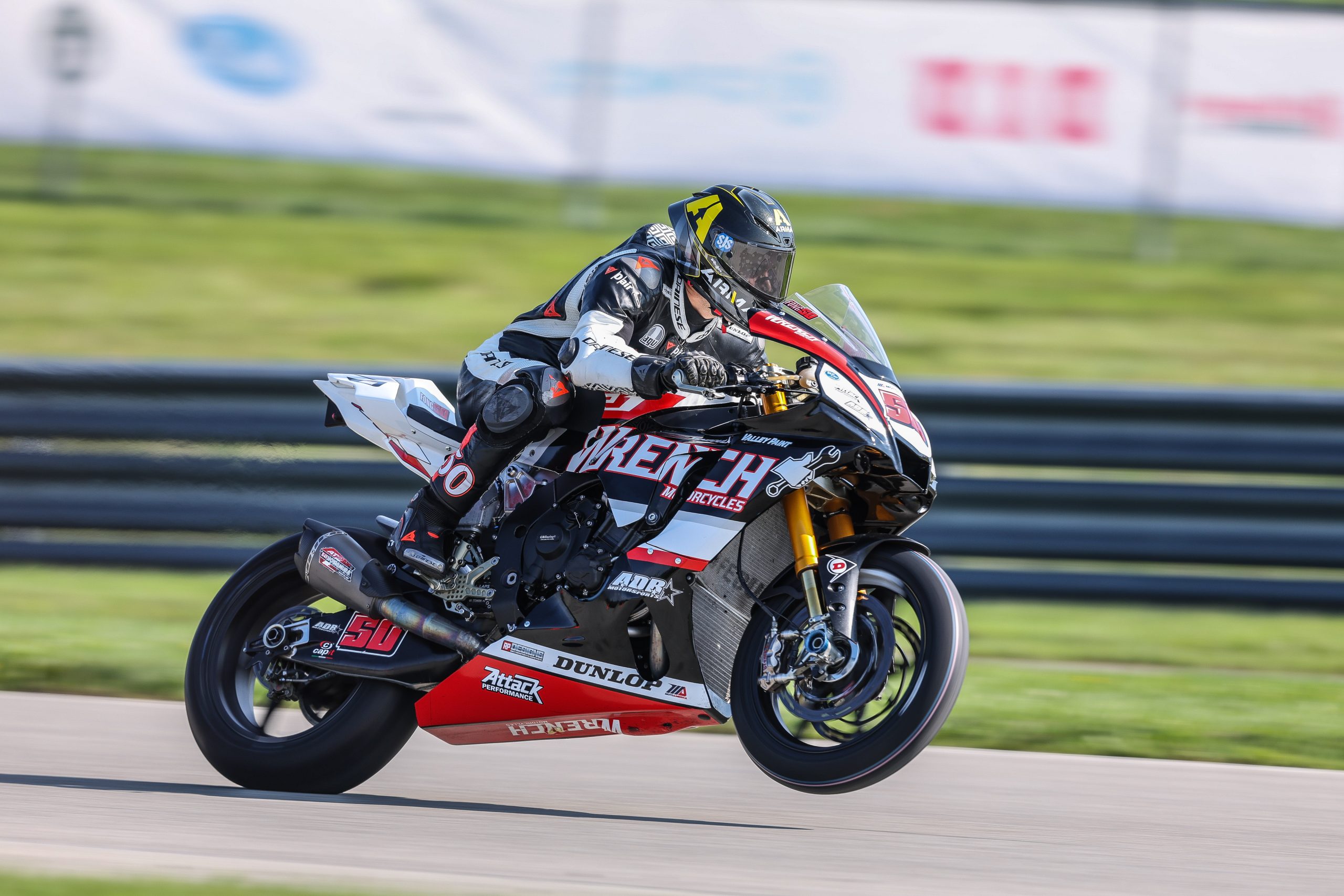 Not only did Fong put the Wrench Motorcycles Yamaha R1 on the pole, but he also had one of the most amazing saves anyone has ever seen, bringing his completely sideways bike back under control and avoiding a stratospheric highside. Even Fong said he doesn't know how he did it.
The Wrench Motorcycles crew had a little more spring in their step all weekend with Fong as the polesitter. Anthony told me that what makes him most proud has been the development of the motorcycle, which started out as the Superbike that Jake Gagne raced in 2022. "We've still got an Attack Performance swingarm on the bike, but we've designed and fabricated most of the other parts ourselves." Anthony pointed out some of the pieces he and his team have developed including a beautifully crafted fuel tank that places the fuel load as far towards the center of the motorcycle and as low as possible.
Another secret to Fong's success is his crew chief Robbie Petersen. A former world-class racer himself, Petersen (yes, he's Cameron Petersen's dad) has been developing quite a reputation as a "rider whisperer." Among those who know, he is credited as the man who helped several riders, including Wyatt Farris, Tyler Scott, and now Bobby Fong, improve their results. "I don't do anything special," Petersen told me. "I don't have a specific program or any secret methods. I just get to know the riders and help bring out the talent they already have within them."
To purchase tickets for MotoAmerica events, click HERE
For information on how to watch the MotoAmerica series, click HERE