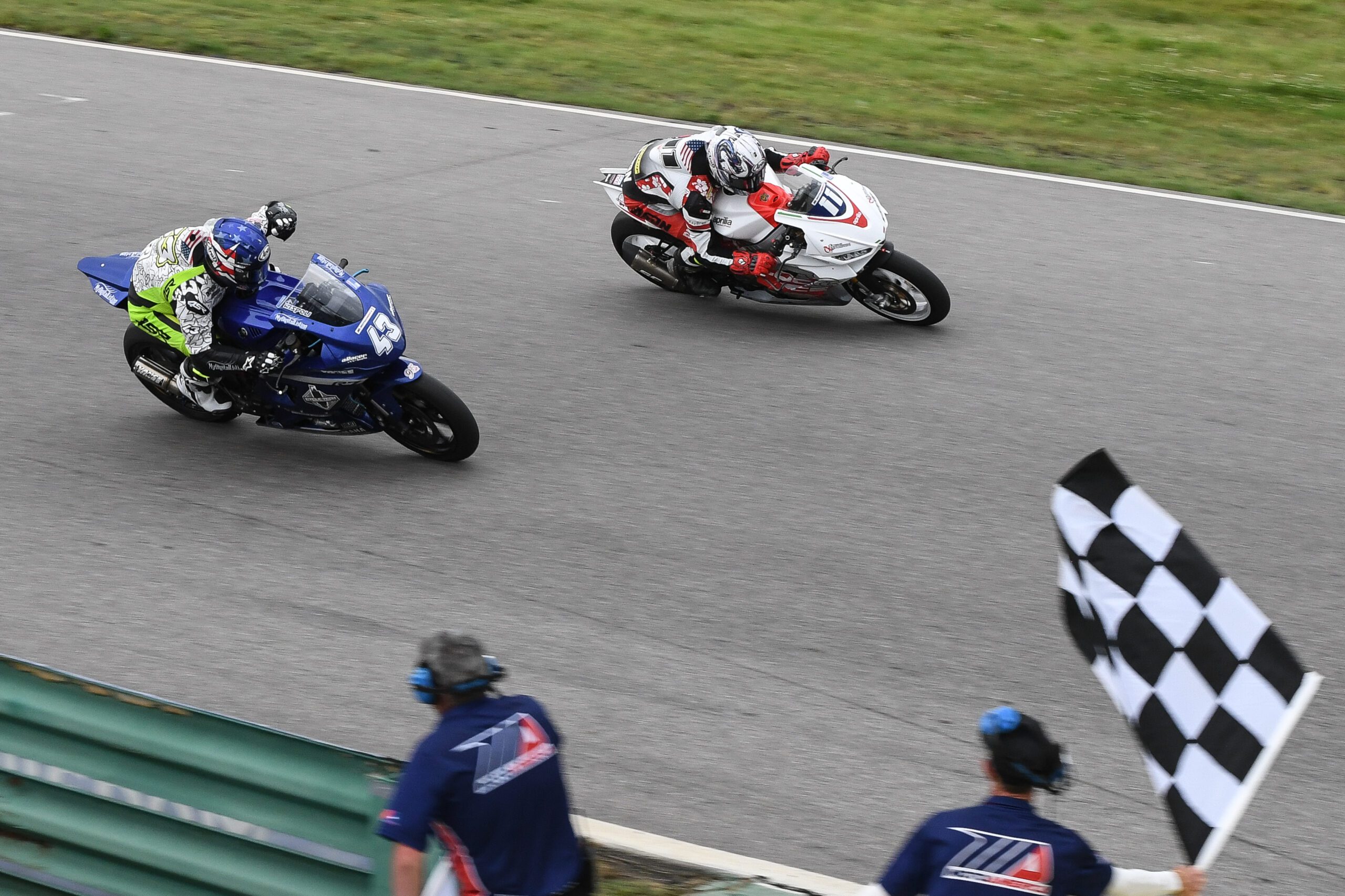 Random notes, comments, statistics, musings, and bits of trivia from the MotoAmerica Superbikes at Virginia event:
PJ WFO
Who had the fastest top speed among all the Medallia Superbike riders at VIRginia International Raceway? It was Tytlers Cycle Racing BMW rider PJ Jacobsen. The native New Yorker and former World Superbike rider went 180.4 miles per hour aboard his BMW M 1000 RR on lap two of race two on Sunday. BMWs have a reputation for being very fast, and Jacobsen showed it at VIR.
Ageless and Timeless
The Supersport podium after Saturday's race had what many believe was the widest spread in rider ages in AMA road racing history. Vision Wheel M4 ECSTAR Suzuki rider Tyler Scott is just 16 years old, while Landers Racing Yamaha rider Rocco Landers is only 17. And then, there is 47-year-old Josh Hayes, who became the oldest rider in AMA history to win a Supersport race.
Eighty-Four For Number Four
Hayes's Supersport race one victory on Saturday aboard his Squid Hunter Yamaha YZF-R6 was the 84th AMA race win of the 47-year-old legend's career. He is now just two race wins away from tying AMA Hall of Famer Miguel Duhamel for most victories by one road racer in AMA history. Will we see Hayes on the grid in Supersport at Road America next weekend? Don't bet against it. Will we see Duhamel on the grid in Supersport at Road America next weekend? No comment.
The Faster Foursome
Four riders broke the class lap record in Yuasa Stock 1000 final qualifying on Saturday. Hayden Gillim, Geoff May, Michael Gilbert, and Corey Alexander all eclipsed the fastest lap time set by Jake Lewis last year. But, of those four riders who lapped faster than Lewis's 2021 lap time, Gillim was the quickest overall. His pole position-clinching lap of 1:25.436 is now the new track record in Stock 1000 at VIR.
Gagne Beats…Gagne
Speaking of lap records, Jake Gagne had the overall track record at VIR going into the weekend, and he still has it. The defending Superbike Champion's fastest lap of 1:23.567 in Medallia Superbike final qualifying on Saturday was .027 of a second faster than his record-setting lap in final qualifying at VIR in 2021.
Barry-Man Was Low
And, while we're at it, we can't forget to mention that Jody Barry also set a new class lap record in Twins Cup final qualifying on Saturday, breaking the record that he set in 2021. His pole-setting lap of 1:30.082 was almost three-quarters of a second faster than the record lap that he set last year in final qualifying at VIR.
Rispoli Got Ripped, Solely
In Saturday's Twins Cup race one, there was somewhat of an optical illusion at the checkered flag, which is the result of the finish line at VIR being on slight curve. Veloce Racing Aprilia rider Barry won the race fair and square, but it was only by a margin of just .020 of a second. Without the benefit of electronic timing and scoring as well as photographic proof, it sure looked like Cycle Tech/Speed Weaponry/Mydigitalli Yamaha rider James Rispoli got the victory (and Rispoli thought he won, too). But that's racing at VIR, which almost always produces breathtaking finishes in the MotoAmerica series.
No Joshing Between Jousting Joshes
Sunday's Supersport race two, which was a showdown between former teammates, former teacher and student, and former friends Josh Hayes and Josh Herrin, also featured a close finish. Warhorse HSBK Racing Ducati NYC's Herrin beat Squid Hunter Yamaha's Hayes by just .032 of a second. Incidentally, the 19-lap race featured 23 lead changes. Afterwards, Hayes said that it was one of the most fun races he has ever participated in.
For the full 2022 MotoAmerica schedule and to purchase tickets for MotoAmerica events, click HERE
For information on how to watch the MotoAmerica series, click HERE