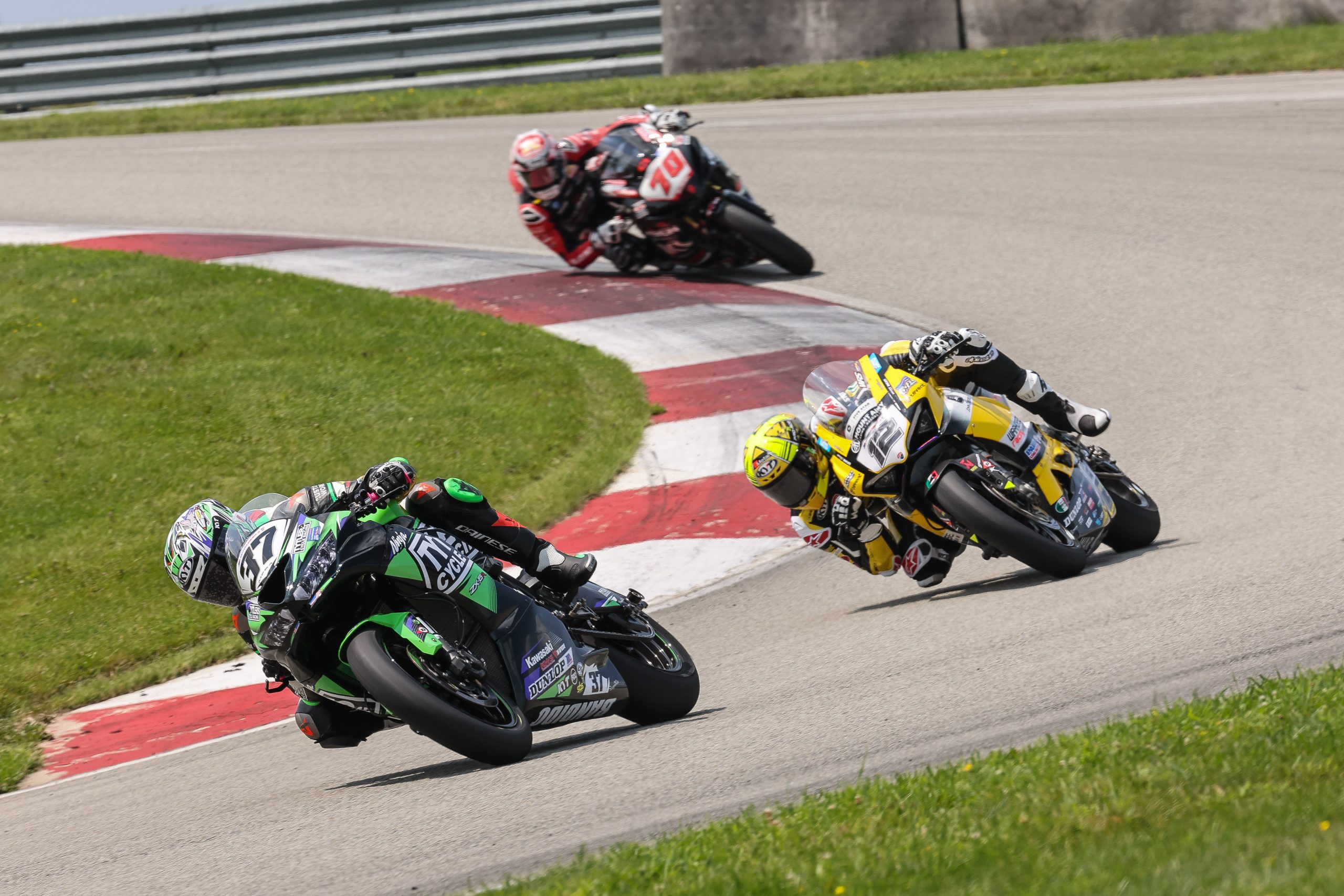 Two MotoAmerica rounds ago, the winner of the 2023 Supersport Championship seemed to be a fait accompli.
Warhorse HSBK Racing Ducati NYC rider Xavi Forés had reeled off eight consecutive wins, and it looked like he was head for a perfect season. But things changed for the Spaniard in Minnesota and the bumpy Brainerd International Raceway wreaked havoc on the handling of his Ducati Panigale V2, as well as on his win streak. He left the Land of 10,000 Lakes without a win, and it continued in Supersport race one at Pittsburgh.
The story of the race, though, was not who didn't win, but who did.
Tytlers Cycle Racing Kawasaki rider Stefano Mesa notched his first Supersport victory of the season and the second of his career. Mesa also earned the pole position for both of the weekend's races, so clearly, Pitt Race is a very good track for the Colombian. It was also Mesa's 29th birthday.
Second place went to Forés, who commented in the post-race press conference that he is doing everything he can to keep up with the other bikes. The only Ducati rider in the field, Forés thinks the balancing measures mandated for his bike are too extreme.
Third place went to Vision Wheel M4 ECSTAR Suzuki rider Tyler Scott, which was his seventh podium result of the season.
"The whole weekend, we've been very fast off the get-go," Mesa said. "I think, after race two in Brainerd, we found a little something on the bike. We've been dealing with a lot of chassis issues with the new B bike, what we call the B bike, since I broke the (A bike at) Ridge. I broke it in half. Been battling a lot of chassis setup. But I think we finally hit the nail where it was. I think we're in the window for the bike. My hats off to the team. They gave me a great bike since we rolled it out of the truck. We've been fast all weekend. The race was great. My hats off to these guys. This is great battling with them. It's great trying to pass Xavi (Forés) on the brakes. I think first clean race I got to actually battle with Xavi and try and go for the win. I think I had the pace. Tomorrow we're going to try and find a little bit more and see if we can get the win again."
REV'IT! Twins Cup – The Title Chase Tightens
The battle for the 2023 REV'IT! Twins Cup Championship can't get much closer than it already is, but Rodio Racing – Powered By Robem Engineering's Rocco Landers is hoping that it gets even closer after tomorrow's second race at Pitt Race.
Landers won his sixth REV'IT! race of the year after an early battle with championship rivals Blake Davis and Gus Rodio and the win moves him to within 10 points of the lead in the title chase.
The battle for second in Saturday's race was also the battle for the championship lead and it went to N2 Racing/BobbleHeadMoto's Davis by just .042 of a second over Landers' teammate Rodio.
How's this for close? Davis now leads Rodio by a single point with Landers 10 points behind Davis and nine behind Rodio.
Team Iso's Dominic Doyle had a relatively lonely ride to fourth with TrackDay Winner/Blackmon Racing's Jackson Blackmon rounding out the top five.
"I have not had the best past month, after what I did at Laguna," Landers said. "But I knew this was a good track for me. It's a good track for the bike. It's a good track for the team. The Aprilia is handling absolutely amazing. The start I kind of got shuffled back there a little bit. I just tried to basically pick up the pieces after the first lap and do what I could to get back past these guys. They were riding amazing, obviously killing it. I knew if I could lead a few laps at least through the esses, I could maybe start to stretch out a gap and then hold it there. So, that's what I did. It went to plan today. Doesn't always go to plan, but today it did. We're hoping to do at least that or even better tomorrow."
Junior Cup – Dreher Bounces Back
After winning four out of the first five Junior Cup races of the season, it came as quite a surprise that Bad Boys Racing Kawasaki rider Avery Dreher hit a dry spell where he didn't get another victory for three straight races. But, on Saturday at Pitt Race, Dreher returned to his winning ways.
Starting from pole position, the Florida-based rider battled throughout the 10-lap race with Fairium NGRT – Gray Area Racing KTM's Rossi Moor, Hayden Bicknese Racing Kawasaki rider Hayden Bicknese, and Altus Motorsports Kawasaki rider Alessandro Di Mario. At the checkers, it was Dreher who notched the win by .036 of a second over Moor, with Di Mario just .136 of a second back from Dreher.

With three more races left in the Junior Cup Championship, Dreher has a 39-point lead over Moor.

"I honestly didn't really lead that much," Dreher said. "I went into the race, and I wanted to be as aggressive as I can. I'm usually not the most aggressive rider, but I had to change that. So, I wanted to be able to lead the whole race, just not fall outside the top two. We went back and forth a couple times. I had a couple moments. I was battling with some little grip issues here and there. But I got to say, the bike honestly felt amazing. Thanks to the team. We figured out our issues from Friday. That last lap was just figuring out if I wanted to be in third or second going onto the front straightaway. Just kind of was in a perfect spot to get that draft. I'm just super happy to extend my points lead and get another win."
Royal Enfield Build. Train. Race. – Moore Crowned!
On a sunny Saturday afternoon, Mikayla Moore kept her perfect season intact with her sixth win in six starts and it all resulted in her wrapping up the 2023 Royal Enfield Build. Train. Race. championship. Moore will attempt to close out a perfect season with another victory tomorrow at Pitt Race.
Sonya Lloyd earned her fifth podium of the year with her second-place finish and that virtually assures her of second in the championship after tomorrow's finale. Lloyd battled with Moore early and finished 2.2 seconds behind the Marylander – the closest anyone has been to the newly crowned champion all season.
Defending series champion Kayleigh Buyck was third in the race and happy to be back on the podium after a rough season for the New Yorker.
"I was going into turn one and I'm like, holy crap, someone was like right next to me," Moore said. "I just tried to do my best and hit my marks. Luckily, this round, I had my lap timer, so I ended up doing a 2:07. I told my parents. They were like, 'What time do you think you're going to run?' I was like, 'I think I'll do a 2:08.' But every time I get some fresh Dunlop tires, I end up going faster and meet my goals every time.
"If I can be honest, going into this program I thought I would struggle a little bit because in the beginning… I'm not able to adapt quick to bikes, so I'm really actually surprised. After the first round I was able to get quickly adapted to it and things like that. Then also we have a great team, so everyone kept each other positive. I just tried to at the Road America after the first round keep the streak going. So far, I had a perfect season. Just have to complete it tomorrow."
Mission Mini Cup By Motul – Gouker Dominates
Stadler America's Nathan Gouker picked up where he left off with a resounding Ohvale 160 class victory in the MotoAmerica Mission Mini Cup By Motul round on Friday afternoon at Pitt Race.
Gouker was dominant in taking a 17-second victory over Madd Will Racing's Kruz Maddison, who barely beat American Racing's Connor Raymond by a scant .198 of a second.
American Racing's Joshua Raymond scored the win in the Ohvale 190 class, beating Alpha Omega's Ryder Davis by 4.8 seconds with HistoricGP's Mahdi Salem finishing a distant third. Stock class racing on Friday saw Cory Texter Racing/Roof Systems' Cruise Texter winning the Stock 50 class; Varnes Racing's Cole Varnes doing likewise in Stock 110 with Jacobsen Motorcycle Training/Bettencourt Racing's Nathan Bettencourt winning the Stock 125 final.