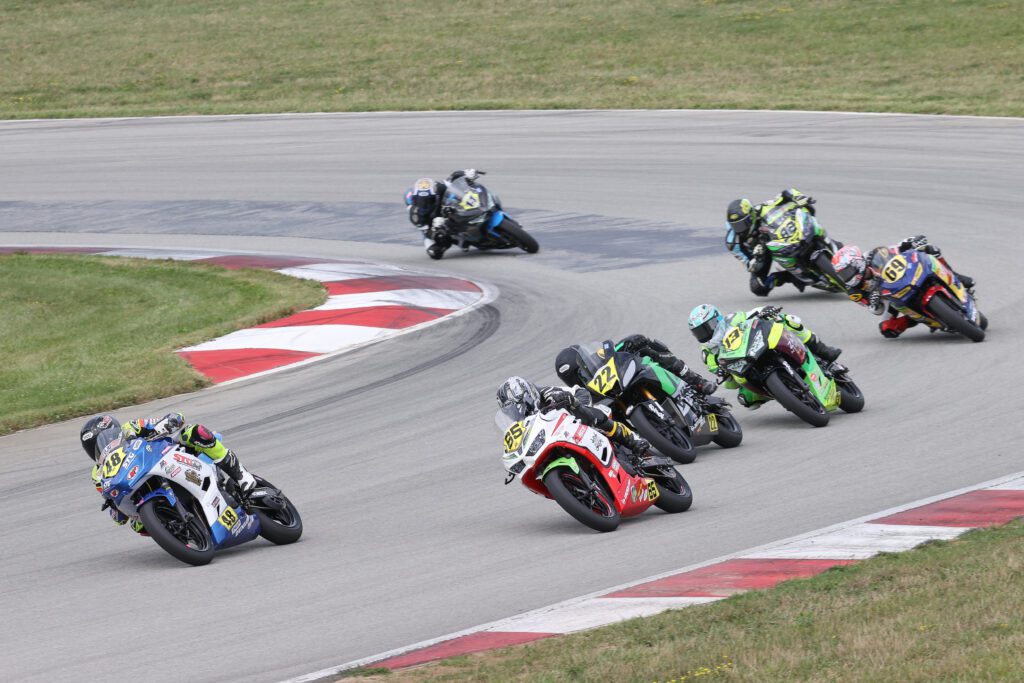 MotoAmerica, the premier road racing series in North America, is happy to announce that, after an extremely successful first season of title sponsorship of the Junior Cup class in 2021, Sportbike Track Gear will again be the title sponsor of the SportbikeTrackGear.com Junior Cup Championship in 2022.
Owned and operated by the VanDenBroucks (commonly known as the Vans), Sportbike Track Gear started life as a trackside vendor and has since turned into a highly successful motorcycle apparel and parts website, SportbikeTrackGear.com. The Vans are heavily involved in the MotoAmerica series not only from a sponsorship perspective but also as a family. Their son, Max, competes in the series with his father Brian serving as his crew chief and mentor.
"It was a great experience for us to be involved in the MotoAmerica Series last year with our sponsorship of the SportbikeTrackGear.com Junior Cup Championship," said Brian Van. "And racing in the series with our son Max makes it even better. Last year was special as it was our first season as the class sponsor and our first full season of MotoAmerica racing with Max. This year will be even more exciting with a season under our belt."
Max Van finished his first full season of SportbikeTrackGear.com Junior Cup racing ranked seventh in the championship with a best finish of fourth at Road America.
"It's great that SportbikeTrackGear.com had a successful season with us in 2021 and are returning as a class sponsor again in 2022," said MotoAmerica President Wayne Rainey. "It's really cool that they are not only a class sponsor, but they also sponsor the class that their son races in. We enjoy seeing families at our events successfully working together and the Vans are the perfect exa mple of that."
The SportbikeTrackGear.com Junior Cup Championship opens its season at Michelin Raceway Road Atlanta, April 22-24.
2022 MotoAmerica SportbikeTrackGear.com Junior Cup Series Schedule
April 22-24 Michelin Raceway Road Atlanta Braselton, GA
May 20-22 VIRginia International Raceway Danville, VA
June 3-5 Road America Elkhart Lake, WI
June 24-26 Ridge Motorsports Park Shelton, WA
July 8-10 WeatherTech Raceway Laguna Seca Monterey, CA
July 29-31 Brainerd International Raceway Brainerd, MN
August 19-21 Pittsburgh International Race Complex Wampum, PA
September 9-11 New Jersey Motorsports Park Millville, NJ
September 23-25 Barber Motorsports Park Birmingham, AL
For the full 2022 MotoAmerica schedule and to purchase tickets for MotoAmerica events, click HERE
For information on how to watch the MotoAmerica series, click HERE