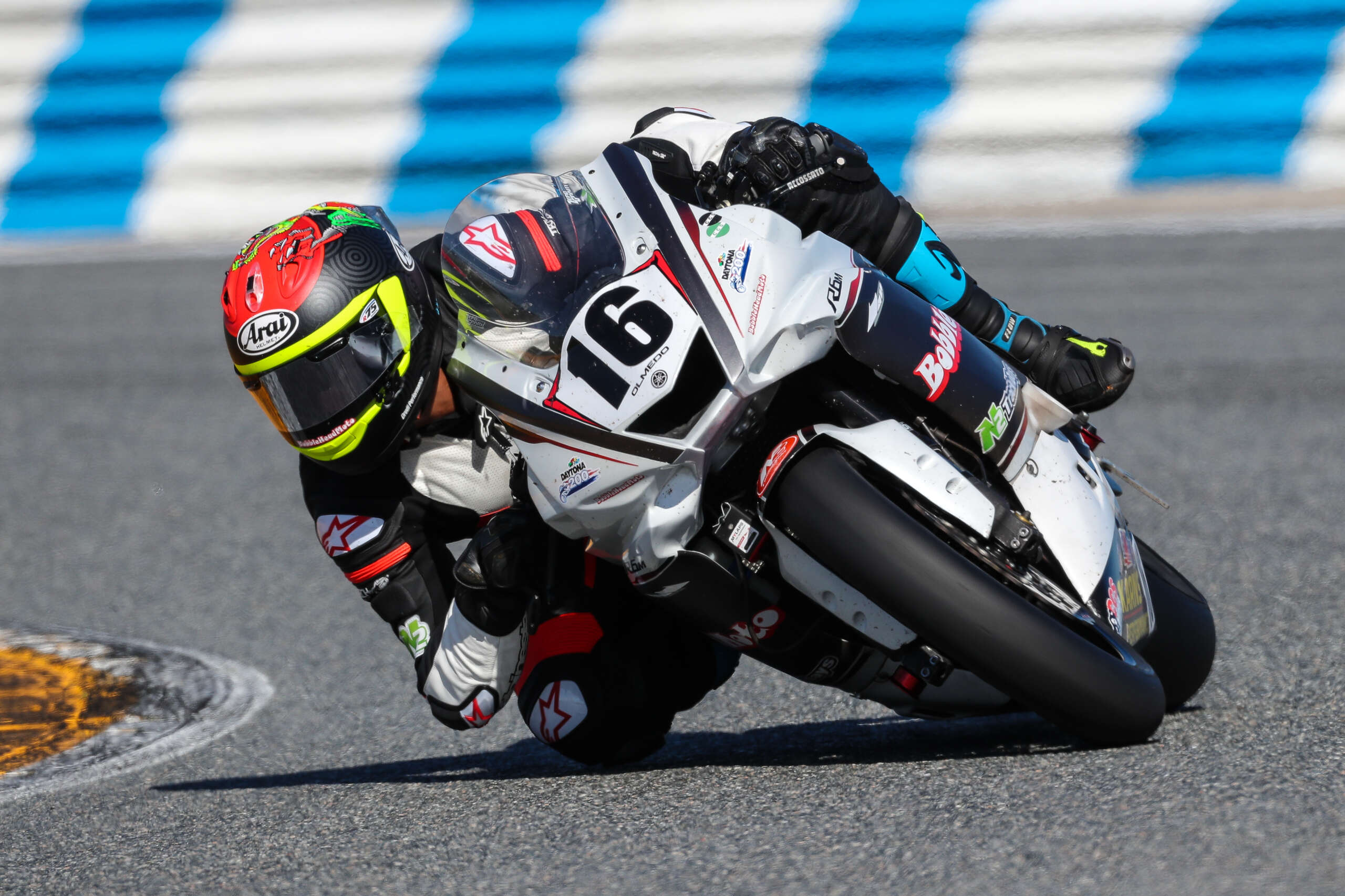 The following is from N2 Racing…
N2 Racing is proud to announce the signing of Kevin Olmedo to ride the N2 Racing/BobbleHeadMoto Yamaha YZF-R6 in the MotoAmerica Supersport Series. 21-year-old Olmedo is a proven winner in MotoAmerica Junior Cup and has been a regular podium finisher in the MotoAmerica Supersport Series. The entire team is excited to see what Kevin can do on the N2 Yamaha YZF-R6 in his fourth year of MotoAmerica competition.
"Our N2 team is excited to have Kevin joining us for the 2022 MotoAmerica season," said Team Owner Kris Smith. "Kevin is a proven, talented rider who brings knowledge and skill to our team that will help us to continue to grow. We're also looking forward to being back competing in the Supersport class where our team has a good deal of experience with the Yamaha YZF-R6. With Kevin Olmedo and Blake Davis as our riders, combined with experienced crew and Shiloh Salopek as our crew chief, I see great things in store for our N2 team."
Kevin Olmedo is from San Salvador, El Salvador. He started racing in 2014, and he is in his fourth year of MotoAmerica competition. Olmedo's first MotoAmerica season was in 2018 in Junior Cup. Kevin achieved victory in his first season at New Jersey Motorsports Park and scored a podium at VIRginia International Raceway on a Yamaha YZF-R3. Olmedo finished second in Junior Cup points in 2019 with a win at Pitt Race and several podium finishes. 2020 was Kevin's first year in Supersport in which he finished 6th in the Championship with a podium and several top-five finishes. 2021 started late for Olmedo after he missed the first few rounds due to a shoulder injury and subsequent surgery. Despite the setback, Kevin was still able to score two podium finishes, several top fives and finished the season ranked seventh in the 2021 Supersport Championship.
"I'm really happy to join the N2 team for the 2022 MotoAmerica season in the Supersport class aboard a Yamaha YZF-R6," said Kevin Olmedo. "I worked together with N2 Racing/BobbleHeadMoto at the 2021 Daytona 200, and I know that they have a lot of experience. I am excited to start preseason testing with my new team, and I'm really looking forward to the start of the 2022 MotoAmerica Supersport season. I will be putting in a lot of hard work in the off-season so that I can have a strong start to 2022. I really appreciate this opportunity and want to thank the whole N2 team for believing in me."
N2 Racing's motorcycles are prepared by BobbleHeadMoto with support from Westby Racing. Shiloh Salopek is the co-owner of BobbleHeadMoto and crew chief for N2 Racing. Shiloh's focus will be on developing the proven Yamaha YZF-R6 platform for Kevin to win races and championships in 2022.
"I am very excited to get back into the Supersport class after a year hiatus," said Crew Chief Shiloh Salopek. "After working with Kevin at the 2021 Daytona 200, I am looking forward to working with him full-time in the MotoAmerica Supersport class for 2022. With a rider of Kevin's caliber and our experience as a team, I am very optimistic of a successful season, and I look forward to showcasing what we are capable of together. "
About N2 Track Days:
N2 provides a structured riding environment for sportbike riders of all levels promoting motorcycle safety through instruction on closed-course racetracks. N2 instructors and coaching staff are comprised of club racers, pro racers, and experienced track day riders who are articulate and passionate about all aspects of this sport. N2 strives to provide an enjoyable riding experience in an environment where members can hone their skills and inspire confidence in their riding ability. Riding with N2 means you and your sportbike gain access to a structured environment without the hazards, limitations, distractions, and obstacles that you'll find on the street.
N2 Racing is proudly sponsored by N2 Track Days, BobbleHeadMoto, SBS Brakes, Renthal, Motorex, Ohlins USA, Trading Paint, Westby Racing, and Dainese.