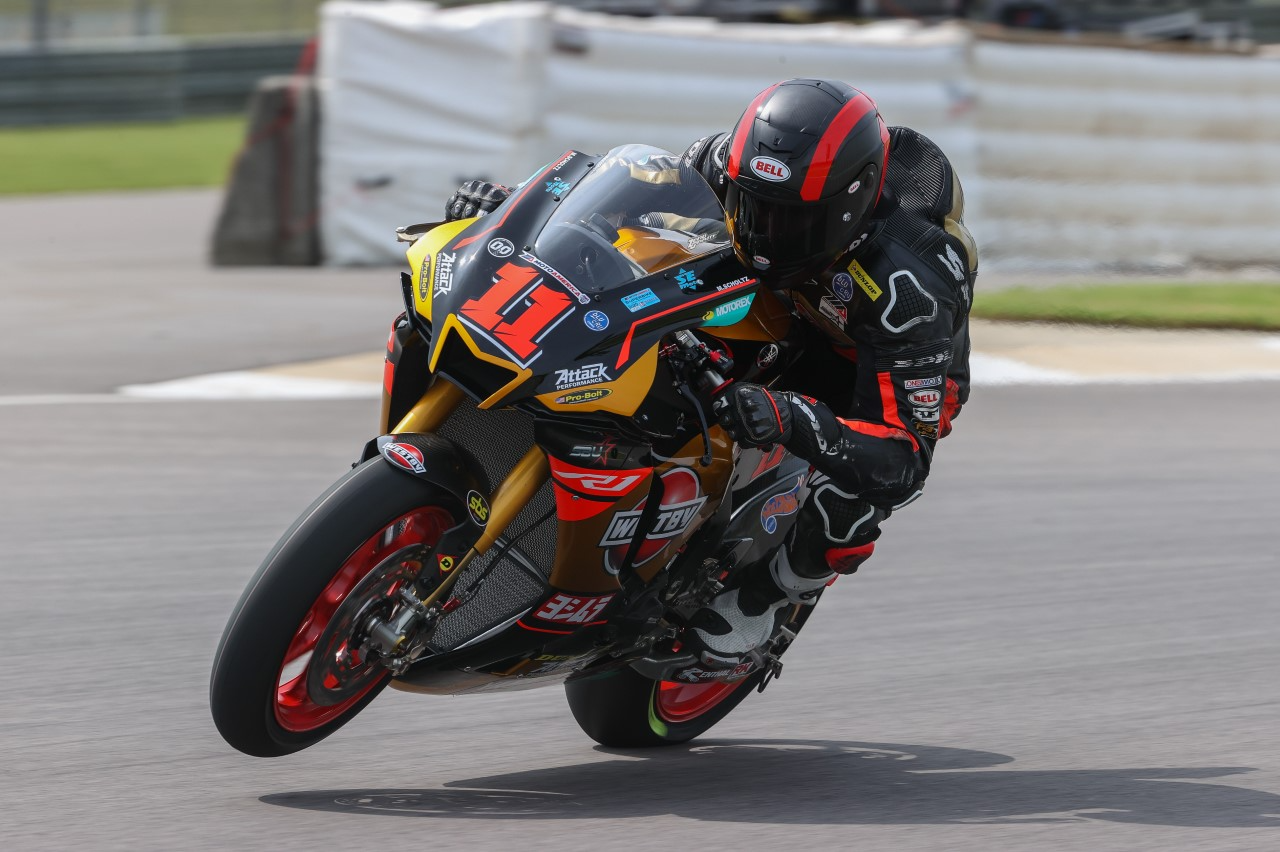 The following is from Westby Racing…
The Westby Racing team and its two Yamaha riders Mathew Scholtz and Cody Wyman are fired up with anticipation about round eight of the 2020 MotoAmerica AMA/FIM North American Road Racing Championship, which starts Friday at Indianapolis Motor Speedway.
Having this opportunity to compete at Indy, the Racing Capital of the World, is reason enough to be excited, but for Mathew, who is the team's Superbike rider aboard the #11 Westby Racing Yamaha YZF-R1, being able to compete in not just two, but three, races this weekend on the 2.621-mile Indianapolis Motor Speedway road course has him hitting the rev limiter.
Mathew is coming off two more strong podium finishes at Barber Motorsports Park a couple of weeks ago, including leading the field in Sunday's Superbike Race 2. He sits just a single point behind fellow Yamaha rider and good friend Jake Gagne for the runner-up position in the season championship, and he wants to keep his podium streak going so that he can overtake Jake not only on the track, but also in the points.
"I'm really looking forward to going back to Indy," Mathew said. "I was there in 2008 competing in the Red Bull MotoGP Rookies Cup, so it's been a while, but I've heard that the circuit hasn't changed too much since then, so that's good. It'll be great to get back out there and race my Superbike on such a famous track like The Brickyard. Last weekend, we had a very successful test at (Michelin Raceway) Road Atlanta. We tested at a WERA round and got some laps in on some new settings and a new engine package. Things look really good. We went quicker last weekend, by a decent margin, than we did when we were there in August. Hopefully, we can carry on improving, and these changes work for us at Indy. I'm pretty sure that it should be a very good weekend for us. We've got three races coming up, and I know that Sunday is going to be a lot of work, but I've always been very committed to my cardio training, so I've got that in my favor."
Superbike race one is on Saturday at 3 p.m. Eastern, and it will be broadcast LIVE on FOX Sports 2 and Eurosport. Superbike race two starts on Sunday at 11 a.m. Central, and race three is also on Sunday, at 3 p.m. Central. Both of Sunday's races will be broadcast LIVE on FOX Sports 1 (FS1) and Eurosport. In addition, all Superbike qualifying sessions and races will be streamed also available on Video On Demand through MotoAmerica Live+.
Westby Racing's MotoAmerica Junior Cup rider Cody is as hyped up as Mathew is to race at Indy this weekend. He's been working hard all season long to develop the #34 Westby Racing Yamaha YZF-R3 and improve his results. Also, he's previously done some car-driving instruction on the road course at Indy. The track familiarity should give him a little bit of an advantage since he won't have to learn the course.
"I can't wait for Indy and to get to work," Cody said. "At the previous round, we didn't have our best results, but I felt really strong all weekend, so I'd really like to build off that momentum. Luckily for me, in 2017 and 2018, I did some driving instruction at Indy with the car manufacturer schools, and I even got to teach alongside Indy 500 champ Danny Sullivan. I think my familiarity with the road course will help me even the playing field a bit more. It's a great course, and I really enjoy the improvements they've put in place over the years to make it faster and more flowing. Not to mention that it's one of the most historic venues in the world. Let's go racing!"
Junior Cup race one starts on Saturday at 4 p.m. Eastern, and race two is on Sunday at 2:10 p.m. Eastern. Both Junior Cup races will be streamed on MotoAmerica Live+, and they will also be broadcast via tape-delay on FOX Sports 2 (FS2) on Tuesday, October 13th starting at 9 p.m. Eastern.
Watch Great Racing While Maintaining Your Social Distance
Indianapolis Motor Speedway is providing a MotoAmerica spectator zone in the Turn 1 grandstands during all three days of the event, which offers really good sightlines of the road course. Fans will not be permitted into any section of the IMS infield, VIP areas or the MotoAmerica paddock, and all fan activities have been eliminated.
Indy has recently made a whole host of improvements, including more than 30 new LED video display boards, refreshed concession stands and restrooms, and 5G wireless connectivity throughout the facility.
Get Your FREE Westby Racing Posters, T-Shirts, And Other Team Swag
Westby Racing posters of Mathew and Cody, as well as T-shirts and other team giveaway items will be distributed from safe social distances during the weekend, so be sure to take advantage of the opportunity when it is presented.
For more updates about Westby Racing, including news, photos, and videos, follow "Westby Racing" on your favorite social media sites. Also, visit https://www.WestbyRacing.com
The following is from Superbike Unlimited…
One of MotoAmerica's newest teams is raring to race at one of the world's most storied motor sports venues, as the Superbike Unlimited Franklin Armory Racing Team will have reigning Stock 1000 Champion Class Andrew Lee at the helm of its Kawasaki ZX-10RR at this weekend's MotoAmerica Superbikes at the Brickyard.

Lee has two MotoAmerica Stock 1000 titles to his credit – both of which he claimed aboard Kawasakis – and scored a top-10 finish in his Superbike debut at the previous round on Sept. 18-20 at Barber Motorsports Park. The Indianapolis round takes place Oct. 9-11 and marks the penultimate chapter of the 2020 MotoAmerica season.

Lee rode the team's motorcycle in two practice sessions at the Barber round, but the motorcycle was deemed ineligible for the event due to the team being unable to source MotoAmerica-homologated ECU firmware and transmission parts in time for that round.

"The technical issues the team encountered at Barber have been resolved and we are excited to have Andrew racing our bike at the Indianapolis round," Team Principal Freddy Carswell said. "We have a great group of sponsors who have come together to get Andrew back to racing in MotoAmerica, and I'm looking forward to delivering the exposure they're due in the weekend's three Superbike races."

The team's family of sponsors includes Franklin Armory, Riderz Law, Appalachian Electric & Generator, Hard Money Rare Coins, Cool Breeze and Dr. Farr, as well as technical partners Evol Technology, Sportbike Track Time and SBS.

More recently, the team has welcomed additional support from PJC Race Support Services, which has stepped up to help with the team's transportation costs to make the Indianapolis round happen.

"We were originally just planning to do the Barber round," Carswell said. "Thanks to PJC coming on board, we are able to more easily afford taking part in the last East Coast round of the 2020 MotoAmerica season and show what our Kawasaki ZX-10RR Superbike project is capable of."

The Indianapolis round marks MotoAmerica's first time competing at the Brickyard since 2015 and the first time all of MotoAmerica's support classes will compete on the Indianapolis Motor Speedway road circuit.

How to Watch

All three Superbike races slated for the MotoAmerica Superbikes at the Brickyard are to be broadcast live on the Fox Sports, Eurosport and the MotoAmerica Live+ streaming service. Coverage of the Saturday race kicks off at 3 p.m. Eastern on Fox Sports 1, and Sunday's races take place at 11 a.m. on Fox Sports 1 and 3 p.m. Eastern on Fox Sports 2.

To learn more about MotoAmerica Live+, visit https://www.motoamericaliveplus.com.