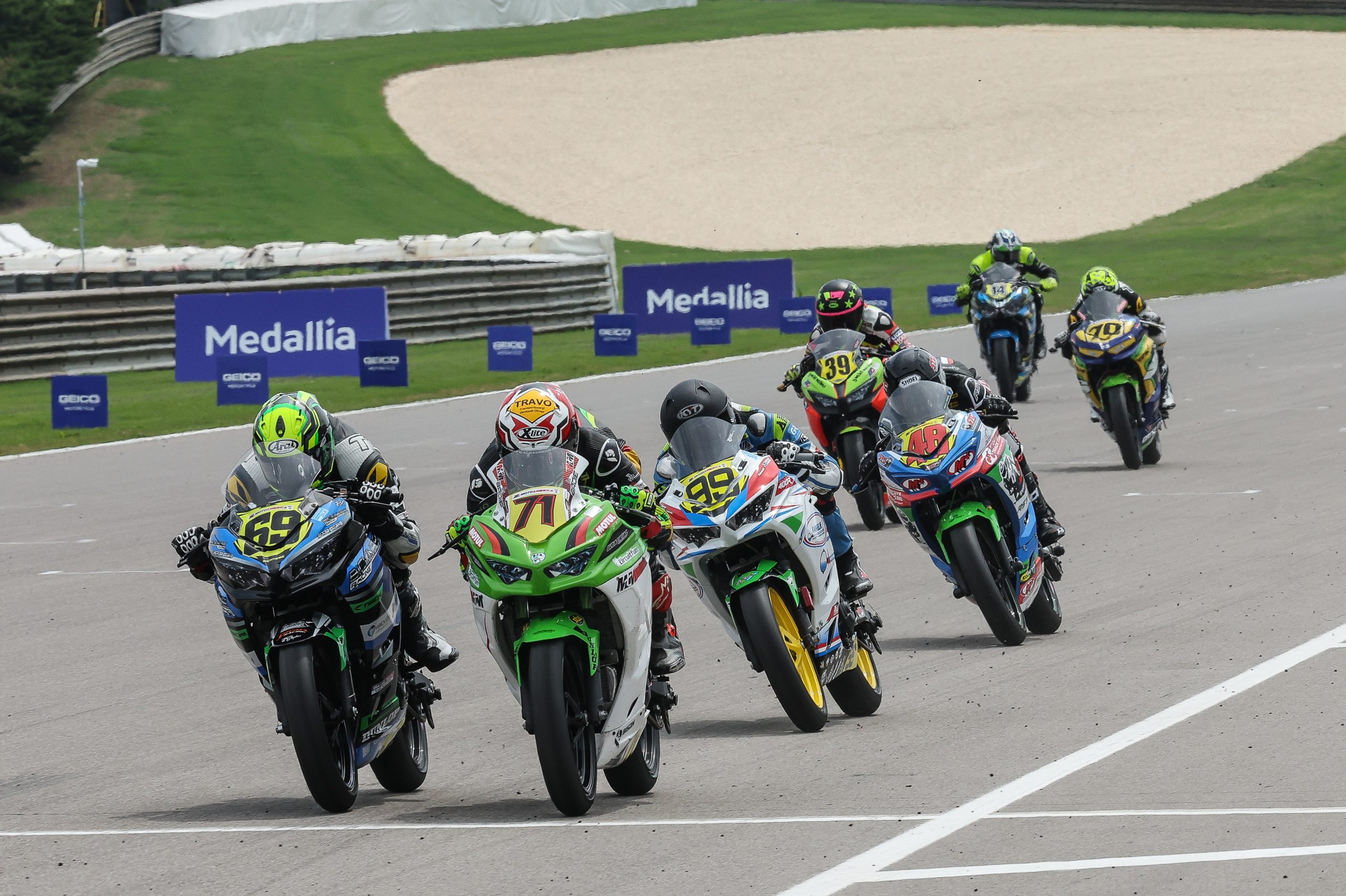 You won't find a MotoAmerica Championship more closely fought than the one for the REV'IT! Twins Cup title after Sunday's eventful race at Barber Motorsports Park.
How's this for close? Defending REV'IT! Twins Cup Champion Blake Davis leads Gus Rodio and Hayden Schultz by just two points after three rounds and six races. And despite not taking part in the two races at Daytona and DNFing the first race at Road Atlanta, Rocco Landers is lurking in fourth just 12 points behind.
Three straight wins will do that for you.
Landers won both races in Alabama and those two wins, combined with two non-finishes by former runaway championship leader Gus Rodio, have flipped the championship upside down.
REV'IT! Twins Cup race two kicked off the feature events on Sunday at Barber Motorsports Park, and Rodio Racing – Powered by Robem Engineering Aprilia rider Landers completed a perfect weekend where he earned the pole, won race one and was also victorious in race two. Landers' teammate Rodio didn't fare as well, unfortunately. He had the points lead coming into the weekend, but a crash in each of the two races moved him down to second in the standings where he is tied with Schultz.
Davis finished second in Sunday's race aboard his N2 Racing/BobbleHeadMoto Yamaha and took over first place in the standings by two points over Rodio. The WagBar MP13 Racing's Kayla Yaakov got her second podium finish in as many days with a third-place finish on Sunday to go with her second-place finish on Saturday. Yaakov missed the Daytona and Road Atlanta rounds of the REV'IT! Twins Cup Championship due to injury, but she came back strong at Barber Motorsports Park in her debut weekend in the class.
"Somehow, I'm like 12 points back now, Landers said. "It's wild. We missed the first round and then we had a DNF in Atlanta, which was infuriating. I couldn't give it up to my whole Robem Engineering Rodio Racing team enough, my mechanic Chad works so hard to make the bike perfect for me. Matt Spicer is helping me out so much, Robem. The whole Rodio family. Such a bummer to see that happen to Gus (Rodio). Always nice to get a team one-two, and for Aprilia, as well. Maybe I could talk them into letting me finish the season off for him, because we're getting kind of close in the championship. It would be nice. But it was a good race, though. I enjoyed it."
Junior Cup – Badie's First
In the Junior Cup Championship, Sunday's race one saw a Belgian rider take the checkered flag for the first time in MotoAmerica history. Badie Racing's Levi Badie came from behind during the race to beat out Bicknese Racing's Hayden Bicknese by only three milliseconds. Bad Boys Racing's Avery Dreher, who won Saturday's race one, had his winning streak snapped at three victories when he finished third on Sunday.
"I didn't think I was going to win," Badie said. "But I saw him (Bicknese) struggling in the last corner. I saw him held in the limiter, or something. So, I was like, 'Okay, now is the chance. Go full tucked in and just go for it. If it's second, it's second.' I was happy for both of the places. I didn't think, but I'm first so I'm happy."
Stock 1000 – Gillim's Double
Disrupt Racing's Hayden Gillim had a horrible opening round to the Steel Commander Stock 1000 Championship at Road Atlanta, but he turned that into a distant memory with his second victory of the weekend at Barber Motorsports Park on Sunday.
Gillim's efforts were rewarded as he gained 14 points on championship leader Ezra Beaubier, with the Orange Cat Racing-backed Californian finishing third on Sunday behind Gillim and his teammate Kaleb De Keyrel.
Beaubier now leads Gillim and De Keyrel, who are tied for second, by 26 points, 86-60, with Taylor Knapp Racing's Taylor Knapp (fourth today) fourth with 50 points and Travis Wyman Racing's Travis Wyman (DNF today) fifth with 46 points.
"I tried. Ezra (Beaubier) didn't make that happen very easy. It was good. He got a good start. I was hoping he would be kind of a little easy in turn one again today, and he drove it off in there. It was a good race. It was fun those first couple laps. There were a couple spots I knew where if I could get a little bit of a gap, I didn't think he could get up next to me and try any out-braking maneuvers. I just put my head down and tried to go. I knew I had really good pace and I knew I could kind of hold it pretty easy. I just pushed and pushed and went and started opening up the gap a little bit. This was a good weekend. I needed this weekend. Atlanta was a pretty big shock to my confidence and everything. I didn't know if it was me or the bikes. I didn't know what was going on. So being able to come out here and do this, I knew this track was going to be good for us. It was a great weekend. I'm happy to get up here twice for the team, for myself, and bring home the big trophy."