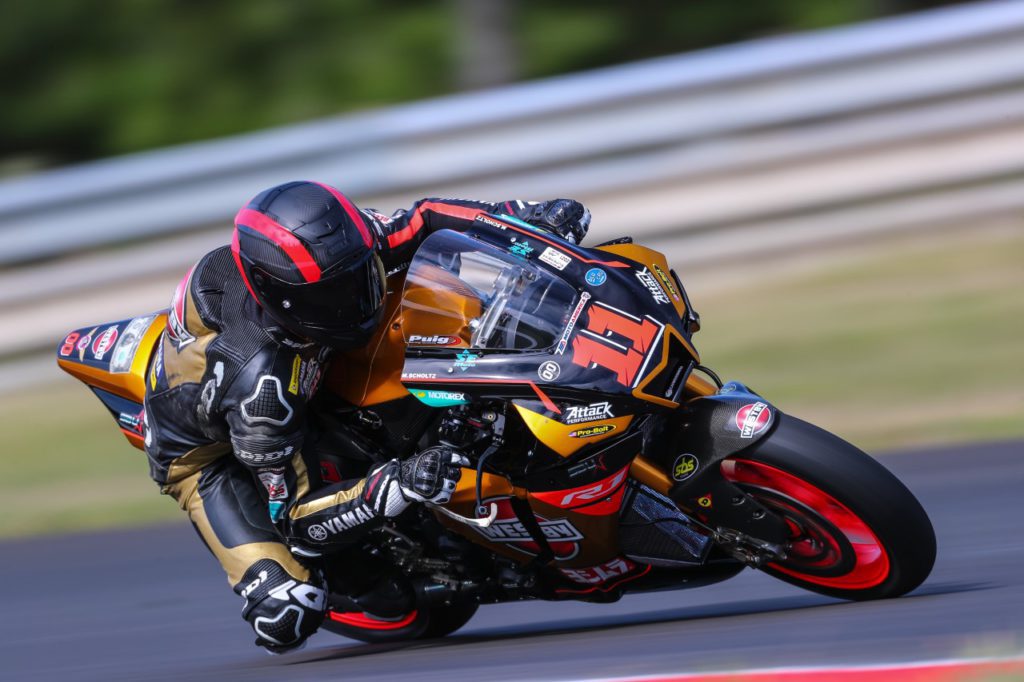 The following is from Westby Racing…
Round five of the 2021 MotoAmerica AMA/FIM North American Road Racing Championship starts this Friday at WeatherTech Raceway Laguna Seca in Monterey, California, and Westby Racing Yamaha YZF-R1 Superbike rider Mathew Scholtz and Yamaha YZF-R3 Junior Cup rider Jack Roach, along with the entire crew, always enjoy their annual visit to California's Monterey Peninsula for the race weekend at one of the world's most iconic racetracks.
Mathew has finished on the podium in five of the eight Superbike races so far this season, including a victory in the very first race of the season at Road Atlanta, and he's currently in second place in the season point standings. There is no question, however that more race wins are what he and the team want, and they'll be aiming for the top step of the podium in both races this weekend.
"Laguna is definitely one of my favorite tracks, and I'm anxious to get back there, especially since I was unable to race there last year due to my injury at Indy. It's such a well-known circuit, and there's such history at the place that it's always special to go back there. In my absence last year, (fill-in rider) Niccoló Canepa raced at Laguna, and he and our team were able to gather some valuable data, which should help us this weekend. I can't wait to get back on the bike and work on making our way up front.
For me and the team, it's been a difficult past two rounds, but we're still more than capable of running up at the front. We have the package, and I know I have the team and the guys behind me, so we're determined to figure things out. I've been thinking really hard about where I need to improve my riding and what I need to do personally to get back up at the front. We should be good this weekend to put everything together and get back to where we belong."
Superbike final qualifying is on Saturday morning at 11 a.m. PT. Superbike race one will go green on Saturday afternoon at 3:10 p.m. PT and will be broadcast via tape delay on FOX Sports 2 (FS2) at 7:30 p.m. ET. Superbike race two is on Sunday afternoon at 2:10 p.m. PT and will be broadcast live on FS2. In addition, both races will be streamed on MotoAmerica Live+.
For British expatriate Jack, who currently lives in Surrey, British Columbia, WeatherTech Raceway Laguna Seca is another opportunity for him to compete a little bit closer to his current home on the West Coast of Canada. Also, racing at "the home of The Corkscrew" adds a little bit more juice to Jack's motivation.
"Laguna is always a cool track to race at," Jack said. "I've ridden this track the most out of any of the MotoAmerica circuits. Gregg Spears (from team sponsor Spears Racing) has been working on the Westby Racing Yamaha R3 since (the previous MotoAmerica round at) Ridge, so I'm excited to throw my leg over it starting on Friday. I'm looking to be fast right out the gate and keep the momentum rolling."
Junior Cup race one starts on Saturday at 5 p.m. PT, and Junior Cup race two is on Sunday at 3 p.m. PT. Both races will be broadcast via tape-delay on FS2 this Tuesday, July 13, beginning at 9 p.m. ET.
Meet Mathew and Jack, Get Some Autographed Posters, And More
Mathew and Jack will both be at the Westby Racing transporter in the paddock at WeatherTech Raceway Laguna Seca during two Dunlop Paddock Autograph Signings. The first one is on Saturday from 12 to 12:30 p.m. PT, and the second one is on Sunday from 10:30 to 11 a.m. PT. They'll have free, autographed posters and other team items to hand out, so be sure to stop by.
Check Out The Westby Racing Sponsor Showcase
BrakeTech USA, Miami Thread, Puig USA, and Yoshimura R&D of America will be the featured team sponsors on display in the Westby Racing paddock area, so be sure to stop by to say hello and learn about some of the companies that support the team.
For more updates about Westby Racing, including news, photos, and videos, visit https://www.WestbyRacing.com
The following is from Travis Wyman Racing…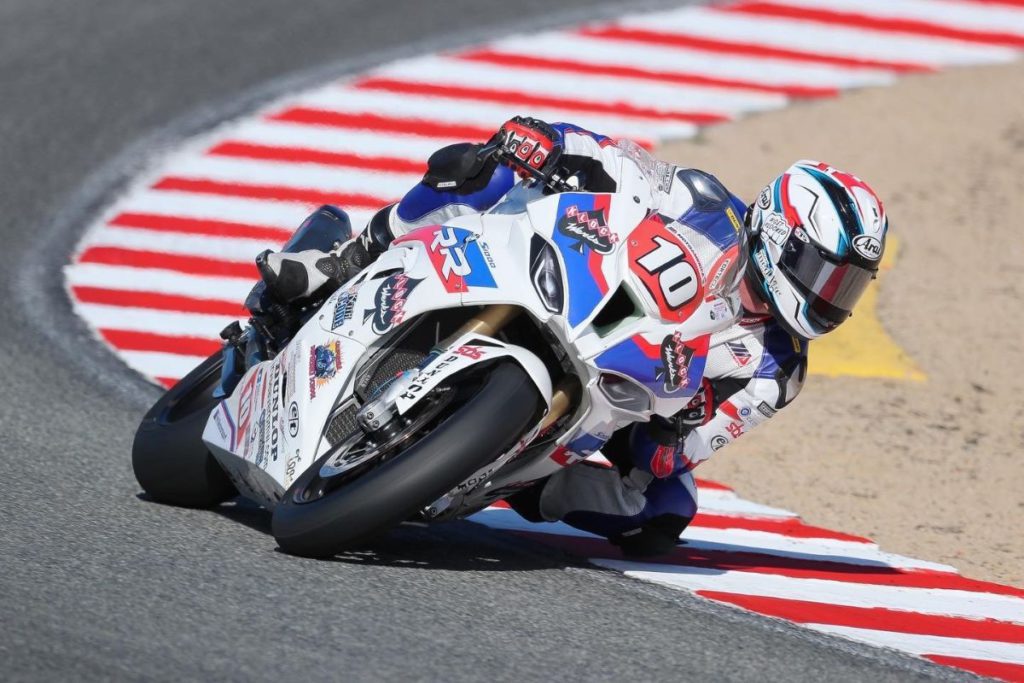 Travis Wyman Racing BMW is pleased to announce Motul — which began its marketing partnership with the team in 2018 — is the team's title sponsor for this weekend's MotoAmerica round at WeatherTech Raceway Laguna Seca.
 
The French lubricant and cleaning products manufacturer has provided the Travis Wyman Racing team with a variety of its products since the team's first season competing in MotoAmerica's Stock 1000 Class. The Travis Wyman Racing BMW S 1000 RR will be sporting larger Motul logos on its fairing at the July 9-11 event in Monterey, Calif., which is the closest MotoAmerica round to Motul's American corporate office in Cypress, Calif.
 
"Motul has helped the team keep our BMW looking great and running strong," rider/team owner Travis Wyman said. "I'm happy to have my team's partnership with Motul front and center this weekend at MotoAmerica's only round the great motorcycling state of California."
 
Founded in 1853, Motul has been at the forefront of the lubricants industry for more than a century. In addition to two-wheeled motor sports, the company also manufactures a wide range of products for automotive, marine, construction, commercial and agricultural applications. Among the company's achievements are the development of the first semi-synthetic motor oil in the 1960s and the first fully synthetic motor oil in 1971.
 
The Laguna Seca round marks the halfway point of the 2021 MotoAmerica season, and Wyman is in contention for the Stock 1000 and Superbike Cup titles. Wyman leads the Superbike Cup standings by six points, is fourth in the Stock 1000 points and is ninth in the overall Superbike Class standings.
 
Wyman will race four times at the MotoAmerica Superbikes Speedfest at Monterey. On Saturday, Wyman is slated to compete in the weekend's first Superbike race at 3 p.m. Pacific. On Sunday, Wyman will be on track at 11 a.m. Pacific for the event's only Stock 1000 race, 12 p.m. Pacific for the King of the Baggers race and 2 p.m. Pacific for Superbike Race 2.
 
To learn how to tune in and watch Wyman continue his quest for two MotoAmerica class titles, visit www.motoamerica.com or www.motoamericaliveplus.com.